Kukuleganga Holiday Resort, in the Kalutara District, is the only resort located in the Eastern border of the district. Just two and half hours drive from Colombo, the Resort can be reached from Kalutara, Matugama via Agalawatta or from Horana, via Bulathsinhala crossing beautiful Kukule Ganga from 'Palam Paruwa' (ferry boat) to Molkawa.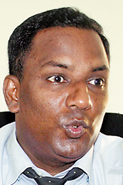 Colonel Kamal Fonseka, the CEO of the Resort
The Resort is fully owned and managed by the Sri Lanka Army. Apart from the food and beverage department, the rest of the areas are managed by the military. Kukuleganga Holiday Resort is established primarily to offer accommodations and meals for Sri Lankan and foreign army personnel arriving in Sri Lanka for training programmes on 'Peace keeping mission's under United Nations, which is located in Uskavalley, Molkawa
'During their absence we have converted this Holiday resort to meet the finances for maintenance and other expenses in the complex. Therefore we have been capable of providing guests with facilities at a moderate price' said Colonel Kamal Fonseka, the CEO of the Resort.
Scattered on a very scenic twelve acre land and enclosed by purple headed massive mountains of virgin vegetation, the Resort has 64 individually constructed chalets of three different types and also enable to house 200 guests. All these identical chalets have every facility compared to that of a star class hotel.
A, B and C type chalets are designed to accommodate different types of clientele. 'A' has three bed rooms, 'B' has two and 'C' is a single bedroom chalet.
"The other prime intention is to facilitate meals and accommodation at a very generous and concessionary rate for the relaxation and enjoyment of army personnel who dedicate their lives at the war front for the sovereignty of mother Lanka" he said.
'But the resort is open for other Sri Lankans and everybody is welcome to enjoy the facilities of star class hospitality at very reasonable rates' he added. Though started with smaller facilities and resources, now the resort has reached a very high standard. At present significant developments are really due to the direct, timely and innovative instructions and guidance by the Chief Army Commander of the Sri Lanka Army .
'About 95% of employment opportunities were given to the people in this area. These hand picked employees from the locality are highly talented and we could offer superb services to the guests in every direction for that reason. I am observant that these employees not only are very efficient, but also look after the resort as their own property. Thus this resort is well secured and it had never been subject to any unfortunate incidents' Colonel Fonseka explained.
Kukuleganga Holiday Resort has a multitude of recreational activities such as squash, gymnasium, mountain bike rides, archery, open dancing hall, pony rides, swimming pool, pool table, karaoke lounge, summer Huts, sauna, spas moderated auditorium with multimedia, playgrounds for Volley Ball, Tennis, Cricket, etc.
'I am confident that this is the only resort that has all such facilities in one place within the entire Kalutara District' he said. Herbal therapies and ayurvedic treatments offered at the SPA and Sauna have generated an increasing demand among both local and foreign guests.
The resort is very fortunate to have so many attractions that a guest could visit in close proximity. Makelli Ella with natural swimming pool, Pahiyangala - massive Rock caves of pre historic value, Wavulpene Caves, cane bridges, rivers with unpolluted water are some of the top attractions of the area. Singharaja is just a 2 ½ hour drive from the resort.
'This is an area of great historical value as this part of the island is called Palindha Nuwara Kingdom reigned by King Weediya Bandara during Kotte period. Therefore one would be fortunate to see various places and things of great historic value' the Colonel said.
The massive wooden boat 50 feet in length presently lying at the resort after proper chemical treatments is an interesting exhibit among others. 'A vast lake in which guests with their kids may enjoy boat paddling in our own premises is being constructed' he added.
The auditorium has been the venue for various high ranking seminars and workshops by Government, and private institutions. The Chief Minister's conference and work shops held by environment authorities are some of these significant events.
Cuisine at the resort is one of the best attractions of the District and the Chief Chef Thushan Warnakulasuriya, who is a veteran in the field, is capable of handling any kind of occasion.
Dining by the pool side is also possible. The charges for the chalets start at Rs. 3500/- to Rs. 7500/- for lodging only. Meals should be ordered separately.
'We always welcome ideas and suggestions of our valued guests' said Colonel Fonseka.
Log on to www.kkgholidayresort.com Tel: 034 2236533,034562066