Chitral Somapala of band 'Friends' fame will be featured TNL Onstage finals on November 29 at the Sri Lanka Exhibition and Convention Centre. Chity is very well known around Sri Lanka for his famous rendition of 'Many Rivers to Cross' - 'Nadee Ganga Tharanaye' used in the acclaimed a TV/radio commercial for Sri Lanka in 1998. The song was unique as it was sung in the traditional Sinhala language but with a hard rock/metal touch.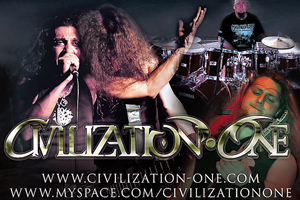 Chitral 'Chity' Somapala was born into a famous musical family and took up music at a very early age. Taking guitar lessons by age 10 and hitting the Top40 club circuit by 17, it was obvious this young musician was going places. By age 20 he had already toured Europe as the lead singer of the Top40 band "Rendezvous" but eventually left the whole Top40 scene to concentrate on his real passion, to be an original hard rock/heavy metal vocalist. Using nothing but his musical talents, impressive vocal abilities and a lot of hard work, he quickly carved out a name for himself on the international stage as one of the most sought after vocalists in the European heavy/power metal scene.
Up to date Chitral has provided vocals for/recorded albums with Court Jester, the German melodic power/progressive band Avalon, melodic rockers Faro, Swedish symphonic metallers Moonlight Agony, and even guitar virtuoso Gus G's power metal brainchild - the mighty Firewind and is currently working with the neoclassical power metal band Civilization One, which incidentally, he started himself.
Civilization One was founded as a band made up of international musicians in 2006 by Chity and Bassist Pierre- Emmanuel Pélisson. Chity was looking for a band which could combine heavy riffs with the sensitivity of melodic/catchy vocals from the classic heavy metal / hard rock influences he gathered by travelling through so many paths in his musical career. Their debut album "Revolution Rising" was produced under the hands of Markus Teske in the Bazement Studios in Germany and was released in Europe by Metal Heaven and in Japan by Spiritual Beast in 2007. The album was well praised and reviewed by the international press. That same year, after all the buzz going on internet among metal fans, the band was offered to headline the ProgPower UK's pre-Party show in Cheltenham, England. They gained a recent popularity in UK without a record deal, thanks to a flashy performance. The promoters took notice of the band and booked Civilization One for festivals in 2008.
Due to the vast distances between the original members, it was impossible to play and rehearse for live gigs. For that reason, the line up of Civilization One changed towards the end of 2007. Finding a drummer was more complicated and at the beginning of 2008, a more than adequate new entrant was found with Michael Stein. And The Guitar Wizard Kai Mühlenbruch quickly jumped on the ship to head off to the shows being confirmed and for the 2nd album 'Calling the Gods' due in 2009. The metal community now has the opportunity to see the dynamic on stage performance of a heavy metal style with classic metal influences which has already made quite an impression on journalists and fans equally all over the globe.
So as a performer who continues to deliver the goods on the world stage, it's only befitting that Chity will be returning home to Sri Lanka as the guest performer at this year's TNL Onstage finals.