Six thousand infections every day. That's one person every time you breathe. Approximately 3000 - 5000 people estimated to be living with HIV and AIDS in Sri Lanka, of which only mere 1000 infections have been reported. 25 million lives snatched away from our presence since 1981 to the largest pandemic ever recorded in history.
On December 1, the world commemorates AIDS day. Save Lanka Kids, a youth based organization under the Community Concern Society, responsible for R.E.A.C.H '08 the first ever national youth conference on HIV and AIDS, will be carrying out the I AM HIV POSITIVE campaign consisting of various sub- campaigns throughout this day to advocate for the 33.2 million people living with HIV and AIDS and in remembrance of the lives lost to AIDS all over the world, to empower and instill responsibility amongst people of our society, especially the youth.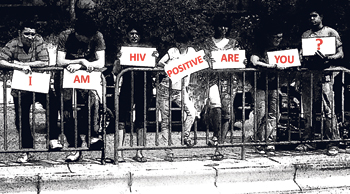 Positive about Education is one of the eight sub-campaigns, which targets about 2000 students of 50 schools all over Colombo. The I am HIV Positive t- shirt campaign is mainly about spreading awareness and creating hype around the city by distributing t- shirts with "I AM HIV POSITIVE" on them to volunteers and people of various organizations sharing similar views as us as they carry on their day to day lives wearing the t-shirt. Churches will also venerate this day with their congregations during services taking place on November 31, the day before which is a Sunday, by praying for people living with HIV and AIDS, observing 2 minutes of silence, showing a video based on HIV and AIDS or simply by wearing red AIDS ribbons.
Cinema's too will honor the day and help us reach out to a vast range of natives, by screening a slide with a message on HIV and AIDS before, after or during the intermission of all their shows on that day. There are also SMS and Facebook campaigns "SPMS (Short Positive Messaging Service" and "Positive Cause" aimed at 2000-2500 young people. "The Red Page" is where magazines with December issues will do their part by publishing a page in tribute to this cause. A "WE ARE HIV POSITIVE" march on streets from Borella to Maradana will wrap up the entire campaign.
We urge the public to be a part of one or more of these campaigns and help us make real what we have envisioned. It's a worthy cause, make it your own. Act for change and hope and BE the difference, at least on December 1, if not for the rest of your lives. Take up the challenge. Be "HIV POSITIVE"…. Positive about Education, Positive about Awareness, Positive about Support and about Reaching out to people living with and affected by HIV and AIDS !
For more information go to: www.behivpositive.com, Call Dominick on 2513865, Email us at: iamhivpositive@live.com