LIMA, Nov 22, 2008 (AFP) -Leaders of the Pacific rim were to meet Saturday to chart ways to boost trade despite turmoil in the global economy, as aspiring powers China and Russia bid farewell to US President George W. Bush.
Leaders from 21 Asia-Pacific economies accounting for half of the world's trade were due to huddle in Peru's capital Lima as the global economy showed little sign of returning to health. A week after a 20-nation summit in Washington urged action to repair the crippled financial system itself, the Asia-Pacific summit was expected to focus on defending free trade as a way to kickstart slowing economies.
"There is a substantially advanced boutique industry called 'gloom and doom' that is all about people saying how bad it is," Australian Prime Minister Kevin Rudd said.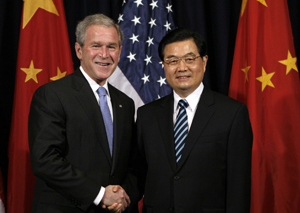 U.S. President George W. Bush (L) and Chinese President Hu Jintao meet in Lima November 21, 2008. Both leaders are here for the APEC Summit.
"You can either be part and parcel of that process or you can take up the mantle of leadership and do something about it," he said. Ministers from the Asia-Pacific Economic Cooperation (APEC) forum set the stage for the summit with a joint call against protectionism, with some airing concerns that Bush's successor Barack Obama would be less supportive of free markets.
The tightly guarded summit in the Pacific coast city was the last scheduled foreign trip for Bush, who leaves office on January 20 with his approval ratings hovering at all-time lows.
Russian President Dmitry Medvedev was due to hold a potentially confrontational final summit with Bush on Saturday. Medvedev will tour four countries. Chinese President Hu Jintao also sought a greater role in Latin America, but both sides described his final meeting with Bush on Friday as friendly and even sentimental.
Hu told Bush he appreciated the "advances in ties achieved in the past few years" and invited him to visit China after leaving office, foreign ministry spokesman Liu Jianchao told reporters. "He also expressed hope that the next US administration can recognize the importance of China-US ties," Liu said in reference to Obama.
Bush allowed that he was "a little nostalgic" at his last meeting with Hu as head of state and highlighted stable relations with a rising China as a key achievement of his term. However, Bush reiterated his call for China to continue dialogue with representatives of Tibet's exiled spiritual leader the Dalai Lama, a pariah for Beijing.