ISLAMABAD Nov. 22 (AFP)- The alleged al-Qaeda mastermind of a 2006 transatlantic airplane bombing plot was killed in a US missile attack in northwest Pakistan early Saturday, officials said. Rashid Rauf died when a missile hit a tribesman's house in the village of Alikhel, part of a border district known as a stronghold for al-Qaeda and the Taliban militants.
Also among the five killed in the early morning incident was Egyptian Abu Zubair al-Misri, another wanted al-Qaeda operative, a senior Pakistani security official said on condition of anonymity.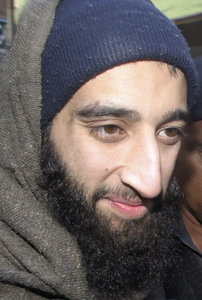 Rashid Rauf is pictured entering the courtroom in the civil court in Rawalpindi in this January 5, 2007 file photo
"The transatlantic bombing plot alleged mastermind Rashid Rauf was killed along with an Egyptian al-Qaeda operative in the US missile strike in North Waziristan early Saturday," a senior security official told AFP.
A Western diplomatic source told AFP the missile was fired from a jet across the border in Afghanistan.
British-Pakistani Rauf was arrested in 2006 in Pakistan over the bomb plot, sparking a worldwide security alert, and 24 people were detained in Britain in a major swoop.
A day later a massive security operation at London's Heathrow Airport resulted in mass cancellations of flights for several days over fears of a terrorist attack using liquid explosives on flights from London to the US.
The British government had requested Pakistan extradite Rauf to London, where he was wanted by police in connection with the murder of his uncle in 2002.
But four years later an anti-terrorism court in Pakistan dropped terrorism charges against Rauf relating to the conspiracy, although its order was suspended when the Punjab government lodged an appeal.
Rauf had then faced charges including impersonation, carrying a fake identity card and fake documents, which he denied.
He had been in custody under the Security of Pakistan Act when he escaped in December 2007 from Pakistani police custody, although all charges relating to terrorism had been dropped. The missile strike which killed him came days after a US drone attack killed six rebels, including an Arab al-Qaeda operative.
That attack prompted Taliban militants based in the rugged tribal territory bordering Afghanistan to warn of reprisal attacks across Pakistan if there were more strikes by the US. Terror network chief Osama bin Laden is widely believed to be hiding in the tribal territory, although there is no clear information about his whereabouts.
Washington has apparently stepped up its missile strikes against suspected al-Qaeda and Taliban hideouts in tribal areas, however the Saturday morning attack appeared to be the first that was not fired by an unmanned CIA drone.