NEW YORK -- When the UN held a virtual summit meeting on "culture of peace" last week, most of the world leaders who addressed the General Assembly were from Muslim countries who were concerned about the spread of Islamophobia -- specifically in Europe.
The meeting, which focused on inter-religious and inter-cultural understanding, was an initiative of King Abdullah of Saudi Arabia, who apparently convinced his co-religionists to participate in the summit.
So, when the President of the General Assembly Miguel d'Escoto Brockmann, a Catholic priest and a former Foreign Minister of Nicaragua, held a news conference, it was logical that a reporter should ask him as to how the UN could justify holding a meeting on inter-faith dialogue sponsored by a country intolerant of other religions.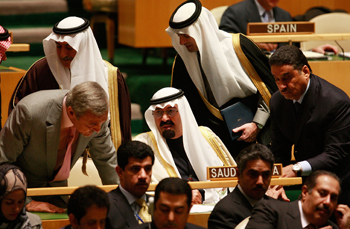 King Abdullah of Saudi Arabia (C) looks on at the Culture of Peace meeting of the United Nations General Assembly at UN headquarters November 13, 2008 in New York City. Mario Tama/Getty Images/AFP
"The United Nations is not an organisation of saints," D'Escoto responded, "We're all sinners trying to move on... and we should warmly accept any brother who wants to talk." And talk they did in one of the world's biggest talking shops.
Addressing the General Assembly meeting -- attended by leaders from Kuwait, Bahrain, Jordan, Lebanon, Pakistan, Afghanistan, Morocco, Qatar, along with the US, Israel and Britain -- he said the world is now in a moral coma.
"Although social responsibility is a basic law in each of the world's religions and in all ethical and philosophical traditions, we have allowed ourselves to become contaminated by the spirit of selfishness and individualism, which are the principal values, or rather, anti-values of the globally dominant culture," he added.
Speaking against the backdrop of a spreading global financial crisis, D'Escoto told delegates that unbridled greed and social irresponsibility have become the main driving force of the dominant culture. "The result is that we have been turned into veritable moral invalids."
In a statement released week, Human Rights Watch (HRW) urged world leaders to press King Abdullah to end the systematic religious discrimination in Saudi Arabia. But no leader dared do it -- not the 10 heads of state and the 10 heads of government who addressed the General Assembly. And only 80 out of 192 countries spoke at the meeting, mostly at ambassadorial level.
HRW said that even Muslims who do not follow the strict Wahhabi interpretation of Islam prevalent in Saudi Arabia face restrictions on public and private worship. "Saudi Arabia should practise at home what it preaches abroad," said HRW, challenging the moral legitimacy of the Saudis taking the initiative on inter-faith dialogue.
Still, the UN meeting took place amidst rising Islamophobia, particularly in Europe, aggravated by the publication of blasphemous caricatures of the Prophet Muhammad by a Danish newspaper, and the rise in suicide bombings in Iraq, Pakistan and Afghanistan.
But Ekmeleddin Ihsanoglu, secretary-general of the 57-member Organisation of Islamic Conference (OIC) rightly points out that Islam had nothing to do with suicide bombings -- either on the basis of religion or jurisprudence.
Why would a young man or woman commit suicide? What objective was more valuable than life itself? And what psychological, political and social reasons prompt such actions? he asked. Until such questions were asked, answered and addressed, terrorism and suicide bombings would increase, Ihsanoglu told reporters at a U.N press conference in September.
Last March Secretary-General Ban Ki-moon condemned "in the strongest terms" the airing of an "offensively anti-Islamic film" in the Netherlands. "There is no justification for hate speech or incitement to violence," he said. "The right to free expression is not at stake here. Freedom must always be accompanied by social responsibility."
Perhaps an important political breakthrough at the UN meeting on inter-cultural understanding was the presence of Israeli President Shimon Peres in the company of Arab leaders. Still Secretary-General Ban Ki-moon kept dodging questions at his news conference last week.
Q: Can you say that the King of Saudi Arabia and other Kings will be sitting at the same table with Israeli President Shimon Peres, or in the same room? Can you clarify that please?
SG: You will have to come and see. [laughs] I am not going to disclose any protocol matters. But you will be able to see later. I do not want to disclose any detailed arrangements on this matter.
Q: Will there be surprises for us?
SG: In what sense? [laughter]
Q: An Arab King, an Arab President, an Arab country that doesn't have relations with Israel, sitting with the President of Israel at the same table, having your good food?
SG: You know I have not said anything about the same table, same room, you know. Let us see.
Q: What about food?
SG: Yes, same food.
No reporter, however, asked whether there were any Arab and Israeli food tasters in the UN kitchen just to make sure.
Zardari: Defeat terrorism through inter-faith dialogue
UNITED NATIONS, Nov 13 (APP): President Asif Ali Zardari has said the world community should commit itself to eliminating the root causes of extremism and terrorism, giving all people in all societies renewed faith in their countries, in their laws, and in the futures of their children.
He said this while addressing the special session of the United Nations Interfaith Dialogue in New York City on Thursday. In his speech Zardari urged participants of the interfaith conference to have consensus on an international agenda which may ensure (i) Hate speech aimed at inciting people against any religion must be unacceptable; (ii) Injustice and discrimination on the mere basis of one's faith must be discouraged not only in words but through meaningful actions; (iii) Bigotry manifested in Islamophobia and anti-Semitism must be combated; (iv) Dialogue, and not discord, between civilizations and faiths must be encouraged;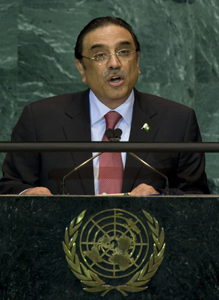 President Zardari, delivers his address to inter-faith conference. AFP
(v) Nations with little resources caught in the crossfire of extremism should be helped, strengthened and aided by the international community.
The President said that unfortunately at a time when most Muslims are advocating interfaith dialogue, they also witness events that frustrate our call for dialogue. "We hear hate speeches across countries and regions in which Islam as a religion is attacked. Hate speech against Islam also leads to injustices against Muslims. Indeed the imaginary fear of Islam has been rising. This is exactly what the terrorists had hoped to provoke. Those in the West that accept this are falling into the trap of the terrorists."
He said "This imaginary fear of our religion has created a new form of discrimination and is giving rise to new tensions.
"Let us translate the dynamic messages of our respective religions for the good of humanity and not to create strife. Let us turn the messages of hope imbedded in our faiths into living and practical reality".
President Zardari further said "We still confront a dangerous world of confrontation and terror, threatening to provoke the "clash of civilizations" that this Dialogue was instituted to prevent".
He said that in His last sermon on the occasion of His last Hajj, the Holy Prophet of Islam-May Peace Be Upon Him-said, "You are all children of Adam, and Adam was created from clay. You are all equal."
The President said "It was this principle that caused Pakistan and the Philippines to have been the original co-sponsors of the General Assembly Resolution on "Promotion of Inter-Religious and Inter-Cultural Dialogue, Understanding and Cooperation of Peace."