There is a soothing silence that I know so well. The bright yellow-terraced fields of rape ripple gently around me as I sense an upcoming rainstorm, here in the high plateau. The eye drifts, bewildered a little by the sudden colour within a scenery brushed by many hues of mud-browns. The terraced fields in which I stand are lassoed by laboriously piled stone fences that ascend at a slight incline, characteristic of this otherwise bleak landscape. This must be peasant land, leased for generations by Chenery Monastery that now towers in the background of my vision.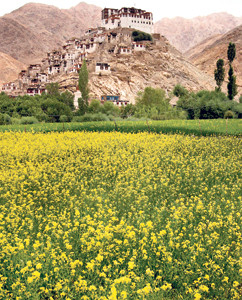 The imposing Chenery Monastery with rape fields in the foreground
Tall, white, sloping walls of hand hewn rock cropped at the summits by wooden structures in deep red paint enclose this monastery fortress; hard labour in a hard climate I think, by devout Buddhist villagers in centuries past. Around the central structure but descending downhill, there cascade numerous small white sloping village houses, like worker bees protecting and feeding the queen in their midst.
Towering still above the monastery, I survey tall mountains in this Roof of the World, an impenetrable stony hand providing shelter from the elements for this little settlement at the end of nowhere. Strangely, I can smell nothing, only cold, dry and faintly dusty air and perhaps that smell of approaching raindrops. After a while, a tiny movement distracts me, a solitary villager going about his or her business. Life is hard, but here it seems noble.
The eyes of the Tibetan Plateau
I had come up from lush green Kashmiri valleys to a far corner of the Leh Valley, Ladakh, situated on the western arm of the immense Tibetan Plateau. In earlier years, I traversed through rugged, equally scenic but forested Sichuan, the plateau's eastern arm in China (Ladakh falls into contemporary India and border disputes simmer, like curries, with China at its north east, just as Jammu and Kashmir contend with Pakistan in the south west). On that eastern plateau, the watery beauty and stunning surreal colours of Jiuzhaigou and Huanglong, a jagged karst landscape, as well as the authentic lifestyle of the Tibet's Kham people, had captivated me, far away from modern commercial conundrums (see "A Land Graced by Kindness and Colours", ST January 21st 2007). Yet commerce is also what brought me to this edge of my travels on the ancient Silk Road, ever curious at how people "on the other side" of the plateau lived and connected regularly despite being separated by the most overwhelming geography on earth. (I had felt the same urge years earlier looking back from Kashgar to the northern boundaries of Tibet above me.)
For until just a couple of decades ago (-China sealed its border between western Tibet and Ladakh in 1962 due to land disputes with India), traders routinely plied their way from here, Leh, Ladakh's old capital, via the great Karakkoram Pass (5578m, 18,400 ft) to Yarkand and Kashgar, a thousand kilometres away, ancient trading towns I too had visited at the periphery of the Taklamakkan desert of Xinjiang, China (see "Buried Mysteries", ST February 12th 2006). Familiar with the terrain in between, my mind boggled at human ingenuity over travel, hardships and the stuff of life in the absence of all things modern. It made today's GPS inspired, geotex clothed, oxygen infused expeditions almost comical to me, just as much as modern terms of "connectivity", "networking" and "Creating Value", high business parlance, is old hat to ancient trading people in these Silk Road lands.
From Kashmir to Leh, from water to sky
Ladakh ("the land of several passes" in Ladakhi) is the largest district in the State of Jammu and Kashmir ("J&K") and straddles north western India between the Himalayas and the Karakkoram ranges (about a third of Ladakh is claimed by China). Much of the land is above 10,000 ft and seasonal temperatures range from - 40C to 37C, yielding only a short summer when life erupts. It thus makes for a completely arid high altitude desert plateau (though not without some surprises).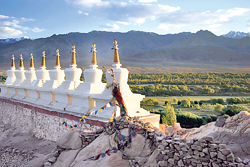 Buddhist landscape in the Leh valley
This is in contrast to the temperate Kashmiri valleys where life - aside from current political bickering - was as genial and conducive as it is watery and green, the Dal Lake in Srinagar being both literally and geologically the Jewel in the Crown. Yet, for me, the long uphill winding journey from a houseboat on Dal Lake, through ever browning territories into Ladakh, was as memorable for the distinct sense of spirituality that I encountered here - not that I was seeking solace.
Houseboats of Dal Lake
My journey had commenced from water: several days of tranquility on a colonial era houseboat owned by Mr. Din Capri, introduced by an old Indian friend R. Jain. The proud Kashmiris during the Raj forbade the British from owning land and thus the notion of houseboat living arose. My boat, the "Nanga Parabat", was permanently anchored at one end of a cool, clear Dal Lake but linked via an extended creaky plank system to other houseboats. Roughly 70 feet in length, like an English canal barge, it afforded a large master bedroom with an antiquated bathroom, two other smaller bedrooms, a dining room with a large head table and ornate roof, a cosy front sitting room and a very agreeable small balconied "verandah" from where one entered. Outside, I could walk around the boat on its narrow external ledges; on one side, a typical Kashmiri "floating garden" had been cultivated, revealing a lotus pond, a vegetable plot on a floating bank and even an arched flower frame reminiscent of an English garden.
I spend much of the evenings on the verandah, gazing out across a serene and quite expansive lake framed by towering, green mountains. Early evening, residents of Srinagar (-situated at one end of the lake) take their sojourns - on "shikaras" or gondola boats with padded seats, rowed slowly by boatsmen. Boated vendors in various forms, floating grocers, kadala sellers and even gem and saffron businessmen touting briefcases … court them quite charmingly with their wares. The soft flickering lights at dusk, gentle swishing of paddles and tinkling of laughter from passers-by is most pleasurable and romantic. Indeed I begin to feel the poetic pluckings of Kashmiri locals, just as Jiuzhaigou deservedly evokes love songs across China. Suddenly, a late evening water skier, clearly an Indian, supported by a wooden plank for water skis and hitched by rope to an ordinary motorized boat, breaks the waters near by… It is, somewhat confusingly, the most charming politically troubled region I have yet been fortunate to visit.
Flower power!
Early morning, usually at 5a.m., I awake to witness the glory of a gradual sunrise which back-illuminates the mountains, while cold morning mists cast a hazy diffused glow across the waters until the rising warmth of the day dispels them. In these early hours, looking downwards, the sky and its perfect reflection on still waters make it near impossible to separate the earth from the heavens, except for the blur of wheeling fishing eagles in search of breakfast. I am beckoned then by a gentle yet trifle confident "Hello Sir!" by 'Mr. Wonderful Flowerman', as a local boatsman in a flowered shikara of that name glides into my verandah – he is almost more radiant than dawn. It is impossible not to do business and he knows it, further elaborating my good fortune as the day's first victim of some fortunate Indian god. Moved by fresh flowers (and his life history as a gardener), time being of no consequence in Kashmir, I find myself parting with Rs 2500 - a small fortune even on his generous sub-Continental discount - for assuredly good flower seeds, feeling the distant envy of gem sellers in the process. Flower power could not be more potent!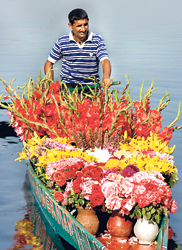 'Mr. Wonderful Flowerman'
Late evening, nearby floating village markets activate in pools of light and human activity. Boat communities, reminiscent of those on the vast Tongle-Sap Lake (a sea-like tributary of the Mekong River, Cambodia), awake to the cool of the evenings. On land, Kashmiri families recline on soft green grass of lakeside parks where fragrant barbeques are fanned by men in baggy shalwar. With my own family in tow for a change, we are rowed to vendors' shop-boats lit by kerosene lamps where Kashmiri shawls and other handiwork are displayed, and genial arguments by my wife can begin.
Lush meadows yield to desert plateaus…
Leaving the environs of Srinagar, a city with surrounding hilltop palaces, shrines and varied attractions, is not easy; particularly pleasant is the impulse to while time on lawns and in terraced pools that constitute the noble Mughal gardens such as Nishat or Shalimar created by former royalty in the 17C AD. I was captivated by a beautiful rainbow that formed one afternoon across the sprays of a long chain of fountains in Shalimar Bagh strikingly back-dropped by mountains, making me wonder whether this too was planned. To old Tibetans journeying down from the dry plateau for centuries, this must surely be a bewildering heaven. However, I must travel upwards and the journey to Leh (434 km away) is typically a two-day one by jeep, possible only from June to October when the high passes are free of snow.
An overnight stop en route at Kargil is traditional, notable largely for the recent Indo-Pakistani confrontations in 1999 on the nearby Siachen Glacier - the world's highest altitude battleground (20,000 ft) as many Indians like to point out. Not surprisingly, the route is now the prerogative of the Indian Army and military garrisons frequent all strategic viewpoints throughout, while one is often subjected to 50 strong army truck convoys that rumble over the dusty potholed passes, albeit most politely. My thoughts drift to a memorable steam train ride (on the front fender and covered in soot) up the Khyber Pass where such old military garrison points dating back centuries still peek through barren crags on denuded gorges, a reminder too that waves of human conflicts are not just a fragment of history. Initially, the going is pleasant as the road meanders through Kashmir's luscious scenery, past villages such as Kangan and Gund on the banks of an Indus River that flows about 500 km outwards from Holy Mount Kailash in Tibet. Sonamarg, a green meadowy ("Meadow of Gold") settlement is a favourite stopping point in a sweeping valley. En route, I deviate significantly to visit the ruins of a forgotten Hindu? temple complex set high up on a spectacular V-shaped Kashmiri valley where, to my delight, I encounter cedar trees, that scented Phoenician trademark, last witnessed in my childhood in Lebanon.
Memories of the Hunza
Soon though, the green thins. The road begins to incline sharply and undergoes numerous hairpin bends, while the surface is reduced to precarious rubble. Clouds of dust ascend. Dizzying drops (unfortified roadway), rockslides and traffic congestion blot thoughts of greenery or serenity; goods trucks, army convoys, tiny Maruti cars with presumably suicidally inclined drivers crawl up the famed Zoji La Pass (3529 metres, 11,600ft) leading both historically and now into Ladakh proper.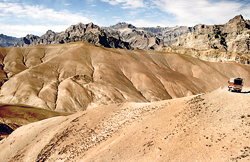 A solitary truck makes its way through the high plateau of Ladakh
Though the scenery is similar but not as spectacular as that of the Hunza in Pakistan, the precipitous views of valleys below through the dust are stunning - for most of the year this pass is snowbound. Increasingly I begin to see vast sweeping slopes at awkward angles to me, dotted with hundreds of sheep, a sign of plateau's transhumance activity. Matyan is the first village in the emerging Dras valley (-reputedly the second coldest place after the Siberian Tundra) and a series of other plateau villages (Pandrass, Muradbagh, Dras) are bypassed with regular 16,000+ feet stony mountain ranges flanking them until one arrives at Kargil town. While this affords a welcome break, Kargil is a fairly nondescript commercial hub, second to Leh and watered by the Suru River. I stay in a comfortable local abode, "Hotel d'Zojila", that inescapably French "d" of assumed Western sophistication chasing me wherever one travels, especially on the subcontinent.
Timeless Buddhist landscapes
Beyond Kargil, the landscape becomes more open, barren and elemental and later the first interesting village, Mulbekh, emerges. This is a historic settlement, one of the first signs that one is in Buddhist Ladakh, with its old monastery built on top of a huge rock pinnacle. An 8 metre Maitreya statue is carved off the rock-face here, believed by Ladakhis to be about 1300 years old. From Mulbekh with its assorted ruins, one encounters the Namika Pass (13,200 ft) and then descends with relief to Bodhkharbu, only to ascend shortly to Photu La Pass at 14,200 ft. A little beyond the high point of this pass, I am rewarded with the sight of Lamayuru Monastery, one of Ladakh's oldest from 10C AD, perched on a high crag. The road bends through the village and passes into startling canyons of purple and green rock formations, at the bottom of which an icy cold river flows with fluorescently blue-purple lavender bushes dotting the riverbanks. Near Lamayuru, there are dramatically eroded alluvial deposits of an ancient glacial lake resembling an unusual light satin brown moonscape but sadly I have no time to deviate.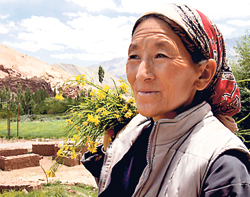 Balupa the peasant woman
It is about a 16 km descent from picturesque Lamayuru to the Indus River and I see numerous Buddhist chortens and crumbling mud ruins dotting villages and hamlets such as Basgo. I stop to exchange pleasantries with a peasant woman, Balupa, returning home late afternoon. The background monuments as well as the creases on her forehead conjure in my mind thoughts of both the fragility of life and strength of human belief in this harsh terrain. Not to underestimate her difficulties, in tall crowded urban landscapes one's sense of self is arguably more confused and fraught with forebodings, concerns or the ego of survival; yet in these open vistas, there is a more mindful feeling, a more elemental connection and a greater awareness of one's journey and place in life - perhaps a greater simplicity.
In the warmth of early June, the weather is pleasant and there is much to be done on the village calendar. I cross small beautiful light-yellow fields, groaning under the weight of swaying heads of highland wheat; their sense of ripeness is very palpable. Peasant families are crouched double in their midst, half hidden by a crop which is vital for survival through a long cold winter. The urge to interact is strong but so too is the need to seek refuge before nightfall and I am mindful of the fast chilling air. As I descend into Leh late afternoon, the vista elongates and the fading blue skies over the Leh Valley beckon, elating spirits as one leg of my journey is safely over.
Next week: Attaining tranquility in some of Ladakh's enchanting monasteries.