The three national athletes Prasanna Amarasekera, Geetha Nandani Gallege and Lalana Shanthi who are indicted on human trafficking charges were further remanded till November 5 by Colombo Fort Magistrate Gihan Pilapitiya.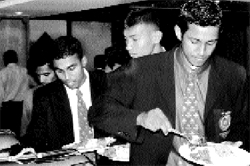 Prasanna Amerasekera (left), Manjula Kumara (middle) and Ranga Wimalawansa together at Dinner hosted for the athletes.

Along with them short distance runner Ranga Wimalawansa who was earlier charged for the same offence was also remanded till the same date.

Amarasekera and the two others were arrested on October 4 on the charge of sending three persons to the United Kingdom declaring they were their spouses while Wimalawansa is charged on a false visa charge.

The athletes had requested for bail citing their need to continue with their national training, but the prosecutors had been against that move saying that it may impair their investigations.

The court also advised the prosecutors to obtain advice from the Attorney General on the request of Amarasekera, Geetha Nandani and Lalana Shanthi to turn State witnesses.

Meanwhile Police sources said that the investigations on this case are still continuing and did not rule out more arrests of national athletes.

Amarasekera who is attached to the Sri Lanka Army is currently under a sponsorship package of Rs. 50,000 per month besides his earnings from the Army while the other two athletes who are naval rankers get a monthly sponsorship of Rs. 25,000 each.

Besides this, Amarasekera after his win at the Asian Grand Prix this year had won a sum of nearly one million rupees while the Sports Ministry had given him a grant of Rs. 600,000 for the same.