The Marauding Thomians took revenge of their last years defeat when they beat Royal by 32 points 8 in their 35th annual Rowing regatta at the Beira Lake, yesterday.S. Thomas' with this win carried away the T.N. Fernando Trophy for the 18th time. Royal has won the title on 14 occasions while the contest had ended in 5 draws.S. Thomas' who lost all their races last year to Royal came up with a good performance to win the race this year.

In this regatta it seemed that Royal will be whitewashed when S. Thomas' won the first four races, but royal kept their hopes alive by winning the penultimate race However S. Thomas' didn't spoil the party by wining the decisive race.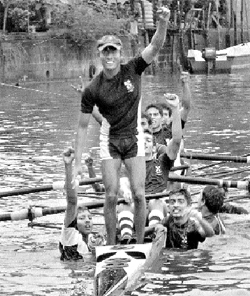 Thomahns enjoying sweet revenge (picture by Sanka Vidanagama)

Devaan Hallock had a memorable day and he was gifted for it when he was chosen has the Best all round Oarsmen and carried away the Dickie De Zoysa trophy.

The Royal 'B four' comprising Devinda Fernando, Randev Gunasena, Radhika Weerasekera, Lakkitha Liyange and Mevan Jayatilleke had the Reid Avenue flag flying when they won the their race with a timing of 3.10 seconds

S. Thomas' team who finished the race with a timing of 3.14 comprised of Jayan Peiris, Uween Jayasinha, Arjun Manoharan, Sanjeewa De Silva, Amrick Varia. This win by Royal left the score line reading S. Thomas' 20 and Royal 8 and it was left for the last race which carried 12 points to chose the winner. The last race was a thrilling race before S.Thomas nosed ahead.

Devaan Hallock gave S.Thomas a winning start when he won the B Scull race with a timing of 3.35 seconds. Thivanka Jayathilake of Royal ended race with a timing of 3.58 seconds.

The Second race of the day was the 'A Scull' which was won by Sajeev de Silva of S. Thomas' with a timing of 3.35 second while Royalist Dinouk Perera finishing the race with a timing of 3.44 seconds.
In the 'B pairs' event, S. Thomas' won through Eshan Gunawardena and Ruwin Weerasinghe beating Royal's Radhika Weerasekera and Lakitha Liyanage with a timing of 3.19.

The 'A pairs event saw Thomains Sajeewa de Silva and Devaan Hallock beating Chirath Karunanayake and Dinuk Perera at 3.23 secs.

In the decisive main event which was boat race the Thomians who had Eshan Goonewardene (bow), Devaan Hallock (2), Danushka Jayanetti (3), Ruwin Weerasinghe (S) and Manil Salgado (cox) beat the Royal team that comprising Chirath Karunanayake (bow), Ashan eart (2), Mahima Weerasinghe (3), Dinuk Perera (S) and Danushka Perera (cox) by 3.06 seconds.