UNITED NATIONS, Oct 18, 2008 (AFP) - Japan was elected on Friday to a seat at the UN Security Council for 2009-2010, displacing a bid by Iran for a place at the head table of international diplomacy.
In a vote in the UN General Assembly, which includes all member nations of the world body, Japan took 158 votes against 32 for Iran, the assembly's president Miguel d'Escoto of Nicaragua said. Asia has two non-permanent seats on the 15-nation Security Council, on top of the permanent seat held by China. Indonesia's term is ending; Vietnam's stint continues through the end of 2009.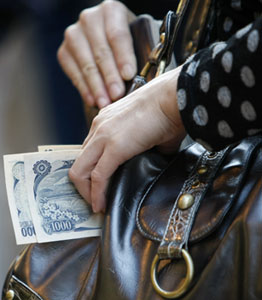 A woman holds notes at a shop in Tokyo, capital of economic superpower Japan, which on Friday won a seat at the UN Security Council. Japan is campaigning for a permanent UNSC seat.AFP
Among nations in the European group at the United Nations, Austria and Turkey won non-permanent places on the Security Council, leaving Iceland defeated.
Mexico and Uganda took the seats available for Latin America and Africa respectively without contest.
It will be Japan's tenth turn on the Security Council since the founding of the United Nations more than 50 years ago. It is a major contributor to the UN budget and contends it should have a permanent place on a reformed council.
Its bid to join the Security Council was a near certainty, given Japan's status as an economic powerhouse and the support it enjoyed from around the world, notably in Western countries. Iran, meanwhile, is under UN sanctions for refusing to comply with Security Council demands to suspend nuclear enrichment, amid fears -- denied by Tehran -- that it is developing nuclear weapons.
"It's a comprehensive defeat, a thrashing, and it's an important signal from the United Nations membership," said John Sawers, the British ambassador to the United Nations.
"Had Iran, by some massive error or misjudgment... come on the Security Council, it would have obstructed the effective work of the council." Deputy US ambassador Alejandro Wolff said: "It's important for Iran to understand that its refusal to comply with its obligations is reflected in its very poor showing."
The Security Council is the most important UN decision-making body, with its five veto-wielding permanent members -- Britain, China, France, Russia and the United States.