When the global financial crisis, which began with the collapse of housing investment banks in the United States, spread to Europe, Iceland was one of the countries that were hit. Although the recent financial crisis has hit Iceland hard, the Icelandic economy, analysts believe, is still resilient and Iceland is one of the first countries to take effective countermeasures.
Iceland's economic fundamentals were strong. With an advanced level of economic and political development, abundant natural resources, high GDP per capita, healthy government finances and low public debt, longstanding political stability, highly modern infrastructure and an evenly distributed and high standard of living, Iceland expects to tide over the crisis.
In the words of Iceland's Prime Minister Geir H. Haarde, the worst of the storm was over. "The Icelandic nation will show what stuff it is made of - its fortitude and prudence in the face of these disasters inspires admiration everywhere. We may for a time be bloodied, but we are unbowed," Haarde told parliament on Thursday.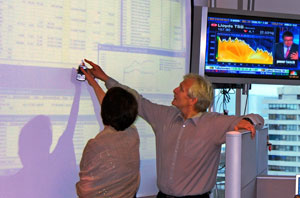 Traders look at the market screen in the stock market room on Tuesday in Reykjavik. AFP
"…Loan lines of up to 400 million euros were activated yesterday from the central banks of Denmark and Norway. We will strengthen the currency reserves considerably in addition to this and discussions are now in progress in Moscow on a possible currency loan," said Geir.
"Furthermore discussions with the IMF on the possible involvement of the Fund in the financial reconstruction work lie ahead. All possibilities are being assessed without prejudice."
The prime minister said that the financial crisis had left no country unaffected and brought larger economic entities to their knees.
"…dozens of banks around the world have had to throw in the towel and look to the state for assistance in their home countries. The problem which faced the Icelandic Government when this chain of events was unleashed was more serious than the problem facing other governments, because of how large the Icelandic banking system was in proportion to the economy. It was, therefore, clear that it was neither sensible nor feasible for the Icelandic state to shoulder the burdens of the entire banking system."
In face of these facts Haarde stated that, "The Government decided to take another course with the long term interests of the Icelandic nation uppermost. The actions of the Icelandic authorities are among the most radical actions taken by a government in a banking crisis."
Haarde ended his speech by asking the nation to come together, learn from its mistakes and not to turn to anxiety.
"There are always opportunities in a difficult position. We have been forced onto the defensive in recent days, but with determined effort, we will slowly but surely regain the offensive."