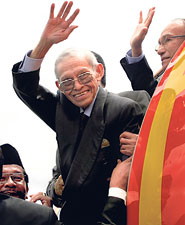 Hasan di Tiro, founder of the Free Aceh Movement (GAM), waves as he arrives at the Banda Aceh airport yesterday. Reuters
BANDA ACEH, Indonesia, Oct 11, 2008 (AFP) - The founder of Aceh's separatist rebel movement made an emotional homecoming today after nearly 30 years in exile and a war that killed thousands of people.
Free Aceh Movement (GAM) founder Hassan di Tiro was greeted by thousands of cheering supporters and former guerrillas as he flew into the capital of the war-torn and tsunami-scarred Indonesian province for a two-week visit.
"People are happy to be here just to see (di Tiro) for that split second. His heart has always been in Aceh," said Bakhtiar Abdullah, a former GAM negotiator who was jailed by the Indonesians.