CHILLICOTHE, Ohio, Oct 11 (Reuters) - An Alaska ethics inquiry has found that Gov. Sarah Palin, the U.S. Republican vice presidential candidate, abused her authority by pressuring subordinates to fire a state trooper involved in a feud with her family.
The finding cast a cloud over John McCain's controversial choice of running mate for the Nov. 4 election. On the day it was published he reined in an aggressive strategy against Barack Obama that had failed to cut into his Democratic rival's lead.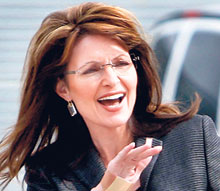 Sarah Palin, waves to supporters at the Pennsylvania airport on Wednesday. Reuters
After a week in which he and Palin fiercely attacked Obama and inflamed supporters by urging them to question his fitness to be president, McCain switched to a milder tone, calling on frustrated loyalists to respect the Illinois senator.
Supporters appeared surprised by his conciliatory approach, booing at a Minneapolis rally when he told a sceptical backer that Obama was a "decent person and a person that you do not have to be scared (of) as president of the United States."
The Alaska inquiry centered on whether Palin's dismissal of the state's public safety commissioner, Walt Monegan, was linked to her personal feud with a state trooper who was involved in a contentious divorce with the governor's sister.
The inquiry found that while it was within the governor's authority to dismiss Monegan, Palin violated the public trust by pressuring those who worked for her in a way that advanced her personal wishes.
"Governor Palin knowingly permitted a situation to continue where impermissible pressure was placed on several subordinates in order to advance a personal agenda, to wit: to get Trooper Michael Wooten fired," the report said.
The investigation was commissioned in July by Alaska's Legislative Council composed of 10 Republican lawmakers and four Democrats.
ALASKAN SCANDAL
The scandal gained national attention after Palin, 44, who was little known outside of Alaska and has virtually no national or international experience, was selected to be McCain's running mate in August.
The McCain-Palin campaign dismissed the report, saying it was a "partisan-led inquiry run by Obama supporters," and Palin and her family had been justified to be concerned about the behavior of the trooper.
Palin "acted within her proper and lawful authority in the reassignment of Walt Monegan," a campaign statement said. McCain, 72, made clear the shift in his approach during a rally in Lakeville, Minnesota, when supporters frustrated by his drop in the polls urged him to be a fighter at the next debate with Obama.