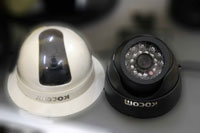 The equipments
With people's needs changing with the changing times, many items that were not considered necessary are now making their way into the list of essentials for Sri Lankans. "This should include a security system," said Lakshman Doraisamy, Director of Sales and Marketing of Crow International Pvt Ltd, a company that provides electronic security solutions.
While a security system was not even considered for a household a few years ago, Mr. Doraisamy reports a 35% increase in the number of inquiries his organization receives from prospective house owners. "CCTV or closed circuit television will become an important and essential feature in new houses that come up," he told The Sunday Times FT.


Lakshman
Doraisamy

Lakshan
Madurasinghe
Speaking of the benefits of these electronic security systems, Mr. Doraisamy and his business partner Lakshan Madurasinghe, said security systems cannot only prevent but can also provide information on the criminals and trespassers. It is a system that was provided by Crow International that the video images of the suicide attempt on Minister Douglas Devananda's life was captured on film for the first time in Sri Lanka.
Enumerating the number and range of clients that are under their belt, Mr. Doraisamy said that they have already provided security systems to the government as well as the private sector. Industries such as banking and manufacture have already invested in electronic security systems as they have come to understand their importance, Mr. Doraisamy said, adding that the camera equipment can be fixed inconspicuously, so that people will not know they are being observed.