ISLAMABAD, Saturday (AFP) - A suicide bomber detonated a truck packed with explosives at the Marriott Hotel in Islamabad today, killing at least 60 people in a brazen attack in the heart of the Pakistan capital.
Police said 200 people were also wounded in the massive explosion, which ruptured a gas pipeline and triggered a huge blaze that engulfed the heavily-guarded site in flames.
Many victims leapt to their deaths from the upper floors of the hotel to escape the fire, a senior security official told AFP, and there were fears more were buried in the debris.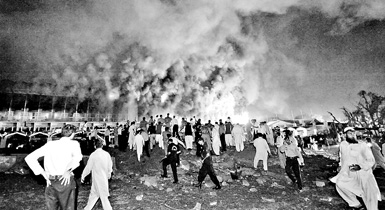 Pakistani policemen and onlookers gather as a cloud of smoke billows from the burning Marriott hotel following the powerful bomb blast
Officials said they were worried that the hotel, a key meeting place for foreigners, would collapse.
The attack also came hours after new President Asif Ali Zardari -- who faces a serious challenge in reining in Al-Qaeda and Taliban militants -- delivered his first address to parliament, which is just a few hundred metres away.
Smoke and flames were shooting out of several floors of the ruined hotel. An AFP photographer saw mutilated bodies amid the carnage, before police and fire officials pushed back the media in case the building came down.
"The death toll is 60 and it may go up," said the senior security official, who asked not to be named.
The bombing came as the Marriott's restaurants were packed with families breaking their daily Ramadan fast.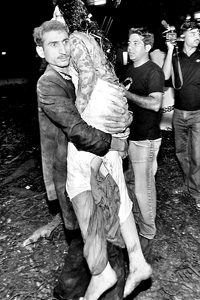 A Pakistani volunteer helps an injured blast victim
The security official said women, children and foreigners were among the dead.
The government ordered the army in to help clear away the piles of concrete and debris after the powerful explosion, which left a huge crater, around 20 feet (six metres) deep and 40 feet wide, at the hotel's main entrance.
Interior ministry official Rehman Malik told reporters the government had received word of a possible attack near the parliamentary offices.
"We had intelligence reports two days ago that some incident might take place," Malik said.
It was one of the worst attacks ever in Islamabad, and comes amid an escalating campaign of bombings and suicide attacks by militants that has killed more than 1,200 people in the past year.
IntelCenter, a US organisation that tracks militants, said an Al-Qaeda leader who claimed responsibility for a previous bombing in Pakistan threatened new attacks in a video this month to mark the anniversary of September 11.
Pakistan has been a key ally in the US-led "war on terror" since 9/11, even though critics have repeatedly insisted that elements of the country's powerful intelligence service give clandestine backing to Islamist militants.
Zardari, who took over as president on September 9, was to meet US President George W. Bush on the sidelines of the annual debate of world leaders at the United Nations in New York next week. It was not immediately known if that trip would go ahead.