SHANGHAI, Sept 20 (Reuters) - China ordered widespread checks on dairy products and a recall of tainted items as a scandal that began with powdered baby formula and spread to milk sparked an outcry from China's trading partners.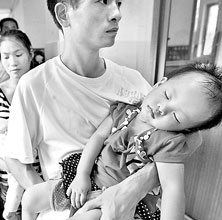 Chinese parents with their babies wait for treatment at a hospital. AFP
Malaysia joined neighbouring Singapore in banning Chinese milk imports while a dairy company in Japan pulled Chinese products from supermarket shelves following a similar move in Hong Kong after products were found contaminated with potentially deadly melamine.
China's State Council, which ordered the comprehensive checks, vowed to punish enterprises and government leaders responsible for the scandal, the official Xinhua news agency reported late on Friday.
"Local authorities should rectify the dairy industry so as to bring a fundamental change to the dairy market and products," Xinhua quoted the council as saying.
The council also called on medical authorities to give free examinations and treatment to infants who fell ill after drinking contaminated milk, Xinhua said. At the latest count, 6,244 children have become ill, four have died and 158 are suffering acute kidney failure. A government food quality watchdog in China has said nearly 10 percent of milk and drinking yoghurt samples from three major dairy companies contained melamine.
The nitrogen-rich compound can be added to watered-down milk to get past quality inspections, which check for nitrogen to measure protein levels.
Singapore and Malaysia have banned imports of milk products from China.