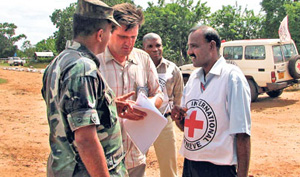 The International Committee of the Red Cross (ICRC) will continue to show its presence in the uncleared areas in the Wanni despite government directing all UN agencies and International NGOs to pullout. Here an ICRC representative speaks with an Army official at the Omanthai checkpoint yesterday. Pic by Sarath Priyantha.
Vavuniya attack:
How it happened and why
-Situation Report
By Iqbal Athas

Barely two weeks after their foray into Eastern Naval Area Headquarters in Trincomalee, Air Tigers showed up again. This time they were an integral part of a pre-dawn Tiger guerrilla ground and artillery assault last Tuesday
Political hurricanes slam UNP
Political Column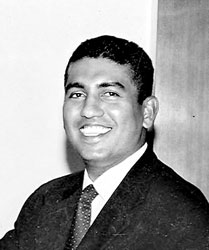 For a second week in succession, the focus turns to the main opposition United National Party (UNP), which, paradoxical enough is embroiled in its own crisis whilst the nation faces a bigger one of its own.
A

Palin theocracy

John McCain's selection of Sarah Palin as his vice-presidential running mate has invigorated a lackluster campaign. The media can't stop talking about her.
Riding on rhythm
Anyone could sense the rhythm pumping through their veins...the blur of their sticks as they beat their drums almost in frenzied conversation with each other, the
UN holds pullout as civilians protest
UN agencies and International Non Governmental Organisations (INGOs) have temporarily halted the withdrawal of their staff from the strife-torn Wanni region following protests from civilians for the second consecutive day yesterday.

About 11,000 Tiger guerrillas have been killed since the military launched its campaign to secure the Mavil Aru anicut in July 2006, Army Commander Sarath Fonseka told his officers on Friday.

EDITORIAL

Trapped citizens of Wanni

Out of earshot of most of the country, there is the deafening resonance of artillery fire and aerial bombardments in one part -- the Wanni -- the area between Vavuniya and the Jaffna peninsula.This is said to be a defining moment in the war against the Liberation Tigers of Tamil Eelam (LTTE)

PLUS

Drowning in dirt
The Parliament, the seat of Sri Lanka's legislature in Sri Jayewardenepura-Kotte, nestles against lush greenery and is

FINANCIAL TIMES

LMSL owes Rs 1.5 bln in taxes-Inland Revenue

Lanka Marine Services Ltd (LMSL), which had an effective monopoly for bunkering in the Colombo Port, owes taxes amounting to Rs. 1,526,416,949 (Rs 1.5 billion) from the financial year 2002/2003 onwards to the Inland Revenue Department (IRD) – a payment that must be made in line with a Supreme Court ruling.

The day of reckoning
Monday, March 17 in the year of 1996 Sri Lanka won the Cricket World Cup by storming to a famous victory against the tournament favourites Australia