HOUSTON, Sept 13 - (Reuters) - Hurricane Ike powered across the densely populated Texas coast and through Houston on Saturday, bringing ferocious winds and a wall of water that flooded hundreds of miles of coastline and paralyzed the fourth-largest U.S. city.
Ike, a massive hurricane that has idled more than a fifth of U.S. oil production, came ashore at the barrier island city of Galveston as a strong Category 2 storm at 2:10 a.m. CDT (0710 GMT) with heavy rains and sustained 110 mph (175 kph) winds, the National Hurricane Center said.
The raging storm flooded Galveston and submerged a 17-foot (5-metre) sea wall built to protect the city after a 1900 hurricane killed at least 8,000 people. More than half its 60,000 residents fled, but the fate of those who stayed to ride out the storm remained unclear.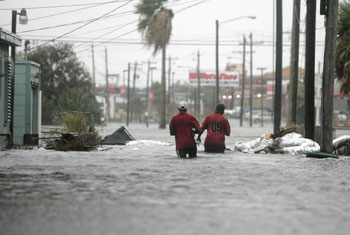 Two men wade through flooded streets as Hurricane Ike begins to make landfall in Galveston, Texas yesterday. Reuters.
Oil refineries along the western shore of Galveston Bay as well as NASA's Johnson Space Center may have been spared the worst of the flooding. But the storm's huge size meant that it flooded parts of Louisiana, prompting a flurry of overnight rescues far from its center, authorities said.
Grandmother Sherry Gill spent the night in League City, Texas, roughly halfway between Galveston and Houston, despite an evacuation order, huddling with her family and listening to the wind howling over her shuttered home.
"It was a night of sheer terror. I thought the roof was going to lift off," Gill said. Alicia Cahill, a spokeswoman for the city of Galveston, said there had been no confirmed reports of casualties. Local officials said that while Ike was formidable, it did not bring the 20-foot (6-metre) tidal surge over Galveston they had feared.
About 50 miles (80 km) inland, Ike lashed downtown Houston's skyscrapers, blowing out windows and sending debris flying through water-logged streets. About 4.5 million people around Houston and Beaumont could be without electricity for weeks, Floyd LeBlanc of CenterPoint Energy said.
Roofs were ripped off houses, and rising waters, downed trees and fallen power lines left many streets impassable. There were many windows broken in the 75-story Chase Tower, the tallest building in Houston.
Ike was the biggest storm to hit a U.S. city since Hurricane Katrina devastated New Orleans in 2005.
Ike also hammered central and western Louisiana, flooding whole coastal communities and sparking a flurry of overnight rescues of stranded residents.
An estimated 10,000 homes in Terrebonne Parish were flooded or expected to be flooded as water levels continue to rise into Sunday, officials there said.
About 100 elderly residents were evacuated overnight when flooding overwhelmed a nursing home in Franklin, Louisiana, state emergency operations spokesman Chris Macaluso said. Ike was downgraded to a Category 1 on the hurricane intensity scale at 8 a.m. CDT (1300 GMT) as it moved inland with top sustained winds near 90 mph (145 kph) and moving north.
Strong winds ripped for hours through Houston, a city that is home to 2.2 million people and with a metropolitan area of 5.6 million residents. Ike's center was expected to move through eastern Texas into Arkansas on Saturday night.