PARIS, Sept 13, 2008 (AFP) - Pope Benedict XVI today led some 200,000 followers in an open-air mass in Paris to celebrate his first official visit to France, the "eldest daughter" of the Catholic Church.
The leader of the world's one billion Roman Catholics arrived at around 9:30 am (0730 GMT) on board the "popemobile" at the historic Invalides complex south of the River Seine, where some 60,000 young Catholics spent the night after a candlelit riverside procession.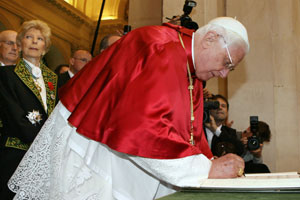 Pope Benedict XVI signs the golden guest book during a visit to the French Institute in Paris yesterday. AFP
Tens of thousands more travelled through the night for a chance to see and hear the 81-year-old pontiff, before he left Paris on a pilgrimage to the Marian shrine of Lourdes.
At least 160,000, many of them families with young children, had flocked into the square by 9:00 am to watch the pope's image beamed out onto half a dozen giant screens, organisers said, adding that tens of thousands lined up along the pope's route, cheering and waving flags.
we Benedict's four-day visit to France comes as the country faces a freefall in the number of churchgoers despite its deep Christian heritage.
But he received a triumphant welcome on Friday, with 40,000 people taking part in the nighttime procession from Notre Dame cathedral to the Invalides, many carrying sleeping bags and food to keep them going until the mass.