"Please find my baby. If someone has kidnapped him, please return my baby." Remember the plea of the mother of baby Gavish who was kidnapped from Kalubowila Hospital last year? Fortunately that story had a happy ending but the mother of the baby elephant discovered recently in captivity may still be lamenting in the wilds of Habarana.
The baby abduction from Kalubowila led to the discovery of a baby smuggling racket that shocked the nation. At present, Sri Lanka's Wildlife Department officers are investigating trails of baby elephants allegedly being abducted from the wild. The recovery of a baby elephant illegally held without a proper permit in an estate close to Colombo is probably only the tip of this iceberg, they feel. The elephant is now in the Uda Walawe Elephant Transit Home.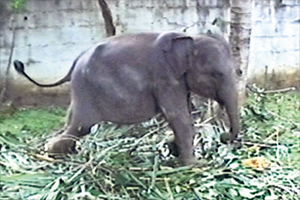 The baby elephant that was recently discovered in captivity
Reports of a possible baby elephant abduction racket had been in the air for quite some time. It is believed that baby elephants are isolated from their herds and then stealthily transferred to different locations. The Department of Wildlife Conservation (DWLC)'s Flying Squad had been investigating this for a long time when they received a tip about the elephant held on a private estate.
The owner of the baby elephant claims that it was born to one of their captive female elephants. But the veterinary report proves that the baby elephant had pellets in its body. "How can a baby elephant born in captivity have pellets in its body?" questions Upali Padmasiri, head of the Department of Wildlife Conservation's Flying Squad. Pellets are the result of gunshots and most Sri Lankan wild elephants unfortunately live with them. This raises fears of mothers being shot to separate the baby from the herd.
Habarana is believed to be the centre of this alleged racket. The area has a high elephant density being in the centre of three national parks namely Minneriya, Kawdulla and Hurulu. Transporting elephants used for elephant safaris in and out from Habarana is also common, so it is an ideal ground to execute abductions. But smuggling out an elephant is different from taking out a butterfly cocoon or a spider from the wild. It is a big animal and the herd furiously defends its calf making capture difficult and dangerous. That is why environmentalists believe this is an organized racket.
It is believed some of the baby jumbos have been issued false birth certificates upon recommendation by some veterinary surgeons.
This is not the first case of a baby elephant being allegedly taken from the wild. In 2001 wildlife officers led by M. Faize, former head of the Flying Squad- found another baby elephant, which the owners claimed had been born to one of their captive elephants. The court case dragged over a long period and an order was received to perform a DNA test to verify the truth of the owner's claim. But the DNA test could not be performed due to failure to take blood samples. The reasons the DNA test could not be done using elephant dung is unclear. Later, a veterinary surgeon claimed that he treated the baby elephant confirming the pregnancy of the captive mother elephant. So the case was dismissed, without completing the DNA verifications.
These claims raise another question. Have any of the elephants in captivity given birth? And if they did, why has it not been publicized in the newspapers? Veterinary surgeon Dr. Ashoka Dangolla who treats domesticated elephants says owners prefer to keep the elephant calves from the public eye during their younger days. Several births to captive elephants have taken place, but they are not publicized, he says.
"We have only 135 captive elephants in the country and the latest lost (?) is 'Hurathalie' who participated in the Kandy Perahera a few days ago," Dr. Dangolla said.
Of this number there can be only about 20 female domesticated elephants who can be bred, but owners usually do not like their female elephants being pregnant due to the long gestation period during which the elephant cannot be used for any other purpose. The elephant calf depends on its mother's milk for the first three years of its life.
Pinnawala has now become the main source for providing new blood to the captive elephant population in Sri Lanka with a few donations from India and Thailand.
Capturing elephants from the wild was stopped in 1875 with the infamous Panamure Kraal. The Elephant Owners' Association claims that most of the domesticated elephants are over 50 years of age and stresses the need for young blood. There was a plan for rogue elephants that become a threat to humans and property to be captured from the wild and then auctioned instead of relocating them in protected areas. The idea was put forward considering that our national parks are already overcrowded with elephants and as a strategy to strengthen the captive elephant populations. But many elephant activists are critical of this idea, considering the conduct of the mahouts and some of the owners of the domesticated elephants.
Conservationists believe that there could be 10-12 elephants so far abducted this way. "We will continue the investigations and do our best to bring the culprits to book," said the Director General of the DWLC, Ananda Wijesuriya. All elephants have to be registered under the DWLC and the Environmental Ministry warns all the owners to register their elephants immediately, if they haven't done so far.
A recent Reuters report indicated that about 70-80 elephants are abducted (yearly?0 in the Indian province of Assam alone. Thailand has also faced a similar problem where baby elephants are smuggled from neighbouring countries - Vietnam, Laos. It is important therefore that the loop holes in the law are closed without leaving room for the culprits to squeeze through.
There is also a need to protect the officers who stand up to influential people who are purported to be behind the rackets. They have received the fullest support from the Minister of Environment Champika Ranawaka so far and the country does not want this case to end up at another dead-end with high profile interferences. The appeal is to the public: If you see a baby elephant that is less than five years old being kept under suspicious circumstances, inform the Wildlife Flying Squad on 1991.
Should Pinnawala release elephants to private owners?
'Sinha Raja' was probably the most unlucky elephant released by Pinnawala. This handpicked healthy calf met a tragic death, when it was hit by lightning when chained to an iron bar in an open area.
A few days after Sinha Raja's death, another elephant was released from Pinnawala on a political request. During 2002- 2003, 11 elephants were donated to temples. Pinnawala remains the main source from where elephants are given out for captive.
Most of the requests for elephants are through temples on the basis that elephants are needed to continue cultural events like peraheras. Pinnawala came up with a unique solution for this demand under the guidance of former director Brigadier H.A.N.T. Perera. The suggestion included training a squad of Pinnawala elephants for cultural events with the formation of a committee comprising some key elephant owners and temples.
The administrators planned to keep this squad at Wagolla and had made an arena to train elephants for peraheras to get them used to torches at night etc. Having this squad at one place would have enabled better treatment with better standards. If this concept materialized, it would also have ensured a supply of well trained elephants available for a reasonable price for cultural events, together with a group of trained veterinary surgeons. This year there were more incidents at cultural events; one woman in Ragama was killed. Such tragedies could also be avoided.
The proposal of a trained Elephant Squad was submitted to Parliament in 2003, but nothing has happened so far, other than the setting up of a parliament committee.