Sri Lanka Tourism makes a big impact at WTM
~ Closes promotional sessions on a positive note
Sri Lanka closed its tourism promotion campaign at the World Travel Market (WTM) fair here on a highly successful note, officials said. Sri Lanka Tourism Promotional Bureau chief Renton de Alwis said the campaign under the theme 'Sri Lanka as a Destination' was completed on a very positive note and all the stakeholders of the industry worked toward achieving this success.
The World Travel Market (WTM), the largest tourism fair in Britain and the second largest in the world, offered platform for millions of potential buyers and sellers in the tourism field from around the world. This is the very first major travel promotion outside Sri Lanka since the Sri Lanka Tourism Promotional Bureau (SLTPB) was created in October this year.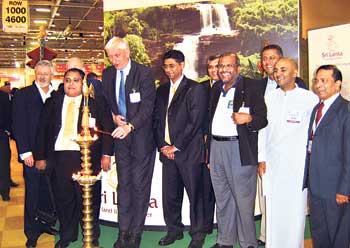 Sri Lankan delegate at WTM
"'I think we finished this year's WTM on a very positive note and the deals we carried out on a 'one-on-one' basis are productive. We hope that Sri Lanka will emerge as one of the best tourist destinations in Asia," Mr. Alwis said. Most of the visitors, including hoteliers, travel agents and tour operators, said they made positive business deals at the Sri Lanka stalls and looked forward to a productive winter season.
Sri Lanka's tourism and travel trade officials who participated in the London tourism drive also said they believed there would be a surge in tourism business in the coming winter season and the year ahead. Tourist Hotel's Association of Sri Lanka President Hiran Cooray said he strongly believed in satisfactory improvement in winter arrivals and business afterward.
"I think this is the best WTM in recent times. We, as Sri Lanka tourism stakeholders, make very positive business on arrivals. I believe, we have turned the table around this time and years of talking have become an implementing business now," he explained.
Sri Lanka's tourism industry was represented at full strength at the WTM though Tourism Minister Milinda Moragoda was a notable absentee. However, Deputy Minister Faizer Musthapha, Sri Lanka Tourism Promotional Bureau chairman Renton de Alwis and Southern Province Chief Minister Shan Wijayalal de Silva, were special invitees at the opening ceremony.
A 150-member delegation from 42 private sector companies including travel agencies were seen in conducting business deals on 'one-on-one' basis at the fair. Andrew V. Cooper, Director General Federation of Tour Operators of United Kingdom, who was the guest of honour at the opening ceremony at the Sri Lanka pavilion, said Sri Lanka as a tourist destination had made a very strong recovery.
The counter campaign launched by Sri Lanka Tourism on adverse reports had been very effective and this was the main reason for Sri Lanka to recover by the end of the year. He commended the Sri Lankan Tourist Board office in Britain for doing a good job.
Sri Lanka Tourism's UK director Jean-Marc Flambert, the man behind the planning of WTM, said the long haul travel was getting more and more popular in Britain and Sri Lanka was one of the top countries benefiting from this trend."It is good to see that more travellers getting attracted to this type of travel and number of top events such as Perehera, English Cricket Tour, SriLankan Golf Classics and Colombo Marathon attracted this newly developed segment direct to Sri Lankan destinations. The upcoming English Cricket tour would also help British arrivals.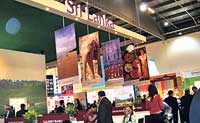 Sri Lanka stall
"Our forecast for the next few months is very high. Several UK-based press and TV journalists have visited in the summer and we are expecting high levels of publicity until January next year to boost British arrivals, which is at the highest in the European sector.
"In fact, we have spent 12,000 sterling pounds on familiarization trips on travel journalists to Sri Lanka and up to now we have managed to get 1.5 million pounds worth of free publicity in the British media," he said. Meanwhile, Sri Lanka Tourism Office in Britain has short-listed and named the final 12 for the 'best promotional activities' at the prestigious British Travel Awards.
Mr. Flambert noted that with the pound being strong, the UK tourists' spending power was very high and their average stay was around ten days. He said that to be in the final slot of the British Awards was an achievement and that showed how focused Brits were on Sri Lanka.