Charith recreates heroism in the Kokavil army camp
Young and upcoming director and scriptwriter, Charith Kiriella enters cinema with 'Uthuru Sulanga', a film on a pathetic incident during the separatist war in North East Sri Lanka.
For the first time depicting a true and heroic story about a Sri Lankan Army officer, Charith is to unravel an emotional tale of a young Army Captain Saliya Aladeniya and his soldiers at Kokavil camp in Jaffna which was captured by the LTTE in 1990s.
"Captain Aladeniya is the first military officer who was presented with the highest award 'Parama Veera Vibushana awarded for bravery," Charith said describing the story which impelled him to create a cinematic version.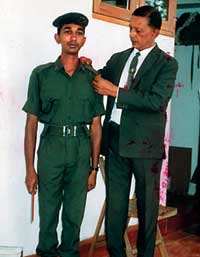 Capt. Aladeniya and his father on his passing out
"When the Kokavil camp was surrounded by the LTTE, Captain Aladeniya and his 69 soldiers were holding on to the camp. As they were running short of food and arms they found it difficult to protect the camp. At this stage the Captain was ordered to withdraw and abandon the camp over to the LTTE to which Captain Aladeniya refused," Charith who himself was a media personnel handling defence news for a TV station said.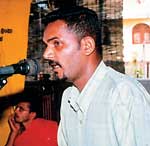 Director Charith Kiriella
This was because by that time nearly half his soldiers were injured and rendered immobile. The rest of the soldiers too refused to leave their colleagues and their much loved leader. Captain Aladeniya, who refused to surrender decided to destroy the camp and deny the LTTE its facilities.
"On July 12, 1991 this 27 year old brave Army officer destroyed the camp killing a large number of LTTE cadres who entered the camp to capture men and material.
In Sri Lankan history there is no record of a single film made directly based on a real incident in war," said Charith.
The film is also to highlight the irresponsible and shortsighted decisions made by some of the senior army officers and politicians.
He explained that he spent a number of years collecting material for the story and it was a hard effort as there was hardly anyone who could narrate how the real incident took place. Charith narrated. "Nobody except the cook who was forced by Captain Aladeniya to leave the camp in order to be a witness for this moving incident is now living and his account was very important to the script," Charith said.
The director requests the assistance of any military officer who could provide more information about the incident. Charith expressed his gratitude to Retired Army officers, Major Nissanka Senadipathy, Colonel Janaka Sitigahapola and Major Kariyawasam who had been supporting him in this project.
This big scale project is to be started in January and the young director is planning to get over 1000 military men for the cast to make it a film employing the real life actors. The filming locations will be Puttalam and Ampara. Charith is yet to announce the stars who are going to be in the cast. Sudath Nandasiri is to assist him in the production. Charith says that he has some roles for those aged between 18 and 30 and invites those interested to contact him on 41/10 A, Pangiriwatta Mawatha, Gangodawila, Nugegoda on 2833328 and 0785243325.
Director's earlier directions, miniplays include, 'Etheraweema', Uththamachara' and 'Awurudu Dawasak'.