Student death: Blame game and blocked drains
Following the death of a student and scores of others falling sick at the Law College hostel last week, the Kotte Municipal Council has hit out at hostel authorities for failing to look into the hygiene of the premises.

Sudheera Mataraarachchi
Medical investigations are underway to ascertain the cause of death of Sudheera Mataraarachchi (27) who developed high fever while at the hostel at Rajagiriya and died on admission to the National Hospital last week. His blood samples have been sent to Thailand. Forty other students were also down with fever.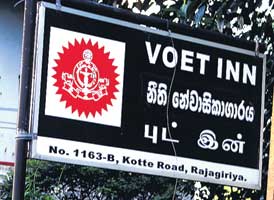 Law College hostel premises.
Pending the medical report, an open verdict has been returned on the death of the student.
City Coroner Edward Ahangama said there was suspicion that the death was due to a viral infection.
Of the 40 students who were struck down six of them were admitted to the National Hospital and some others to private hospitals last week.
The Law College hostel, at 1163-B, Kotte Road, Rajagiriya accommodates about 100 students.
Meanwhile, Kotte Municipal Council's chief medical officer Dr.Samarajeeva blamed hostel authorities for taking little action to eradicate mosquito-breeding places.
"It's the responsibility of the Law College administration to inform the Municipal Council when there is a huge garbage pile, when drains need to be cleaned or when chemicals need to be sprayed. However, no one informed us of any hygiene problem and when a death occurs the Municipal Council is blamed," Dr.Samarajeeva said.
He said that the Municipal Council has provided bins to collect garbage including one for recycling purposes.
"When our PHIs visited the hostel they found that about 20,000 coconut shells had been dumped in the premises and the drains had stagnant water. At least the hostel workers should handover the garbage to the MC, even at the entrance," Dr. Samarajeeva said.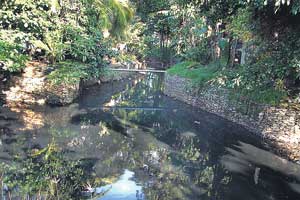 Stagnant water besides the Law College hostel
premises.
Meanwhile The Sunday Times was not allowed to take any photographs of the hostel premises.
When the principal of the Law College and hostel warden W. D. Rodrigo was contacted, he said, he could not comment without the permission of the Council for Legal Education.
Commenting on the death of a student and the suspicions of a viral infection spreading among students, Student's Union president Lisitha Gayan Sachindra said students had a right to know what was affecting the students and that the Kotte Municipal had to be alert to the problem as Rajagiriya came under its purview.
He also said law college exams that were to be held last week, had been postponed as many students in the hostel had fallen ill.