Their only haven shattered by bombs
In a short span of three months refugees living in a temporary shelter in Kathiraveli, Batticaloa were struck by tragedy and displaced yet again as more than 60 people including children were killed in a hail of artillery and Multi-Barrel-Rocket –Launcher (MBRL) fire last Wednesday.
It was a scene of panic at Batticaloa hospital as the wounded and dead were being brought in and anxious people thronged the area to learn about the fate of their loved ones on Thursday.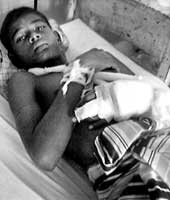 S. Saundarajah's son
While most of the victims, mainly children, were wailing in pain unable to understand what had hit them, relatives were checking the name lists of those who had been admitted.
Twenty-seven- year old Madaraveera Elancheliyan, who had been staying at the camp since July 7 after fleeing the situation in Mutur was one of the lucky ones who survived.
" I never thought such an attack would ever occur. It was around 11 in the morning when all hell broke loose. Two huge bombs fell into the camp and there were bodies strewn all over . After about two hours the injured were rushed to the Vakarai and Valachchenai hospitals. Later we were transferred here to the Batticaloa hospital. My wife and two children are also supposed to be here but I don't know what has befallen them," he lamented.
In another corner 42 year old S. Saundarajah was sitting besides his son. "We have been staying at Kathiraveli school since leaving Poonakari due to the deteriorating security situation. Life is difficult at the camp especially after I lost my job as a labourer. We do not get proper food and other facilities mainly due to transport problems. But at least we felt safe at the camp.
But the security he felt was shattered that fateful Wednesday.
" I saw my son falling and blood oozing from his body. I immediately ran out carrying him to seek help. I saw bodies with blood and burn marks fallen all over. My son was first rushed to Valachchenai hospital and from there to Batticaloa. It was only when I came here that I knew that my wife too had been admitted here. But I have no news about my three daughters and other son," said a worried Saundarajah.
Nayanthymalar, 27, was resettled at Kathiraveli after being displaced from Echchlampattu . She was consoling her six year old daughter while her son sat on her lap. The daughter had suffered injuries to her head and hands." I was cooking and my kids were playing when I heard a huge noise. Everything seemed to collapse and as my children came running towards me they fell as something hit them. After that all I remember is everything collapsing around me."
Batticaloa's Additional GA K.Maheshan commenting on the tragedy said, " There were 1680 displaced families staying at Vigneswaram Vidyalaya in Kathiraveli . According to independent investigations there were no LTTE camps in the area. We are providing these people with food and other essentials and trying to find alternate land in other areas to resettle them ,"Mr. Maheshan said.