Sgt. Lokuwella's funeral today
The funeral of Sgt. Lakshman Lokuwella, TNA MP N. Raviraj's police bodyguard who was gunned down along with the MP on Friday, will take place in Gampaha today.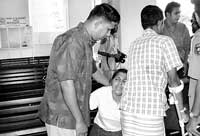 Lokuwella's family members react to the news of his death at the hospital
Sgt. Lokuwella was stationed in Jaffna and was the father of two. The officer's brother, who is a soldier in the SL Army too was injured in an operational area in the Eastern Province recently.