Microscope on Mahinda era
As a politician he shines, but where does he stand as a statesman after one year at the helm as President?
If Mahinda Rajapaksa the presidential candidate was splitting hairs over whether a final solution was to be within a 'unitary' or 'united' Sri Lanka, Rajapaksa as President now stands accused of not having any unit of devolution on offer.
When Arahath Mahinda arrived in this country some 2253 years ago, he is said to have chastised King Devanampiyatissa about his hunting habits, admonishing the King that he was not the country's ruler but its trustee and protector.
Nearly a year ago, when Percy Mahinda Rajapaksa, assumed office as Sri Lanka's fifth Executive President at a hastily arranged ceremony at the Presidential Secretariat on the 19th of November 2005, he too assured his countrymen that he was not their ruler but someone to whom their nation had been temporarily entrusted to.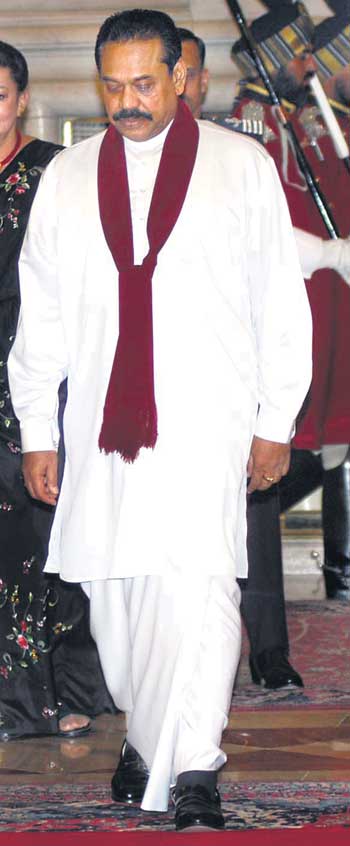 President Rajapaksa: One year is too short a period to judge his performance
President Rajapaksa — or at least his speechwriter — obviously had his eye on history and derived inspiration from his revered namesake. One year into the Rajapaksa Presidency, the President himself still has the chance to define this country's contemporary history but the questions that were being asked of Rajapaksa a year ago worryingly remain-and there appears to be no one to admonish him either.
Rajapaksa's election to the highest office in the land followed the closest and most acrimonious presidential election campaign in the country. His principal opponent, Ranil Wickremesinghe would be justified in feeling he was cheated of victory because of the low voter turnout in the Tiger-controlled North and East and there were many who doubted Rajapaksa's sang-froid given his relative inexperience in statecraft even though he had been Prime Minister for nineteen months. Entrusting Rajapaksa with the all powerful presidency was akin to asking someone to drive a car, after being in the passenger seat for just a short while.
In that sense, President Rajapaksa has passed the test. The prophets of doom who forecast a return to a full-scale war and economic ruin have been held at bay although some would still contend that the country is on its way there. Rajapaksa's first task was to learn on the job, and it appears he has, to some extent at least.
This is most evident in the virtual abrogation of the Mahinda Chinthanaya, once Rajapaksa assumed office. It will be remembered by those who care to remember — such as the Janatha Vimukthi Peramuna (JVP) and the Jathika Hela Urumaya (JHU) — that key slogans of the Mahinda Chinthanaya propelled the Rajapaksa campaign: discarding the Ceasefire Agreement (CFA), evicting Norway from its role in the peace process and insisting on a unitary state.
The pledges may have been instrumental in swinging Sinhala votes away from Wickremesinghe, but once that was achieved Rajapaksa quickly changed gears. If politics is the art of the possible, Rajapaksa has demonstrated just how gifted an artiste he is.
Winning the SLFP
Indeed, Rajapaksa must get full marks for his sketches on the local political landscape over the past year, where he has displayed consummate skill and cunning that would have made J.R. Jayewardene blush and Chandrika Kumaratunga envious. That landscape, once an ominous mix of red and blue that was threatening to maroon the Sri Lanka Freedom Party (SLFP) is now a pleasant mix of blue oceans and lush greenery, Rajapaksa would want us to believe.
The President first began by clearing the decks in the SLFP. An attempt by Chandrika Kumaratunga to retain the leadership of the SLFP was clinically scuttled and Rajapaksa wrested firm control of the party hierarchy. It was made clear to party loyalists that continued allegiance to Kumaratunga did not pay dividends and even seniors such as Ratnasiri Wickramanayake, Nimal Siripala de Silva and Maithripala Sirisena quickly switched camps.
With the SLFP firmly under his wing, Rajapaksa, the political philanderer that he is, then made advances to the United National Party (UNP) which was smarting under a dozen electoral defeats and the prospect of yet another long wait in the opposition benches sans the perks and privileges of office. Not surprisingly, two frontliners — Mahinda Samarasinghe and Keheliya Rambukwella — and a handful of backbenchers fell for the bait.
More the merrier, Rajapaksa seems to think, for he even made a spectacle of Mohamed Imtiyaz — the three-wheeler driver who won the Colombo mayoralty through the UNP-sponsored spectacle symbol — joining the SLFP!
Many in the UNP believe that the Memorandum of Understanding (MOU) Rajapaksa engineered with the major opposition party to be an extension of the strategy of promoting crossovers and that Wickremesinghe was wise to resist the temptation of accepting cabinet portfolios for Rajapaksa could have then inveigled more UNP stalwarts into joining his bandwagon.
Significantly, Rajapaksa's response to a UNP request to include an 'anti-crossover' clause in the MOU was a definite 'no'. Therefore, it is obvious that the President has set his sights firmly on building a parliamentary majority that would entrench his presidency and reduce the burdens of governing with a wafer-thin majority in the House.
Rajapaksa also courted the JVP with much ardour but the Marxist party was insisting on its pound of flesh — implementing the Mahinda Chinthanaya to the letter, a promise which the President obviously cannot honour. The relationship has since cooled, with some harsh words being said: Somawansa Amerasinghe claiming that the SLFP belonged to the oldest profession in the world and Maithripala Sirisena responding in style with 'bambuwa', a comment which we now know had presidential sanction.
But not all Marxists were immune to Rajapaksa's charms. Nandana Gunatilleke, a onetime JVP presidential candidate is a notable recruit and there is speculation that more will follow. If the JVP feels it got the 'karapincha' treatment — of being used and discarded — from the President, it wouldn't be entirely unjustified but even then, Rajapaksa's political savvy must be admired.
But it is also as if Rajapaksa spent all his energies fortifying his hold on power in the local political arena, so much so he appears to have focussed less attention on the wider agenda for the nation vis-à-vis the ethnic issue.
Yes, the CFA still stands, even if it may not be worth the paper it is written on, and yes, Erik Solheim and his Norwegian envoys still shuttle between Colombo, Oslo and Kilinochchi and yes, talks with the Liberation Tigers of Tamil Eelam (LTTE) are held sporadically in Geneva but is Sri Lanka any nearer to a resolution of the ethnic question, than it was a year ago? What is different, then, apart from the rotund Nimal Siripala de Silva assuming the leadership of the government delegation replacing G.L. Peiris with the lean and hungry look, one may ask?
What has been new is that under the Rajapaksa presidency, Colombo's response to LTTE threats and offensives has not been one of appeasement, as it was during the United National Front (UNF) government. The government and the military have retaliated to LTTE attacks and even scored a few military victories though these gains may have been somewhat negated by recent setbacks, most notably in Muhamalai and Habarana.
This shift in the military approach must be commended but the underlying question that remains unresolved under the Rajapaksa presidency is what the President's agenda and strategy is, for countering the LTTE? The UNF regime, for instance, assumed office in December 2001 and had a ceasefire with the LTTE in place by February 2002. Critics may argue that fools rushed in where angels feared to tread but the point is that Rajapaksa, one year after assuming office seems to be in no hurry whatsoever to formulate a cohesive overall policy to check the LTTE.
As a result, the LTTE has now succeeded in creating a humanitarian crisis in the North that is attracting unwelcome international attention. Incidents such as the abduction and killing of Tamils in the South and Friday's assassination of Tamil National Alliance Parliamentarian Nadarajah Raviraj continue unabated, for which Colombo has to take a lot of flak from the international and donor community, not because it is responsible for these events but because Rajapaksa's government seems strangely inept at prosecuting the propaganda war against the Tigers.
History tells us that it is to the LTTE's advantage to drag the ethnic conflict, delay its resolution by obstructing the implementation of any kind of agreement that is reached and to adopt a generally intransigent approach. Countering this would require pressuring the Tigers diplomatically as well as militarily but such a push must be cushioned with a genuine offer of devolution and autonomy.

Devolution offer
If Mahinda Rajapaksa the presidential candidate was splitting hairs over whether a final solution was to be within a 'unitary' or 'united' Sri Lanka, Rajapaksa as President now stands accused of not having any unit of devolution on offer. Maybe one year of governance is too little time to settle an issue that percolated for over a half a century but the Rajapaksa presidency is nowhere near formulating a political offer, even though it too, like many governments before it, goes through the motions of conducting all-party conferences at the Bandaranaike Memorial International Conference Hall.
The recent MOU with the UNP offers President Rajapaksa a unique opportunity to develop a southern consensus on the ethnic issue that has been lacking for several decades. It may be real politik that propelled both Rajapaksa and Wickremesinghe towards the MOU, the former because of international pressures from India and elsewhere, the latter because he was struggling for survival within his own party but nevertheless this opportunity may not knock twice and Rajapaksa would be foolish to spurn the chance.
If Rajapaksa has been less than 'hands-on' with the ethnic issue, is it because he has had his hands full with other issues? The other week his time was occupied with discussing garbage disposal within the Colombo Municipal Council. Is that a subject that warrants presidential attention, especially when he has nearly a hundred ministers at his disposal? Or, is having a hundred ministers itself a part of the problem?
On the economic front too, there has been nothing worth writing home about, under the Rajapakse regime. Prices of consumer goods have kept steadily escalating and any relief measures — apart from a piece-meal wage hike — has yet to trickle down to the masses. In a six-year tenure of office it is early days yet and the public will not grudge Rajapaksa some more time on the economic battlefront. But the President will do well to realise that one of the major contributory factors for the defeat of the Wickremesinghe-led administration in April 2004 was the failure of economic reforms to reach the masses after two years of incumbency.
The Rajapaksa presidency, at least in its first year, will also not score high on any index of good governance and some glaring lapses will question the sincerity of the President himself.
For instance, the practice of roping in opposition Parliamentarians by offering them the privileges of ministerial office has resulted in cabinet meetings becoming almost a Parliamentary group meeting. The public is acutely aware of this, especially since the economy has done nothing spectacular and living has become a daily struggle for the average citizen.
Then, the conduct of some of these ministers are less than exemplary. We have ministers such as Rohitha Bogollagama who take their bag, baggage, wife and son — the whole household, except for the pet poodle — for peace talks with the LTTE, at public expense.
The issue is highlighted in the media and when it is time for the second round of peace talks, it happens all over again! Then, we have Anura Bandaranaike, a minister who is not on talking terms with his ministry secretary and the functions of the entire Tourism Ministry — overseeing a vital sector of our economy — are compromised as a result. Yet another minister, Jeevan Kumaratunge is linked with a visa scam. Of course, he does not resign because, as Sunil Perera of the Gypsies will tell you in his popular song, all this happens in 'Apey Lankaave'.
Mahinda Rajapaksa is of course President of that 'Lankaava' and the public would look to him to stem the rot. After all, this is only the first year of his government and if Ministers are allowed to run amok in this manner, all hell would break loose at the end of five years and Rajapaksa himself would be held to account, simply for not taking remedial action.
It is here that some of Rajapaksa's own actions will be put under the microscope. For instance there was a lot of debate about the 17th Amendment to the Constitution and the appointment of the Constitutional Council, but since his assumption of office, Rajapaksa doesn't appear to be running hither and thither, trying to get matters moving. Appointments to the Elections Commission, the National Police Commission and the Permanent Commission to Investigate Allegations of Bribery or Corruption, among other institutions, are held up calling to question Rajapaksa's commitment to good governance.
Other appointments that President Rajapaksa has handed out also raise the issue of whether rewarding political affiliations should be at the expense of public institutions. An accountant with some queries over his alleged involvement in a pyramid scheme heads the Central Bank, a teacher has replaced a Professor of Paediatrics as the Head of the National Child Protection Authority and a popular singer is now the Governor of the North Central Province.
We are not for a moment suggesting that any of these appointments are in anyway improper or that these men and women are incompetent, but does the President have the all important knack of picking the right man (or woman) for the right job?
Then there was the rather undiplomatic tongue-lashing the President meted out to Sri Lankan diplomats who were summoned from all over the world to the Presidential Secretariat. A diplomatic posting is not a retirement plan for old faithfuls to educate their children overseas and a professional approach to the job was needed, Rajapaksa ranted.
Countering criticisms
Next, we hear that Kingsley Wickremeratne, SLFP old hand, ex-Trade Minister and ex-Governor of the Southern Province is to be appointed Sri Lanka's ambassador to China. Of course, the good Wickremeratne, professional that he is, may prove a fine ambassador but Rajapaksa's words would now sound rather hypocritical to many of the career diplomats who were present that day!
Much like his predecessors, Chandrika Kumaratunga or Ranasinghe Premadasa, Rajapaksa also seems to get a little touchy about criticism, but he seems to clearly distinguish between how much the state media is permitted to critique his adminstration vis-a-vis the private media. Generally, Rajapaksa, who was dubbed the 'reporter' by Kumaratunga when she was president, has maintained cordial relations with the media and his skirmishes with the fourth estate have been few.
One can only hope that Rajapaksa's tolerance levels will grow with his presidency if he wishes to preserve at least a semblance of media freedom in the country.
Overall, then, is the country better off than it was a year ago? Now we do have a President who is usually punctual, someone who doesn't lose his temper publicly and accuse all and sundry of all kinds of conspiracies. He appears to still retain his common touch and his people skills are probably the best in Sri Lankan politics.
There haven't been any schemes for personal aggrandisement, not yet and not on the scale of some of his predecessors anyway although there have been some murmurs of discontent about the 'Rajapakshakaranaya' of government, alluding to the involvement of siblings Chamal, Gotabhaya and Basil in decision making.
President Rajapaksa, by his own admission, is only the caretaker of the country and that too only for six years at present. But is being better than your predecessor enough to make a good President, let alone a great one?
Or are we destined for yet another presidency where, at the end of it, there would be nothing to show in terms of tangible achievements or as indicators of progress as a nation?
Mahinda Rajapaksa, we are sure, has one aspiration and that is that he wouldn't wish his presidency to be remembered in the same manner as that of Chandrika Kumaratunga's. If that is to happen though, the President has a lot more to learn on the job — and he should learn it pretty fast too.