A 9 dead-end for Raviraj
The government has turned down a request by the Tamil National Alliance to reopen the A 9 highway so that the body of the slain parliamentarian Nadarajah Raviraj could be taken to Chavakachcheri for the funeral on Wednesday, The Sunday Times learns.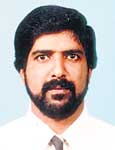 Raviraj
TNA parliamentarian Mavai Senathirajah made the request on behalf of the party on the basis that hundreds of people from Kilinochchi and other areas would wish to attend the funeral of the popular MP who was shot dead by unknown gunmen on Friday morning. The Sunday Times learns that the government turned down the request due to security factors just as it did in Geneva on October 28 when the LTTE asked that the Muhamalai entry point of the A 9 highway be opened.
However, the government has promised to provide air transport facilities for the body to be flown to Jaffna.
Meanwhile, the TNA, the SLMC, Communist Party, the Western Province People's Front and the New Left Front met in Colombo and appealed to the public to close down shops and put up white flags on Monday as a mark of respect to Mr. Raviraj.
On Monday, the TNA plans to bring the body to the Town Hall grounds where it hopes to have a meeting before the body is flown to Jaffna on Tuesday.