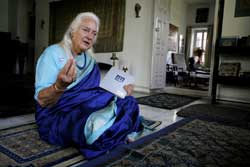 Barbara Adams, gestures while discussing politics at her home in Kathmandu
From royal consort to peace campaigner
By Sam Taylor
Barbara Adams has been witness to huge change. Today's Kathmandu with its filthy, crowded alleys, stinking rivers and gridlocked roads is a far cry from the fictional Shangri La depicted in the 1930s novel that gave rise to the myth of a mysterious land hidden deep in the Himalayas.
But when Barbara Adams arrived in the early 1960s, the depiction was not far off the mark. "The landscape was dominated by pagoda roofs so what you saw in almost every direction was golden pagodas, then the green rice paddies, and then the white snow mountains," said Adams, who arrived here as a reporter to cover the visit of Queen Elizabeth II in 1961.
Logistical problems meant Adams arrived just after the queen had left, but she ended up meeting and falling in love with a prince from the ruling Shah dynasty, and has called Kathmandu home ever since.
After graduating in the United States, Barbara sold off her belongings and moved to Europe, eventually ending up as a tutor to the children of a Venuzuelan senator in Rome.
India beckoned, partly because of a desire to travel and also because her mother read a lot of Kipling to her as a child. From there, she travelled to Nepal for the queen's visit. "I knew I couldnt go to India unless I earned money while doing it, but luckily there was an Italian paper, Mundo Nuovo, that said 'send us your stuff, and we will buy anything you send'," said Adams.
She met Prince Bhasundhara in the Yak and Yeti Bar in the Royal Hotel, which in 1961 was Kathmandu's swankiest watering hole run by the legendary Russian emigre, Nepali tourism pioneer and renowned tiger hunter Boris Lissanevitch. Adams said the massive changes that came from becoming "semi-royal" were not particularly difficult to deal with.
"It was the easiest thing in the world to turn my back on my old life, because I never really cared for it," she said. Closed to foreigners until 1951, and home to eight of the world's 14 tallest peaks including Everest, Nepal in the early 1960s was a spectacular and desperately poor place ruled along strict feudal and caste lines.
-- The journalist and the politically-aware prince --
The prince who fell in love with Adams, Basundhara, was the younger brother of King Mahendra who ruled between 1955 and 1972. The prince already had a wife and children but Adams says she was viewed by the Nepalese as one of his wives.
"Seven years before I met him he had had a complete separation, so I never had any relations with the wife. His kids would come by the house and play in the pool. I still have good relations with them," said Adams.
She would accompany the prince to all official functions "except those in the royal palace," where the more conservative members of the Hindu monarchy viewed her with suspicion. "He was a very modern prince and he looked for an excuse to get away from all that (palace formality) and I guess I was a good excuse," she said.
He was also, Adams said, "politically conscious," realising even that long ago "that Nepal would have to change". "I remember in 1965 he told me he was amazed that the communists had not yet come to Nepal. He said we might end up hoeing the fields," she said.
Forty-five years after she arrived, Nepal's rebel Maoists, who have waged a bloody communist insurgency for a decade, are poised to enter the government and King Gyanendra's future looks uncertain as the rebels push for a republic.
The king seized absolute power in 2005 in what he said was a move to crush the Maoists. But massive street protests forced him in April to restore parliament which has since stripped him of his political powers as well as control over the army.
In the early 1960s, however, there was no sign that the Shah court would have to relinquish its tight grip on the country. Adams fondly remembers Gyanendra, who ascended the throne in 2001 after the alcohol-and-drug fuelled massacre of most of the royal family by the crown prince who later killed himself.
"Gyanendra was a very normal friendly young man. But when you get shoved into this protective ambiance with everybody bowing down to you, it's bound to change you. I could feel this even in the position I was in," she said.
Although being a royal consort in a feudal Himalayan kingdom sounds incredibly exotic, life in court was difficult for the American, who was born in New York and brought up in a political family in Washington. Her father was a policymaker for US Democratic president Franklin D. Roosevelt. "I was very shy so it was a kind of trial for me" to talk with members of the court such as the queen, said Adams, a fluent Nepali speaker.
In addition, living in a palace was not as luxurious as is sounds. "Where we lived was cold and draughty and had innumerable rooms that I could barely find my way through," she said. Adams, who wears her long thick grey hair loose about her shoulders, lost touch with her family in the United States until a cousin working for the US State Department in Pakistan was dispatched to find her.
"I was in the Terai (plains on Nepal's border with India) and there were no roads there at the time. Basundhara and I were on elephants and suddenly a jeep came along, the first vehicle we had seen in three days, and it was my cousin Wesley Adams. "It was a real 'Dr Livingstone I presume' moment," she said, chuckling at the memory.
-- Out of the royal fold and into a life of political activism --
Adams's contact with the court ended in 1978, with the alcohol-related death of Basundhara, and after 17 years as a royal consort, Adams found herself out on her own. She says the royal family had never been comfortable with her foreign origins.
"It was interesting because I could see who my real friends were," said Adams who wears saris adorned with heavy silver jewelry. The travel agency she ran with the prince was taken over by the royal family, so she turned to craft exports for a living.
Describing herself as an "unbusinesslike bohemian type," she had to sell most of the jewellery the prince had given her to make ends meet. In 1990 when her partner's elder brother, King Birendra, was forced to allow multi-party democracy after a major people's movement, Adams's interest in writing was spurred anew.
"In the old days very few people would admit to being a communist. After this people's movement, all these really interesting and intelligent people emerged who had been underground for so many years," she said.
Nepal's fragile democracy was put under further strain with the declaration of the Maoist "people's war" in 1996. By this time, Adams was writing a weekly newspaper column, and her opinions on government policy in dealing with the rebels provoked the ire of the prime minister.
"I have been kicked out of here twice. Once by the royal family and once by the democratically elected government, which makes me feel as if my writing must have been fairly impartial," she said during the interview in her large airy home, tastefully decorated with contemporary paintings, Himalayan antiques and stunning textiles from Nepal and Bhutan.
-- "Don't cry. Let's just do something." --
In 2001 when the Maoist insurgency became more bloody with the entrance of the then Royal Nepal Army, Adams decided to do something she hoped would hasten the end of the conflict that killed at least 12,500 people.
"One morning I just woke up and said 'Why am I lamenting, let's just do something about this. Don't just cry'. I called a friend and called him over and said that we should start a campaign for peace," she said.
Adams took her peace campaigners to schools throughout the Kathmandu valley and the rest of the country, eventually earning herself the nickname "Shanti Didi" or "Older Sister of Peace". Today she continues to push for peace in her adopted home, and is hopeful that the current ceasefire -- consolidated on Wednesday with a peace deal between Nepal's ruling parties and Maoist insurgents that will see the rebels joining an interim government to be formed by December 1 and locking up their weapons under UN supervision -- will hold.
Unlike many other diplomats and foreigners in Nepal, Adams is keen to see the rebels granted their wish to enter government, and sees positive aspects in their movement. "The Maoists have been instrumental in bringing about a lot of things. Some may not like the change," she said.
"The Maoists started bringing the dalits (the lowest caste of 'untouchables') into politics, and women. The Maoists are 30 per cent women. The women, instead of being sent to brothels in Bombay, would rather take up a gun for a cause," she said.
Adams, who refuses to give her age but says that she was in her early 20s when she arrived in 1961, has no plans to return to the United States, which she describes as a "peculiar uptight country". "I am definitely planning on staying here for the rest of my life. I can't imagine leaving," she said. Despite the environmental degradation of the beautiful but backward city she arrived in all those years ago, Adams says the biggest transformation she has seen is in the people.
"When I arrived people took their permanent poverty for granted. They didn't have any hopes that their lives could actually change," she said. "Now there is tremendous hope, almost too much hope. Expectations have risen so high so fast that it may be a problem to fulfill them," she said.-AP