Wounded ducks, sacrificial lambs and the Democratic victory
NEW YORK - The six-year stranglehold of Washington by right wing neo conservatives of the Republican Party was broken last week when the opposition Democratic Party took control of both the House of Representatives and the Senate.
The victory by the Democratic Party, which has triggered a political earthquake in Capitol Hill, is clearly a defeat for President Bush's disastrous military misadventure in Iraq because the election was fought primarily on foreign policy, less on domestic issues.
While he was out campaigning last month, Bush's scare-mongering tactics were best expressed in his repeated assertion that if Americans exercised their votes to bring Democrats into power "the terrorists win and America loses." The American voters obviously refused to buy that argument when they voted to throw most of the Republicans out of Congress.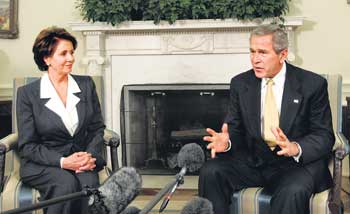 President Bush, right, gestures while meeting with Democratic House Leader Nancy Pelosi of Calif., in the Oval Office of the White House in Washington on Thursday. AP
As Bush told reporters just after the elections: "Iraq had A LOT to do with the election." Still, he wasn't sure how much he was willing to concede in his defeat, when he said later: "Iraq had SOMETHING to do with it."
Clearly, the last man standing in the post-election landscape is Bush, who is being described not as "a lame duck" but "a wounded duck." The Republican defeat is also being interpreted as a repudiation of Bush's presidency. At least Bush has two more years to go before he leaves the White House — unless the Democrats decide to impeach him.
Forced to uncomfortably swallow his own words, Bush has little or no choice except to call for "bipartisan" support to continue with his current political agenda. Unless there is strong support from Democrats, Washington will be in perpetual deadlock: a Republican president in the White House and a Democratic opposition in Congress.
On Thursday, Bush was forced to have a breakfast meeting with California Democratic Congresswoman Nancy Pelosi, soon to be speaker of the House of Representative, who has publicly described the American President as "incompetent," "dangerous" and "the emperor with no clothes." Asked to respond to Pelosi, Bush refused to be drawn into battle and sounded very charitable: "People say unfortunate things at times."
Tuesday's electoral victory by the Democrats also brought renewed faith in multi-party democracy in a country which was being increasingly swayed by right wing politics, and which gave Bush a second term as president despite the overwhelming opposition to his determination "to stay the course" in Iraq.
Absolute arrogance
As a letter published in the New York Times read: "It's almost too good to believe... the American people have done the almost impossible, using the great democratic process known to man: the vote." The military debacle in Iraq was a "symptom of the profound arrogance" of both Bush and the Republican Party. But the heavy price for their collective arrogance is still being both in American and Iraqi lives.
Quite justifiably, the first casualty of Tuesday's Democratic electoral victory was Defence Secretary Donald Rumsfeld — despite the fact that the buck always stops at the White House. If there was anyone in the Bush administration who symbolised absolute arrogance, it was Rumsfeld (who once tried to strike a secret deal with Saddam Hussein during the Iran-Iraq war in which the US covertly supported the Iraqis).
Whenever there was a call for Rumsfeld's resignation over Iraq, Bush went out on a limb defending him. And only last week, he told a campaign rally that his Defence Secretary was doing "an excellent job." Less than 36 hours later, he was forced to virtually fire Rumsfeld, who became the Bush administration's sacrificial lamb.
The axe is also expected to fall on the other arrogant Bush administration official: John Bolton, the US Ambassador to the UN, who sneaked into office through the backdoor because of Bush's decision to appoint him when the House was in recess. The Republican Senate, which couldn't muster enough votes to approve Bolton's appointment, has now gone Democrat.
Joe Biden, the Democratic Senator from Delaware who next year will be elected chairman of the Senate Foreign Relations Committee, says there is no point in considering Bolton's nomination "because regardless of what happens there, he is unlikely to be considered by the full Senate" — which is a must for all appointments. If Bush wants to defy the Senate, he could still give Bolton a second recess appointment, but he cannot receive a government salary and has to work gratis.
Perhaps the most significant fall out from the Democratic victory could be a dramatic change in US foreign policy — and specifically relating to the Middle East. The Bush administration, which has refused to announce even a phased withdrawal of US troops from Iraq and which has rejected proposals calling for dialogues with Iran and Syria, may be forced to change course.
In the Bush administration, the two prime architects of the failed US policy in Iraq were Rumsfeld and Vice President Dick Cheney. With Rumsfeld gone, Cheney has been reduced to a minority of one. The political landscape in Washington will surely undergo a significant change next year.