'Ridi Duvili': Develops a dramatic tale
'Ridi Duvili' revolves around a young damsel who ekes out a living by selling flowers and the many struggles she faces in life. Starting from today it will be telecast every Sunday at 9 pm on Derana channel.
Directed by Ravindra the miniplay stars Jayalal Rohana, Kanchana Mendis, Dananjaya Siriwardena, Ruwanthi Mangala, Ajith Lokuge, Avanthi Aponsu, Somasiri Alakolanga, Sarath Chandrasiri, Wasantha Kumarasiri and Hansamala Janaki.
Middle aged Justin is an owner of a flower boutique in the temple. He gives it away to Vindya a beautiful young girl. Vindya's father is crippled consequent to an accident. Justin pretends that he is helping the poor girl but he has an ulterior motive.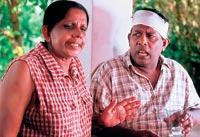 The entrance of Vindya to the flower business, infuriates girls working in the other boutiques. This is because that she is more attractive and everybody buys flowers from her. Though this has irritated the other girls it takes a long time for Vindya to realize it. While buying flowers Sirimewan Wattegedara his wife and son Chathurange leave their slippers for safe keeping at Vindya's shop. But the slippers disappear and Vindya is upset over this. This came about as a result of a conspiracy by the girls in the other boutiques. Even though Sirimewan's family does not take care much about the loss of their footwear, Vindya is upset. When she finds the slippers later she goes to hand them over to the Sirimewans. On this journey Chathuranga and Vindya who meet with each other fall in love. Yet Chathuranga can not continue with it as he does not want to hurt his parents.
Chathuranga's only sister had married despite the objection of the family and he has no desire to go against his parents' wishes. Yet instead of carrying on with the affair he decides to help Vindya.
Meanwhile Justin who is a divorcee tries to entice Vindya. When the girl objects he realizes that the reason for the objection is her affair with Chathuranga and tries to break it up. Justin carries tales to Chathuranga's parents as well as Manarangi, a girl proposed to Chathuranga by his parents.
Determined to help Vindya, Chathuranga finds a job in a computer firm where he works. Manarangi who comes to know this sends her away. Meanwhile Justin tries to take revenge from Vindya and hires a group of thugs.
Will Chathuranga ever marry Vindya? What is the future of Justine?
Answers are provided when'Ridi Duvili' continues with its dramatic sequences.