New VCDs from Tharanga Label
Mr. Vijaya Ramanayaka, proprietor, film producer and pioneer in Sri Lanka's cassette production of Tharanga Music Entertainment, handing over the first copies of the DVD's of the Sinhala films produced by Ceylon Theatres Ltd.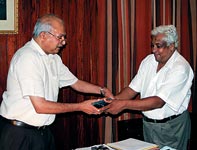 Ramanayake handing over the VCDs to Mr. Page , Chairman CTL
Ceylon Theatres produced three films in 1991, 1992, 1993 and 1994. "Sthree", "Kulageya", "Prathigna & Love 94". These copies are from Chairman of Ceylon Theatres Ltd., Mr. Anthony A Page. Recently 4 films are available on VCD's also on Tharanga Label in Sri Lanka and worldwide.
Newly released VCDs