Dazzling night of music
'Music of the Night,' a musical theatre concert presented by the Charity Committee was indeed a memorable evening. Held at the Oak Room of the Cinnamon Grand Hotel on October 4, the evening featured acclaimed Philippine and West End star Monique Wilson, 10-year-old singing sensation Julia Abueva and well-known Filipino actor/singer Rito Asilo.
After an exquisite five-course meal, enhanced with live instrumental music by the Ananda Dabare Ensemble, the platinum sponsors of the show, Cathay Pacific presented their 60th birthday cake brought into the dining area with a flourish, quite dramatically to the sounds of airplanes taking off.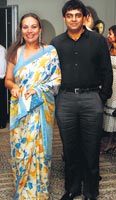 Rozanne and Sunil Hemdev. Pix by M.A. Pushpa Kumara
Star of the evening, the youthful Monique Wilson sang over a dozen songs - several well known Broadway hits such as Somewhere over the rainbow, Just around the Riverbend, etc., in her own unique style. "I am blessed to be able to contribute songs from the world of musical theatre for this just cause," she said, interacting with the audience. Nicolasura accompanied her on a baby grand piano.

Lalani Alwis
As the evening wore on, Monique got the audience to sing along and clap, making them active participants of the evening.
An accomplished singer in her own right, Julia Abueva has performed in various productions in Philippines and Singapore, including the theme song at the recent SEA Games in Manila. Her evening's repertoire included 'I believe', 'Miracles' and songs from Sound of Music.
Her accompanist was Associate Artistic Director for the New Voice Company, Rito Asilo whose rendition of The Phantom of the Opera was simply outstanding.
The Charity Committee for whom this is their seventh show, has over the past few years used proceeds from their events to fund vital medication and equipment for the children of the Maharagama Cancer Hospital amongst other worthy causes.
Proceeds from this event will go to the Karapitiya Cancer Hospital in Galle, the only cancer facility in the southern region.