Lankan's speech on humanity wins coveted prize
'Humanity…is there any hope?' was the topic that brought Sri Lankan Dhananjaya Hettiarachchi success at the International Taped Speech Contest conducted by Toastmasters' International where he won the coveted prize, competing against 10,000 other participants across the globe.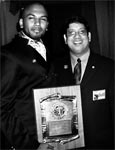 Dananjaya Hettiarachchi with Dr.Dillip Abayasekera
He certainly made his country proud when he received the award at the Hall of Fame in Washington DC, proving that a Sri Lankan can excel in the international arena too. His message that was analyzed by an All-American panel of judges was simple: "Hope of humanity lies with every individual rather than with political leaders," he said, revealing a strong personal opinion on conflicts occurring locally, in the Middle East and between US and Iraq where priorities of both parties seem to lie in grabbing natural resources.
The ceremony that saw contributors to the movement from around the world was unbelievable, he says. President of Toastmasters International, Dr. Dilip Abayasekera was delighted that a fellow countryman had won the title. Not only did the occasion help boost his confidence, Dhananjaya now feels he is geared to equip young people with similar skills. "I would like to contribute to an attitudinal change," he says.
His speech delivered extempore was analyzed for vocal variety, vocabulary, structure and content. To be able to qualify for the contest, Dhananjaya who happens to be the Vice President - Education of the Smedley and Ralph Clubs in the country was a finalist at the South Asian Best Speakers' Conference, apart from winning several awards locally.
Preparing speeches is apparently a gift he is blessed with, normally preparing the structure in his mind before practising it at least 50 times. "All I keep before me are key phrases that help trigger sentences and emotions," says he. His constant source of encouragement has been his mentor Arunasalam Balraj and his parents.
A CIMA student, Dhananjaya has conducted speech craft programmes for software companies and is an active member of Toastmasters. Notably, he is also an outstanding ballroom dancer. The multi-talented youth speaks of the strange interconnection between the two disciplines of speaking and dancing. "While the former is a verbal expression of emotions, the latter is a bodily expression of the feelings inside."
A former student of St. Thomas' who excelled in various sports such as swimming and rugby, Dhananjaya took pride in being a member of the Sri Lanka Cadet Corps. Inspired by army leaders, he has wanted to join the army ever since. However, respecting his parents' wishes he is yet to choose his career path, although he is very keen on contributing to the betterment of society and the country at large.