Pandemonium over public burning
An attempt to burn some documents of the Immigration Department including passport applications and birth certificate copies in a public place in Colombo, caused pandemonium yesterday, drawing in the Police to probe the matter. Security guards from the Colombo Public Library who had seen one of their drivers trying to burn the documents in the library compound, immediately detained the driver and informed the Cinnamon Gardens Police.
The library's security chief, S.A. Suresena said, he managed to save some of the documents but said the suspect driver M.J. Algama had tried to hide them.
"I left some of the documents that I managed to retrieve from the fire, in a room with the driver but he tried to hide it when I left the room, increasing our suspicions about him," he said.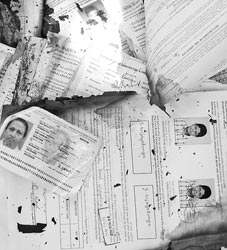 Some of the rescued documents. Pic by Berty Mendis.
However, when police questioned the driver he said a friend at the Department of Immigration had given him a pile of documents to be discarded.
Into this melee walked in the Immigration Department's chief management officer S. Abeykoon claiming that he was the one who had handed the documents to the driver. He claimed the pile contained cancelled passport documents and forms.
After questioning both Mr. Algama and Mr. Abeykoon at the public library premises, the police took the driver to the police station for further questioning while Mr. Abeykoon left the scene saying he would collect necessary documents to clear up the misunderstanding by Monday.
Meanwhile, Immigration Controller, P.D. Abeykoon told The Sunday Times the pile contained outdated passport documents.
"The Immigration Department does not keep these old documents in our offices, we usually burn them after some time," he said.
He also said he was not sure of the usual procedure adopted when destroying these documents but believed they were handed over to an agent of the Department.
Mr. Abeykoon said that the documents were seven or eight years old, although the public library security chief said some of them were dated September 2006.