Questions raised over high price shrine room
The Auditor General's Department has called for explanations from the Sri Lanka Bureau of Foreign Employment (SLBFE) on the construction of a Buddhist shrine room, within its premises, costing nearly half a million rupees.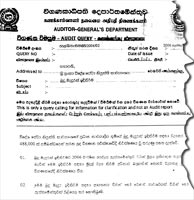 The audit query.
In addition to the huge cost, the Audit query is also probing irregularities regarding construction procedures.
The Sunday Times learns that the building contract had been given to a Battaramulla construction company , which reportedly quoted Rs 488,000 for the construction of the shrine room only. The statue used for the shrine room is the existing one.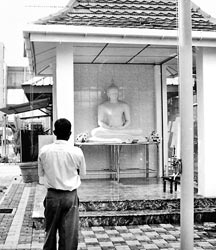 The shrine room.
Pic by Athula Devapriya
The audit query is asking how the Bureau spent such an amount when the 2006 budget did not allocate funds for such a construction .
The query also points out that the SLBFE had not followed the procedures outlined in the 2006 January 25, Government Procurement Guidelines when selecting a contractor and it had no written contract with the construction company.
The Auditor General's Department also charges that although the building plan shows that a 10mm thick glass wall was to be incorporated to protect the statue, the glass which was used for the shrine room was only 5mm thick.
When The Sunday Times asked SLBFE General Manager H. Batagoda about the audit query he said he was unaware of such a query and that the construction had been stopped because people of all faiths visited the bureau.
"If there is such a query then it will reveal any corruption in the SLBFE. The SLBFE does not need to defend itself. "We will answer the Auditor General's Department if we are required to do so," Mr. Batagoda said.
However, we are publishing a photocopy of the audit query and a photograph that shows the completed structure.