The role of the Senanayakes of Botale
The Senanayakes from Botale near Mirigama is a well known family in Sri Lanka. Mudaliyar Don Spater Senanayake (1848-1912) was a land owner and plumbago (graphite) merchant. He had his own plumbago mine at Botale.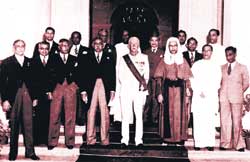 Prime Minsiter D. S. Senanayake hands over the Speech from the Throne to Governor-General Lord Soulbury at the ceremonial opening of the first Parliament. It was customary for the Prime Minister to indicate the government's future prorgamme of work to Parliament at the beginning of each session.
He had three sons - Frederic Richard (better known as F.R.), Don Stephen ( D. S.) and D. C. Starting with the temperance movement, the family was in the forefront of the nationalist movement in the country in the early part of the 20th century.
October 20 was a significant day for the Senanayake family. On October 20, 1882 the eldest of the three brothers, F. R. was born. Two years later, on October 20, 1884 D. S., was born.
F. R. Senanayake was educated at S. Thomas' College and went over to Cambridge University where he obtained his Bachelor of Arts and Law (LLB) degrees and later qualified as a barrister. On his return, after practising as a lawyer for a few years, he joined the temperance movement along with his father and the two brothers. This was the entry to the political life for the two brothers F. R. and D. S. As leader of the Sinhala Mahajana Sabha founded in 1919, he mobilised the support of the rural intelligentsia to promote nationalist sentiments. While remaining as leader of the Mahajana Sabha until his premature death when he was only 44, he also served as President of the Buddhist Theosophical Society (1923-25) and the YMBA (Young Men's Buddhist Association).
He was among the Buddhist leaders who were arbitrarily arrested by the British authorities following the Sinhalese-Muslim riots.
Thereafter he was in the forefront of the reformist movement and played a leading role in organising the agitation for constitutional changes. His untimely death on January 1, 1926 while on a pilgrimage to India prevented him from reaching the top in politics.