Panora, a definite leader in the Sri Lankan IT arena - Education Minister
Panora, the first ever locally innovated branded Personal Computer (PC) has been a leader in the Sri Lankan IT sphere with many significant achievements and contributions towards national projects, the Minister of Education Susil Premajayantha said recently.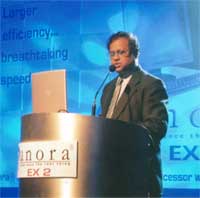 Susil Premajayantha making his speech at the event
Speaking at the launch of Panora EX 2, a PC featuring the latest Intel Core 2 Duo processor, the minister was quoted (in a Panora press release) as saying Panora has been involved in the Asian Development Bank (ADB) funded, Secondary Education Modernization Project of Sri Lanka through which over 4500 Panora PCs have been provided to schools in the island. This is a significant achievement for a Sri Lankan company to compete with global IT giants and win this tender, he said.
Panora's varied range of products has made PCs reachable to many.
They are providing an excellent after sales service through the 25 Panora Certified Service Centres spread across all parts of the country, Premajayantha added. "The Panora EX 2 PC features the most advanced Intel Core 2 Duo processor which uses Intel Dual Core architecture, and is capable of performing tasks 40 % faster than the previously used processors and consumes 40 % less energy. This makes the Panora EX 2 the ideal PC for any office or home environment in today's energy scarce world," Sales Director of Intel Corporation for the Asia Pacific Region, Markus Lou said.
Being able to launch the Panora EX 2 PC in Sri Lanka within two weeks of the global launch of the 2 Core Duo processor by Intel, is yet another significant achievement of Panora Corporation (Private) Ltd, he added.
Chairman of the Information Communication Technology Agency (ICTA) of Sri Lanka, Professor V K Samaranayake said Panora is a PC as good as any other branded computer in the world and will soon be the most sought after PC brand in the country.