Rave reviews for mega motor show
The Formula Plus – Sri Lanka Motor Show 2006 which went on board at BMICH Colombo on Friday the 6th October had its grand finale last Sunday earning rave reviews from both the public and the media.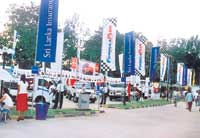 Scene from the motor show
The 3-day premiere motor show, came to a close at the BMICH over the weekend with thousands of viewers clamouring to see the exclusive, classy, modern and classic beauties from all over the world lined up for display. The prestigious motor show was held for the second consecutive year under the patronage of Sri Lanka Insurance, the Classic Car Club of Ceylon and the Ceylon Motor Traders Association.
The event saw more than 25,000 vehicle lovers walk in each day, with an overall turn out of over 80,000 making their way to the exhibition. Vehicle enthusiasts formed queues outside the BMICH gate, eagerly awaiting their turn to feast their eyes on the 160 models of classic and vintage cars making the catwalk. The exhibition was in two parts with one section dedicated to the latest models ranging from new Audi A4 and A6 to the newest Mercedes Benz, Chrysler, Jeep, BMW 7 series and 5 series, Peugeot 307 CC and 407 displayed by the franchise holders. The classic car section featured cars such as the Austin Mini (1956) and Sunbeam Talbot 90 MK2 (1952) and many other classic car models which attracted that segment.
Commenting on the outstanding response received at this year's motor show, Nalaka Godehewa, CEO of Sri Lanka Insurance said, "We were able to give vehicle lovers the opportunity to view the widest range of modern and vintage vehicles displayed under one roof."
Mana Jayawardana, Co-Chairman Formula Plus Sri Lanka Motor Show 2006 and President of Classic Car Club of Ceylon said "I have been involved in eight motor shows throughout my life and I must say that this is one of the best motor shows that I have seen. It was a tiresome effort but the results were rewarding.
The motor show was nothing short of magnificent and caught the eye and attention of every vehicle lover in the country."