---
The Goss
Keanu gives up Matrix money
It may come as no surprise that Keanu Reeves, who opts to intersperse mega-hits like Speed with quirkier art-house fare like Little Buddha, isn't exactly motivated by money.

The actor has even signed away a sizeable back-end deal for two Matrix sequels, the Wall Street Journal reported recently in a profile of Reeves' erratic Hollywood career.

According to the paper, Reeves handed over his valuable profit-sharing points to the franchise's special-effects and costume-design team. Whoa, dude!

"He felt that they were the ones who made the movie and that they should participate," an unnamed movie executive told the Journal.

And it's not the first time that Reeves has shared his movie spoils. On The Devil's Advocate, Reeves shaved his salary by a few million dollars so that producers could afford Al Pacino, and he did the same thing on The Replacements to be able to work with Gene Hackman, according to the Journal.

But don't cry for Reeves' bank account: the actor was paid $10 million upfront for The Matrix and ended up earning $35 million from back-end deals when the film became a hit.

If it were up to studio execs — and doubtless, most moviegoers — Reeves would be cast only in profitable, surefire action movies like The Matrix and Speed. Instead, says the Journal, Warner Bros. compromises with the actor, greenlighting movies like Sweet November that no one particularly wants to see to secure Reeves' services for the big movies.

Still, the actor's quest for diverse roles paid off recently when he won unexpected praise for his turn as a redneck wife beater in the little-seen The Gift.
---
Simpsons' creator wins Emmy Award
Matt Groenig, executive producer, poses with the Emmy Award he won for Outstanding Animated Program for "The Simpsons," during the Creative Arts Emmy Awards held on September 8, in Pasadena. The Primetime Emmy Awards will be presented in Los Angeles later in September.
---
Anne Heche pregnant
In her interview with Barbara Walters that aired recently Anne Heche didn't hold back on details of childhood trauma, mental illness, or her sex life with ex Ellen DeGeneres, but it turns out there was one little item the ditzy blond actress didn't reveal on 20/20: she's pregnant.

Heche 32, waited to share the news of her impending motherhood until after her Sept. 1 wedding to 27-year-old Coleman "Coley" Laffoon, the cameraman she had hired to shoot a documentary about DeGeneres last year.

However, Walters still got the scoop: After the previously taped interview aired, the veteran journalist broke the news that Heche is three months into her pregnancy.

Meanwhile, Heche's mother and sister say they're outraged by allegations of sexual abuse at the hands of her father made by the actress in her new book, Call Me Crazy.

Heche's mother, Nancy Heche, says on the PreviewPort.com site, "I am trying to find a place for myself in this writing, a place where I as Anne's mother do not feel violated or scandalized. I find no place among the lies and blasphemies in the pages of this book."

The actress's sister Abigail said, "It is my opinion that my sister Anne truly believes, at this moment, what she has asserted about our father's past behaviour; however, at the same time, I would like to point out that Anne, in the past, has expressed doubts herself about the accuracy of such memories. Based on my experience and her own expressed doubts, I believe that her memories regarding our father are untrue."

Heche said in her autobiography that she suffers from a personality disorder that often sends her into a "fourth dimension," where she believes that she is from outer space.

Heche has starred in such films as "Six Days, Seven Nights" and "Wag the Dog." She appears in the forthcoming film "John Q" and is developing a TV series for Warner Bros.,
---
Kidman, Roberts hounded
When Nicole Kidman showed up at the Venice Film Festival to promote The Others (already a summer sleeper in the United States) and Birthday Girl, paparazzi were on her with lightning speed.

A high-speed watery chase started at the airport, with Kidman's "vaporetto" driver trying to lose eight speedboats packed with photographers and cameramen as she tried to reach The Cipriani hotel. In the middle of the madcap chase, a police launch sped up to Kidman's boat and told the security guards on board to slow down. The red-haired beauty showed up with 22 suitcases, the press reported.

Meanwhile, back in Los Angeles, police are investigating claims that a movie cameraman, who is supposedly Julia Roberts' new squeeze, threw bricks at a paparazzo. Roberts is rumoured to be rebounding from Benjamin Bratt with Daniel Moder, a (gasp) married cameraman.

A police spokesman said no one had been arrested or charged in the assault complaint filed by freelance photographer Francis Griffin who had been waiting across the street to get a photo of Moder and his family.

Griffin alleges that Moder threw two bricks over the fence of his home that hit and damaged the photographer's car, police said. Griffin himself was unharmed.
---
Chicks sue Sony
Country pop trio the Dixie Chicks are suing Sony Music Enter- tainment, seeking to terminate their contract and accusing the Japanese recording giant of cheating the singers out of more than $4 million. The lawsuit, filed on August 27, 2001 in the U.S. District Court in New York, charges that Sony engaged in 'systematic thievery' to underpay royalties owed to the band since 1998 for two multiplatinum albums released by Sony's Monument imprint. The picture shows band members (L-R) Natalie Maines, Emily Robison, and Marti Seidel thanking the audience after winning the award for Vocal Group of the Year at the Country Music Awards show this October.
---
Mignonne's new mix
By Ruhanie Perera
I went out to interview an artiste who I thought sang music of the past: the type my mother would've liked. But when I got there I found her to be very much 'with it', in fact she wasn't even talking 'present' she was already looking to the future. Her signature tunes, which once my mother may have done some serious toe tapping to, will soon be played at contemporary clubs for yet another

generation to dance the night away to.

Artiste Mignonne Fernando, of 'Mignonne and The Jetliners' fame, who also had a seven-year song-writing contract with EMI Music, London plays her well known 'This is my Island Song' for me. It's a special song for her, one that brings back probably the happiest memory of her career. It's the song that won for 'Mignonne and The Jetliners', the Radio Television Hong Kong Songwriters Competition in 1981. Says Mignonne, 'We came in second place out of the 10 countries in the finals; I was so thrilled. I can still hear the announcement that was made on SLBC the next day. It was a great experience.'

So it's really poetic justice that it's this same 'Island Song' that is the launching pad of her latest venture. But this time it's 'Island Song 2001' with the latest beats and an array of sound effects thrown in. In addition to that there's rapper 'Nasty' who's also brought in to rap two verses of the song; an addition that Mignonne is thrilled with, 'It's unbelievable, he's put it all in Rapper's Language but the sentiments behind the words are identical to mine.' 'Nasty', a student of Royal College who was in the band Urban Sounds is known to his fans as 'Nasty K', and that's the way this elusive rap artist likes to keep things.

Working with Iraj Weeraratne ('who wasn't even born when Island Song first came out'), Tareeq Musafer and A.R. Chaturanga of Take One Studios, Mignonne has given a face-lift to her song ('I love it - it's with it!' - is her reaction to the finished product). Her intention is to make the song one that appeal for the younger generation. 'I want to share my music with the younger generation,' says Mignonne who doesn't want to see her music limited to a particular group of people. 'I want to give out my music; I'm reaching out with the hope of touching this generation with my music and have them reaching out to me. This process has been made easier for me because, if you take the international music scene, lots of the old songs are coming back; that is the trend now. So the channel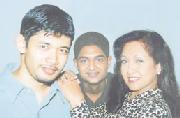 already exists for me, I only have to walk across.'
'Island Song' is one of the highlights of the CD she hopes to launch soon. Still in the process of mulling over the names for her CD, Mignonne has decided that she would like to go with 'Proud to be Sri Lankan', also a title of one of her songs and quite appropriate for the CD considering the essence of her songs and her nature. The CD is mainly a collection of all her originals, padded up with other songs she was popularly known for. Most of the songs are original versions that many will be familiar with. They are ones that have a special meaning for her as well - like 'Than nivadu kalé', which she sings with her daughter. However, there are also some songs, which are newer, remix versions of her old songs - 'They are the same songs, but I've sort of given them a new interpretation.'
'I've always written songs about Sri Lanka,' says Mignonne who felt that the present was the best time to put out something new as a sort of motivation for our people because everyone is feeling rather down these days. She adds, 'Because I've always enjoyed mixing records, I decided to join up with talented young ones like Tareeq and Iraj who have the same ideas that I have. They've also got a very fresh, different outlook, yet they maintain the Sri Lankan identity of our songs, which works well for me.'
Mignonne started with the 'piano, bass and strings act'; today, while retaining that act, she's also experimenting with the synthesizer and its innumerable functions she's always been interested in. 'So what I'm doing today is in a sense marrying two styles and bringing about a great union.' It's an approach she was famous for even in the 70s. Today they call it 'Fusion Music'; 'I used to call it 'goofing around',' she says with a peal of laughter. 'I took a bit from here, took a bit from there and put it took together while retaining the Sri Lankanness of the song. At that time it came as a bit of a shock for the 'trads'.' Somehow I get the feeling, judging by her obvious glee, that it was this shock that she thrived on.
Now back in Sri Lanka after a 16-year stint at the Regent Hotel, Hong Kong, which started out as a six-month contract for Mignonne and The Jetliners, Mignonne will continue her work here. In Hong Kong they were recognized as the best expat band and were given the best of events to play for.
'We used to play in the ballroom. Everyday we would have to play a completely different type of music according to the function. One day there would be an American function, the next a Swiss event, sometimes government gatherings and the frequent Chinese wedding, so we kept changing our acts regularly.'
Playing to different audiences from different countries has left Mignonne adept at Greek, Polish, French, Chinese, Light Classical, Japanese, Hawaiian and Hindi music. Almost as if to prove the fact, she suddenly breaks into a song; 'It's a bit of a Cantonese song,' she says, grinning at my rather bemused expression.
Mignonne's got a lot planned: not just where her music is concerned but also in connection with the local music scene and young artistes. Her personal maxim is, 'Reach out with your music and pass it on. That's what music's all about.' It's got her this far, it's sure to keep her singing on.