Musical maidens
'The Magic of Music', an evening of song and dance, presented by the choir of Musaeus College, will go on the boards at the Bishops College Auditorium on September 19 at 7 p.m.
A treat of fifty-five voices producing melodious tunes as a group, as duets and solos; dance performances -with choreography by Myondi, Tara and Ruwanthi (three past pupils) - and piano recitals sure promise an evening of unforgettable entertainment. "This is their maiden concer," says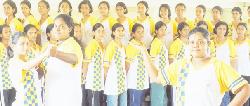 Eshantha de Andrado, director and producer of 'The Magic of Music'. "The girls are very excited. They've been working hard since February. They have really blossomed and developed their musical talents. And today, it is amazing to see the team spirit among them, to see the way the girls encourage each other."
'The Magic of Music' however, is not only about developing talent. There is a message to be given too. The first half of the programme will be a medley sung acappella, dedicated to all the soldiers and the oppressed. The medley, interestingly, includes both Sinhala and English songs, comprising well known tunes such as 'Ran Malak' and 'We Belong'.
Teacher in charge Manel Tillekeratne will accompany the choir for the other numbers.
-R.J.
---
Clothes Line
---
My thaththi hit my ammi
"He slapped me on my face," complained a little six-year-old friend of mine about his father.
"Why?" I asked him, who still bore the mark of his father's rather large fingers on his small cheek. "Because I told Mrs.... that thaththi hit the phone on the floor yesterday after he had a fight with ammi."
The small fellow who rather loved his father tried to justify his father's action,
"Well, I think thaththi was after a beer."
(For him any kind of an alcohol is "beer")
I was truly horrified when I heard the story. Firstly, beer, no beer or with more than a beer, what right has anyone to frighten and upset his kids? It is called violence and every child has the right to live in peace. (with no phones flying around). Secondly, what do parents expect their young children to do?
Do they want the kids to lie about what goes on in their lives or do they want them to bottle up everything concerning themselves and suffer mentally? Does slapping an innocent, honest kid solve problems?
My little friend who was an innocent victim did not shed a tear which rather frightened me. I think parents should be more responsible in their words and actions. A child is a child.
Parents have a duty to look after a child not by just providing them with food but also by nurturing their delicate minds with care and patience.
CB4
---
Who owns this land?
Man has allocated unto himself all the lands of the earth as if they exist for him alone. He thinks the mountains, valleys, rivers and oceans are all his. He insists on saying "I own, I own". And he has papers and lawyers to prove it.
He kills birds, fishes and other animals. He thinks he owns them too. They are on 'his' land he thinks.
What right do the birds, fish and animals have if they run counter to man's wishes - his right to make money?
But man tries to preserve things. He has made conservation laws and protected parks. But yet he kills living beings. Man does not have the right to destroy other living species. Man cannot dominate the earth, if he does not have wisdom to protect other creatures. The earth is for all the creatures that live on it.
Anoja Goonetilleke
---
Rise to the top
Blind climber looking up after summiting Mount Everest
Camp 2 on Mount Ev- erest lies high above the treacherous Khumbu Icefall, elevation 21,300 feet. Climbers reaching this point have only begun to test their high-altitude survival skills - and to fully appreciate the majesty of Everest as it soars upward another mile and a half.
It was at this camp one night in May that Erik Weihenmayer sat in his tent as a lightning storm moved across the mountain face.
"It was amazingly beautiful," recalls Weihenmayer (pronounced WINE mare), sitting in a downtown hotel suite during a recent visit to Boston. "Every time the lightning cracked, it would echo off the mountains, he says. "And I would have a view of the way the mountains looked by the echo. I could feel the beauty of it."
Did he dream differently while on Everest? Can a man who once had the ability to see and then lost it, at age 13, and who now goes places that few sighted people will ever get to, see things in his sleep that somehow mirror the incredible views surrounding him as he climbs?
"Yeah, I dream. I have climbing nightmares," Weihenmayer says with a burst of laughter. "They're more like on outline of an image, actually, the way my brain remembers sight. It's sort of two-dimensional. I wake up knowing where I was, but I don't have the image perfectly clear in my head."
His first night back home in Colorado, adds Weihenmayer, "I woke up scared, not knowing where I was. If you're in a tent pitched on a narrow ledge at 20,000 feet, and you walk outside not knowing where you are, it can be a long fall." That would be an understatement.
As most of the planet knows by now, Weihenmayer, 32, became the first blind person to summit Everest when he accomplished the feat on May 25. The achievement put the handsome Boston College graduate and former grade school teacher on top of the media world, including the cover of Time magazine. It also put to rest any lingering doubts that a climber of Weihenmayer's proven ability - he has summited five of the seven continents, highest peaks, along with the likes of Yosemite's imposing El Capitan - could pull off something that has cost 170 climbers their lives over the past half-century.
Tethered to his team-mates and aided by a system of bells and specialised trekking poles. Weihe-nmayer risked death by mis-step all the way up and down the mountain. En route to Camp 1, Weihenmayer's face was accidentally cut by a partner's ice axe after he stumbled into a crevasse. He suffered bouts of dehydration and dysentery as well.
The higher he went the better and more confident he felt, says Weihenmayer, because deep snow is easier to navigate than ice when you can't see what you're stepping on.
As he says, "Blind people look for rhythm. And I don't mean that in a Stevie Wonder-type of way." On a mountain where climbers expect to encounter a frozen corpse or two, however, nothing is truly taken for granted. Certainly not Weihenmayer's amazing feat.
When the expedition was announced, many in the climbing community questioned his judgement. If Everest didn't kill him, they said, Weihenmayer's teammates would be putting themselves at unnecessary risk.
"I have to say, I had a little secret thrill in shoving this climb down their throats," says Weihenmayer, a smile dancing across his lips. "That's just human nature. " Not only did his team trust one another with their lives, he says, "but nobody got paid to do this. And even though I'm blind, I have more technical - climbing experience than most of the climbers who are on Everest. I was qualified to be there whether I was blind or not. But people just saw 'blind.'
And what do they see now? An avalanche of publicity that has already followed Weihenmayer down the mountain, for one thing. With more to come, surely. The expedition, co-sponsored by the National Federation of the Blind, was followed all over the world through the NFB's 2001 everest.com Web site. There's also a documentary film about the climb set for release this fall, underwritten by the makers of Allegra.
Touch the Top of the World (Dutton), Weihenmayer's stirring autobiography, reached bookstores while he was still in Nepal. The attention paid to his Everest climb all but guarantees he will write a second volume now that he has, as Weihenmayer puts it, "given blindness the facelift it deserves." Advocates for the blind are already comparing him to Helen Keller. His Everest trip has that historic feel to it.
And what if he had failed to summit Everest? "That's the thing about mountains, " says Weihenmayer softly. "You do everything right and then things happen out of your control. You get sick, or the weather turns bad. I knew there was a good chance we wouldn't summit. But hey, there are things you want badly and will never have. That's how life is.
"It's the same with going blind," he continues. "There are things you can't control, no matter if you kick and scream and cry. I thought that not summiting on Everest might be one of those things. You see, going blind actually did teach me a lot about acceptance in life." And now he's opening even more eyes.
- NYT
---
From reel to real
Harrison Ford's rescue of a hiker has further blurred the distinction between actors and the characters they play
In a flamboyant case of life imitating art, Harrison Ford has been hailed a hero after mounting a rescue mission worthy of his alter ego, Indiana Jones. Last month, the 58-year-old actor took to the skies in his Bell 407 helicopter in search of a boy scout who was reported lost in Yellowstone National Park.
Ever the pro, Ford even had a laconic line ready for when he finally tracked down 13-year-old Cody Clawson. "You sure must have earned a badge from this one", was the wisecrack that greeted the stunned schoolboy.
Ford, who last year airlifted an exhausted hiker from a mountain top, is not the only performer who can't quite shake off his on-screen persona. Recently 16-year-old Sopranos actor Robert Iler appeared in court on robbery and drugs charges.
Iler, who plays tearaway Anthony Jnr, the son of Mafia boss Tony Soprano, was one of three teenagers arrested in Manhattan after an alleged mugging. Unlike the others, however, he was flanked by three public relations experts keen on damage limitation.
Nigel Pivaro, who plays small time crook Terry Duckworth in Coronation Street, has also had a recent brush with the law. The 41-year-old, who is studying for a degree in military history, was interviewed by detectives investigating claims (which he denied) that he tried to board a cross-Channel ferry carrying a gun in a shoulder holster. No charges were made, but the tabloids had a field day.
Being identified with any long running role is, of course, an occupational hazard. Method actors such as Marlon Brando and Daniel Day-Lewis are famous for inhabiting their characters on and off-set when preparing for performance.
But some professionals find themselves unable to shake off public perceptions, with potentially alarming consequences. Sunetra Sarker, 28, who plays the femme fatale nurse Nisha in the British soap Brookside, was leaving a theatre with friends when a woman collapsed.
"I was walking past when a man shouted, 'She's a nurse, she'll help you'," says Sarker. "I said, 'I'm sorry, I've got no medical training', and started to go, but everybody began saying 'Look at her, she's a nurse, and she's just walking away' and I was so embarrassed I turned back."
Sarker, held the woman's hand and said, "I'm Sunetra, can you hear me?" Fortunately, she responded and opened her eyes. "I was surrounded by all these people saying 'See? You can do it, you are a nurse', even though I'd done absolutely nothing," she says.
"Whenever an actor does anything out of the ordinary, they may be seen by others as crossing the boundaries between their role and reality," says Mark Griffiths, a psychologist based at Nottingham Trent University. "But as outsiders, we're far more likely to make assumptions that aren't necessarily true."
In a fracas at the anti-capitalist demonstrations in London in May, former Juliet Bravo actress Anna Carteret found the recognition factor worked in her favour. Carteret, 58, who has always been politically radical, was marching along Oxford Street, when she found herself hemmed in by police barriers.
She and the rest of the crowd were held for five hours. As the mood grew increasingly frustrated, a passing policeman recognised her as Inspector Longton, and discreetly allowed her out, saying he, "trusted her not to be violent".
While the majority of performers shudder at the prospect of being typecast, there are, it seems, worse fates that can befall a professional. Andrew Evans, author of This Virtual Life, warns that, in an age of computer animation, being confused with an onscreen character is the least of an actor's worries: As the success of Shrek and the Toy Story films suggests, it's being supplanted by cheap, non-unionised cartoon characters that ought to bother them.
If actors face obsolescence, they clearly need a selling point that sets them apart from their animated dopplegangers. Harrison Ford has just signed an œ18 million deal for the next Indiana Jones film. What better promotional tool for the producers than a dashing male lead who spends his spare time rescuing boy scouts from the woods?
- The Daily Telegraph