Contents
---
TV Scene
'Summer of Decision'
Melissa's world has always revolved around the beach. She was a world class surfer. She met Butch for the first time standing by the shoreline looking out to sea. They held their wedding ceremony down by the waves and set up house in a beach hut.
At first Butch was supportive and encouraging but gradually things changed and as their relationship deteriorated he turned to drink. He began shouting at Melissa, throwing things around the house and unjustly accusing her of infidelity. Finally this led to frequent, ugly, physical abuse.
As Butch's mental and physical violence escalated Melissa was pushed to the edge of her endurance and her world began to fall apart.
Very conflicted because, despite everything, she still cares for Butch, but can't go on living under such horrendous circumstances, Melissa flees the house after a particularly harrowing incident, and literally runs into Billy.
Billy's a novice surfer from a wealthy family staying at their beach house for the summer. The two soon develop a strong friendship and Melissa finds Billy kind hearted and understanding. Relaxing as he rekindles her love of surfing, she rediscovers the pleasure of being out on the water looking for that perfect wave.
However tensions mount when Billy's disdainful mother learns of the relationship between her young son and this older woman. She contacts Butch and offers him cash provided he takes Melissa out of town. In a flash of understanding Butch realizes he still loves Melissa but, unable to change the past and fearful for the future, believes she will not come back to him. He goes on a drinking binge and in a fit of self-loathing he takes to the water, only to have the waves fatally dash his body against the pier.
On Dynavision at 9.00 pm on Sunday August 26

---
'The Midnight Hour'
On Halloween, a band of spirited teens explore the history of their quiet New England town and learn of an ancient curse ... with grave consequences. Their ancestors had to cope with a night of horror when the dead were summoned to cause havoc among the living. The teens, direct descendants of those who lived through that frightening long-ago Halloween, decide to recreate the ghoulish night for their own Halloween.
In the process, they unleash the awful curse. A group of uninvited guests ... ghouls, ghosts, vampires and angry zombies, leave the grave-yard to join in the Halloween celebration! The result is a hilarious blend of humour and horror, with a touch of pathos.
Not all the living dead are evil. One girl, a cheerleader who died in the 1950's, returns only to experience the love she never knew, and finds it in a brief romance that will last an eternity. As the town is turned topsy-turvy by a battalion of spirit-spooks, all hell breaks loose literally. The teens must reverse the curse by The Midnight Hour to prevent the triumph of evil.
On Swarnavahini at 9.30 pm on Monday

---
'The Freaks & Geeks'
Freaks and Geeks is also like Cupid in that it's a joy to watch. In terms of premise, this hour-long series has much more in common with the half-hour The Wonder Years than it does with any hour-long drama. Set in 1980 (a little more than a decade later than The Wonder Years), it's a gentle comedy-drama hybrid about getting through high school if you're a social outcast.
The Freaks are, as you might expect, a group of long-hairs who like to listen to Led Zeppelin and spend their time mocking the popular types. They're led by Daniel (James Franco) and Nick (Jason Segel), two guys who are about to form a love triangle with Lindsay (Linda Cardellini). Lindsay is basically the star of Freaks and Geeks - an A student who is torn between her geeky smart friends and the new, intriguing group of Freaks. Cardellini is a revelation, pretty but not unbelievably so, and her portrayal of Lindsay is remarkably centred yet vulnerable enough to be believable.
Did I say love triangle? Make that a rectangle, because Daniel's girlfriend Kim (Busy Phillips) is also a member of the Freaks, and she doesn't like Lindsay one bit. Here's how this works: Lindsay likes Daniel. Nick likes Lindsay. Kim likes Daniel and hates Lindsay. And Daniel... well, he seems to be in love with himself more than anyone else.
Freaks And Geeks on ETV Friday at 8.00 pm

---
Evolution X- a London based band creating home sounds on British soil
by Dilrukshi Handunnetti
Many things unfamiliar beginning with the long days of British summer, the hourly chimes of the Big Ben and even the ripples of the picturesque River Thames. You are thousands of miles away from home in London, with your heart yearning for things familiar.
What could be sweet music to my ears in a jumble of British , Irish accents? And what beckons most at times like these than those who speak your native language? Wrong. What gave me that beautiful feeling of being on home soil while actually being on British soil was the music created by a few Sri Lankans in London- guys who were the salt of this earth with outstanding musical prowess.
It was a chance meeting- a visit to a friend's home. Lilani Perera, a former SLBC broadcaster who had made London her home for the past twenty odd years had been enamoured by the thought of having a western band of her own. When Nishantha Mahanaga, a popular musician who had been part of the Marians outfit for years moved to London, Lilani's dream came true.
It was their collective efforts that created "Evolution-X ", a professional four-member outfit that was formed just a year ago.
There arealready creating waves with their remarkable music.
Yes, we are still in infancy as a band, but the sounds we create are certainly advanced" beams Lilani, the proud manageress of the band. Lilani's home is their practice room, and the weekends throb with life as they undertake vigorous sessions.
The band is led by Nishantha Mahanaga (33) who is undisputedly the most popular member of the group. Nishantha counts 14 long years a bass guitarist, most of which were during his "Marians" days.
And he is obviously the man who looks into everything, according to Liliani as Nihantha functions as a music director, singer, lyricist and instrumentalist all rolled into one. Being also the lead singer of "Evolution-X and to whet our appetite, Nishantha sang some Sri Lankan favourites claiming that Sri Lankans domiciled in Great Britain had more opportunity to listen to the fast numbers, hence his desire to ensure repertoire of greater variety than the Lankan dance beats.
"Many would love to hear Amaradeva, Victor Ratnayake , Gunadasa Kapuge and the like. We are mindful of that segment. You appreciate their voices that bring that feeling of being on home soil, and we are particular about that" Nishantha says.
Dileepa Sanjeewa Perera (28), who another multi-faceted musician in the " Evolution _X" outfit, who also shared the mike with Nishantha. Having played for six years with "Super Sunshine", Dileepa's says that playing for a band of this nature was a long nurtured dream.
"Since the time I turned 14, music has been my entire life. From my student days at the Royal Institute, I have done nothing but learn music. I learned to play many instruments, but the organ is what I am better at," says Dileepa, who needed a lot of prodding to speak to me.
Dilan Pathirana (28) was the latest addition to the band and entrusted with the keyboard, having migrated somewhat recently. In his own admission, he is more comfortable playing the chart hits as opposed to the Sri Lankan tunes.
" I was crazy over pop music. But things are quite different here, and the musical preferences also vary.
Here in London, people an actually listen to the original music in their pristine form. Though they expect us to be familiar with the western scene, they want us to usher those familiar sounds from homeland" says Dilan.
And to Lilani's delight, the former "Dark Eyes" musician has introduced digital music and infuses much technological expertise to the effort. "He is a great source of strength" collectively enthuse the other members of the band.
The jack of all trades in "Evolution-X" is Indika Perera (31) who does a little bit of everything, from playing instruments to quietly slipping into Nishantha's shoes to direct music. The former "Rumours" vocalist's forte is doing western numbers. Adjudged the best 'crooner' among the foursome, he loves doing Presley, Ricky Nelson, Eric Clapton numbers mostly.
" I relate to the feeling, to that kind of music which gave prominence to the human voice. Altogether, we are having great fun having a Sri Lankan band that is totally experimentative," adds Indika. And "Evolution-X" hopes that together they could create great music and keep the Sri Lankans in London thoroughly entertained- their musical thirst well quenched!

---
Listen to the 'Love Songs'
By Sanath Weerasuriya
'Love Songs' is the latest CD to hit the shelves of music stores in Colombo.
'Love Songs', a collection of popular love songs by Gypsies Corrine, Mariazelle, Sanjeevani, Roshan, Rukantha and Sangeeth Wijesuriya. The CD comprises sixteen love songs from Gypsies sung by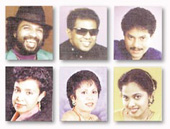 Sunil, Piyal, Sanjeevani, Mariazelle and Corrine.
Two English songs were sung by Piyal. 'Happy Birthday', an original of Piyal and popular 'Julia' by Bunny Melonie too got the touch of Gypsies.
'Menikak Rakina', an old song with a new touch, is sung by Sangeeth and Mali.
Roshan de Silva and Priyani Jayasinghe sing 'Hiru Sangawena' and 'Kandula Niwannam', two beautiful ballads.
'Mada Nalata Kiya Ethath' by Rukantha, 'Sandak Negi' by Mariazelle, 'Adhari' by Corrine, 'Oba Dutuda' by Sanjeevani are some of the top attractions of this 'Love Songs'.
The CD 'Love Songs' is distributed by Gypsy Enterprises Limited.

---
Danish dancers at Footwork
Markus Homm and Charlotte Egstrand, from Denmark's two young, and and world recognized exponents of Latin American Dances will demonstrate their talent and skill at the Seventh Footwork Dancesport Championship, at the grand ballroom of Hilton on September 9.
Footwork assure, Ballroom dancing enthusiasts an evening of international professionalism in competitive Dancesport in an atmosphere of healthy competition and pure entertainment. They are certain that no pains have been spared to ensure that Sri Lanka's blossoming talent in both categories of Dancesport Modem Ballroom and Latin American - are identified and nurtured in readiness for participation, hopefully, in the Olympic Games in 2008 in China.
Contestants (Beginners, Novices, Pre-Amateurs and Amateurs) will face a panel of 5 International Adjudicators in their bids for selection as the new champion couples of Waltz, Quickstep, Slow Foxtrot, Tango and Viennese Waltz on the one hand and for Jive, Cha Cha, Samba, Rumba and Paso Doble on the other. A unique feature of the Dancesport Championship on Sunday, September 9, 2001 is that there will be entrants from overseas who will be vying for the awards along with Sri Lankan contestants.
Tickets, priced at Rs. 900/- to Rs. 2750/-, which are selling like hot cakes, are available from 1 .00pm to 7. 00 pm at the Special Events Desk, Colombo Hilton and also at Footwork from 9. 00 am to 12 noon.
That, yesterday's formal, social dancing for couples associated with the likes of Victor Sylvester or Frank Harrison has metamorphosed spectacularly into a participatory and spectator sport will he clearly demonstrated at the Hilton Ballroom on September 9, 2001.

---
'Potluck': The latest addition to Colombo's leisure line
Potluck - the latest and most exciting addition to Colombo's long list of cafes, restaurants and recreational areas, is a definite must, not merely as a 'let's try it out'.
Potluck which presents a new concept in dining out, combines the latest fad to hit Colombo - 'Pool'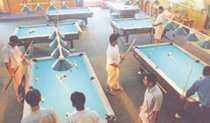 together with a cosy upper deck restaurant.
The brainchild of three young entrepreneurs - businessman S.H.A. Samath, popular rugby footballer Rizli Illyas and entertainment personality popularly dubbed as 'Mr. Showman' Imran Saibo of Funtime.
Potluck is very much a breath of fresh air to the local recreation / restaurant market.
The Crown Pool Centre and Potluck Cafe and Restaurant has been purpose built to provide customers with a venue where the ambience is both relaxed and casual, with a cosy air which is conducive to family outings or even kids being able to enjoy themselves over a game of 'Pool' and enjoy a tasty snack or meal.
Executives and young professionals looking for a 'trendy' place to have a quick meal or engage in a business chat will find the Potluck cafe the ideal venue.
Snacks such as kebab hot dogs, Frankies - a delicious mixture of chicken or beef wrapped up in a chappati, Burgers, Submarines and Sandwiches are ideal for a quick bite while playing a game of 'Pool', while the upper deck restaurant caters for a more leisurely meal with mouth-watering dishes which include Persian Pie, Italian Pancakes, pastas, biriyani, lumprais and a host of authentic Ceylon Moor preparations.
Another popular feature at the Potluck Cafe is their range of refreshing fruit juices and milkshakes which have proved to be a big hit.
According to the proprietors of the Potluck Cafe, in the short time that they have been open - a mere 12 days, the Potluck Cafe has been flooded not just with new customers, but a host of repeat customers as well. "In fact, every single person who has walked in has visited us at least 3 times" they said. A heartening response indeed. It has also become a regular stopover for young professionals on their way home to grab a bite and relax over a game of 'Pool'. "It's the ideal venue in which to get over the power cut.
The Potluck Cafe which is conveniently located on Duplication Road, at the corner of Dickmans Road, is open from 11 a.m. - 11 p.m., however during weekends business goes on till much later.
With regards to future plans, the owners said that they hope to launch their privileged membership scheme whereby members could reserve pool tables over the phone, make their dining reservations, place take-away orders as well as their in-house dining requirements.
A series of set menus for Corporates who wish to book the venue totally for their private dining and entertainment requirements is also on the cards, while a series of 'event/theme' nights featuring live bands and entertainment will soon be a part of the Potluck menu.
"We are determined to maintain standards and re-ensure that anyone who walks into the premises is assured of a relaxed and enjoyable evening," said the management.

---
'Vacations Gift Vouchers'from Confifi
'Confifi Vacations Gift Vouchers', an all-purpose gift voucher for any occasion is the latest from Confifi Group of Hotels. Confifi Group Hotels has introduced this unique gift voucher system suited in many ways such as a wedding gift, a birthday gift, anniversary gift or to reward a colleague for a job well done.
'Whoever it is, a 'Confifi Vacations Gift Voucher', brings you an ideal opportunity to present someone you care with a novel and enjoyable token gift that will never go unappreciated.' Lalin de Mel, the Director Marketing of Confifi group said.
The 'Confifi Vacations Gift Voucher' brings holiday unlike any other because it provides them with an all expenses paid vacation in an absolute luxury comforts and exceptional concessions. Furthermore an opportunity to experience a true Confifi hospitality. When you buy a 'Confifi Vacations Gift Voucher' you will be entitled for a full array of exceptional benefits. These include a host of additional facilities and services free of charge. Most importantly 'Confif Vacations Gift Vouchers' have unlimited validity and you could plan to take your vacation whenever you have the time or feel like it, 'Confifi Vacations Gift Vouchers' favours family men with an additional concession of 2 children under 8 years sharing the parents' room will be accommodated absolutely free of charge, he explained.
'Confifi Vacations Gift Voucher' entitles you for accommodation on Full Board basis and you do not need to carry your wallet for any more payments. One another unique advantage is that 'Confifi Vacations Gift Vouchers' are designed to suit any level of income group ranging from hotels in 2 star category to 5 star and the prices range from Rs. 2,500 onwards. Confifi Group Hotels are Eden Hotel, Riverina Hotel, Club Palm Garden, Confifi Beach Hotel, Club Horizon and Aquarius Sports Resort.

---
HCIMA boss here on check-out mission
By Sanath Weerasuriya
Two top global personalities in the field of hospitality industry and marketing are now in Sri Lanka to brighten up the situation on tourism and hospitality industry.
David Wood , the CEO of the HCIMA ( Hotel & Catering International Management Association) World body, is in Sri Lanka at the moment to do a brief tour around the country.
HCIMA is the only internationally recognised body for management in the hospitality industry, with around 23,000 members in over 100 countries, in which Sri Lanka is a member country.
Mr. Wood will hold a series of meetings with Renton de Alwis, the Chairman of Sri Lanka Tourist Board, Prema Cooray, Kumar Mallimarachchi of the Sri Lanka Tourist Hotel Association, Prof.. Gunapala Nanayakkara and with the National Committee of The HCIMA - Sri Lanka Group during the latter part of his visit.
Meanwhile Sri Lanka Tourist Board together with local tourism industry stockholders have made arrangements to conduct a motivational presentation on 'How to Recover from the Crisis". which was held last week by leading global marketing professional Bret van Walbeek. Walbeek, the Managing Director of the winning Edge and Director Marketing of International Fachhochschule Bad Honnel of Bonn,. conducted this session for professionals in tourism and other industry leaders.
Mr. Bert van Walbeck, has been involved in crisis aftermath management in several countries. They include Thailand's "The World Our Guest" program, Egypt's, "Back to Normal 1999 Program" and "The Gulf Crisis".
His expertise is well known in the Asian Travel Industry. He has trained hundreds of sales people through TICA, (Thailad Incentie & Convention Association) SITF, (Society of Incentive Travel Executives) and individual development courses on selling destinations and on conference and incentive handling in Hong Kong, Malaysia, Myanmar, Philippines, Singapore and Thailand. He was Chairman of the TAT marketing Working Group for the 1992 Recovery Committee, and has always been, and still is, deepty involved in Thailand's Tourism Industry.

---
'Wasanthaye Kunatuwak': Tale of passion
"Wasanthaye Kunatuwak" released on the fourth circuit cinemas is a tale woven around a woman trapped by a man who is responsible for many misdeeds.
The principal cast include Anusha Sonali, Nadeeka Gunasekara, Priyankara Perera, Shashi Wijendra, Udaya Maldeniya, Kusum Maldeniya and Sajini Jayawardena.
Latha Walpola, Gretian Ananda and Sanjeewani Weerasinghe have rendered voice to the music of Priyanath Rathnayake and lyrics are by Ajantha Ranasinghe.
Dhanasekera is a businessman whose other love is the seduction of women. He believes in the more being better.
Into his trap falls his own son's intended bride. Though he was unaware of the relationship between the two he has to pay the price for his misdeeds when he finds his own daughter seduced by some of his own enemies.

---
Elvis at GOH
The Grand Oriental Hotel commemorated the Death Anniversary of the late King of Rock 'n' Roll, Elvis, 'the Pelvis' Presley at their exclusive Harbour Room on Friday 17th August 2001.
The Sri Lankan Elvis Impersonator, Janaka was accompanied by Lalith on this occasion. Diners at the Harbour Room were treated to an evening of Elvis' favourites over the years in grand fashion by Janaka.
Picture shows Janaka, in full Elvis Regalia, belting out an Elvis favourite of yesteryear.

---
School dropouts on screen
"Pateelage Kathawa", a one episode teledrama depicting a school teacher's attempt to educate some dropout children will be telecast on Tuesday, August 28 at 7.30 pm on Channel Eye.
With a special editing effect, except the last scene almost all the scenes in 'Pateelage Kathawa' is done in black and white.
Educating the children and parents on the importance of schooling the main role of a teacher is played by talented stage and small screen actor Jayalath Manoratne.
The teleplay revolves around the single attempt to get to the school a set of children who are being exploited.
Other roles are played by Dhayadeva Edirisinghe, Jayani Senanayake, Veeni Wettasinghe and Ranjith Nabamunna.
Music has been directed by Navaratne Gamage.
Camera directed by Vajira Perera, edited by Pubudu Kariyawasam the mini-play is presented by the Education Unit of Sri Lanka Rupavahini Corporation and sponsored by UNICEF.

---
'Siw Siya Gawwa': A tender love story
By Susutha R. Fernando
"Siw Siya Gawwa" directed by Susil Gunaratne based on the script of K. B. Herath is the latest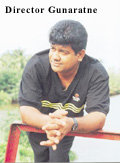 teledrama to come on the Rupavahini Channel.
A 14-episode tele-drama is based on the relationship of a young actor couple.
Arjuna, is a young man coming from the village in search of a job to the town but ends in becoming a leading dramatist in the country. Committed to his first love-stage-he does not hesitate to sell a property inherited from his parents despite much opposition from his only brother who does not want to see the family property being owned by anyone else.
Nanditha, a talented actress is Arjuna's girlfriend. Fatherless Nanditha lived in a shanty but was well cared for by her uncle.
Arjuna's best friend Kamal has fallen in love with one of his affluent relations- Manel. Arjuna one day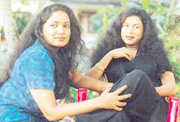 visits Manel' and invites her to the play in which he plays the leading part.
Manel after seeing Arjuna's superb acting falls in love with him. Faced with financial problem after the play Arjuna plans to sell his car and repay the debts. But Kamal who opposes this promises to get him some money from his girl friend, Manel. Suddenly Kamal is assigned to go abroad. But before leaving he persuades Manel to give the promised money to Arjuna. While away from the country Manel meets Arjuna to give the money but later they meet each other regularly leading to a very close relationship.
Returning from the foreign visit Kamal sees that the things have changed drastically. Both his girl friend and the best friend have turned away from him. Though Kamal was unshaken with all the betrayal his relations do not want to end it like that. His father and sister make a visit to Manel's parents and starts a fight there. Taking advantage of this embarrassing incident Manel forces Arjuna to marry her. And Arjuna enters into the wedlock with Manel.
Meanwhile Nanditha, Arjuna's former girlfriend continues to suffer the misery thrust on her.
But the happy wedded life does not last long with Arjuna being selected to play in a teledrama. He was unaware that his co-star was Nanditha, his abandoned girl friend. Manel not believing what Arjuna says about Nanditha's involvement in the play goes back to her parents.
Arjuna who returns after the work in the teledrama is refused admission to Manel's house. Though this leaves Nanditha with an option she makes it clear that she would never join him even if she were to remain single.
The principal cast include Palitha Silva, Dilani Abeywardena, Suantha Chandramali, Harsha Bulathsinghala and Manel Wanaguru.