---
Nalin roars at Gajaba
By M.Shamil Amit
Nalin Perera, riding on a Unicorn Honda CR 125, was the cynosure of all eyes at the Gajaba Supercross at Saliyapura, Anuradhapura last Sunday. The event was organised by the Gajaba Regiment and spearheaded by Lt. Col Chagie P. Gallage assisted by Maj. Nalin Wickremasinghe, Capt. Wimalasena, Lt. Dilan Wickremasinghe and Hans Ralf from the SLARDAR.

Nalin won the three events he took part getting the better of more powerful motorcycles. He won the first race, which was for motorcycles upto 125cc, with ease.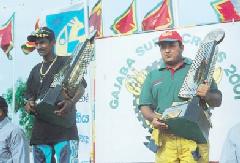 Nalin Perera(Motor Cycle) and Aravinda Premadasa (Motor car) with their trophies
In his second race, which was for motorcycles over 250cc, to a distance of eight laps, he locked horns with ace rider Ananda Wedisinghe, who was riding a more powered 426F Honda.In this event Nalin took the lead from the start and maintained it right through the race. Ananda tried his best to catch up on Nalin, but with two laps to go, he mistimed a jump and was thrown from the bike and got injured. With that toss out went Ananda's chances of winning. Nalin emerged as the winner with ease.
Ananda was taken to the Army Hospital but returned to ride in the motorcycles unlimited event. However, he couldn't ride more than a lap and gave up due to the injuries he sustained in the previous race. This made things easy for Nalin, who made it three in-a-row. Nalin went on to win the Best Rider's prize at the meet.
Ace driver Aravinda Premadasa also had field a day winning both his events for cars over 1665cc and the open event for motorcars to win the Best Drivers trophy.
Two other prominent racers, Rizvie Farook and Rakitha Wijetunge were not able to participate. Rizvie Farook's car had a computer breakdown while Rakitha Wijetunge is nursing a spine injury and will be out for some time. The only lady competitor - Miss. Shehera de Silva - was placed third in one of her events.
It was a well organised meet and came in for praise from all quarters. All facilities were available within the premises of the supercross.
Results:
Group T: Forces Truck and Jeep Open-1.Ravi Mayadunne; 2.Wasantha Madola; 3.Mahesh Parakrama.
Group P: Street Trail Upto 125cc-1.Sujeewa Ananda; 2.M.Indika de Silva; 3.Kumara Weerasena.
Group M and T: Cars Upto 1050cc-1. Hafiz Cader; 2.Prasanna Ranasinghe; 3.K. Parameshwaran.
Group A: Cars over 12 Kg/Hp-1. Dilshard Hamdoon. 2. Nishan Wasalathanthri. 3.Upulvan Serasinghe.
Group R: 80cc (Under 16 years)- 1.Indika Gurusinghe; 2.P.S.Wijesinghe; 3.Tuan Ossen.
Group R - Racing Upto 50cc (Under 10 years)-1.Ishan Nilantha; 2.Ken Wedisinghe; 3.Lisa Wedisinghe.
Group A: Cars over 10 Upto and Including 12 Kg/Hp-1. Ravi Mayadunne; 2.Nishan Wasalathanthri; 3.Dilshard Hamdoon.
Group M and T: Cars over 1050cc Upto and Including 1350cc-1.Romani de Silva; 2.Rameesz Mahmoor; 3. Sanjeewa de Mel.
Group T and J: Truck and Jeep Diesel Upto and Including 4500cc Turbo and Petrol Upto 2000cc Non Turbo- 1. Nihal Premaratne. 2. Prasanna Ranasinghe. 3. Deshan de Silva.
Group M and T Cars over 1665cc- 1. Aravinda Premadasa. 2. Nishan Weerasuriya. 3. Nalin. d. Perera.
Group R: Racing Upto 250cc- 1. Nalin Perera. 2. Duane Gunewardena. 3. Keerthi Premalal.
Group T and J Truck and Jeep Open- 1. Dinesh Deheragoda. 2. Darshana Jayalath. 3. Ravi Mayadunne.
Motorcycles Unlimited- 1. Nalin Perera. 2. Duane Gunewardena.
Motorcars Open- 1. Aravinda Premadasa. 2. Nishan Weerasuriya. 3. Nalin D. Perera.
Overall Champions: Motorcycles- Nalin Perera. Motorcars- Aravinda Premadasa.
---
Pacemen to the forefront
It has been proven and accepted that no International Cricket team can be successful without a lethal battery of pace bowlers. Since being inducted into the "test" fold Sri Lanka's shortcoming has been the lack of men able to deliver quickly and move the ball sufficiently in the air and off the pitch.

Bowlers of quality such as Tony Opatha, Ashantha de Mel, Graeme Labrooy, Rumesh and Ravi Ratnayake came and went. They were never able to harness together to reap rewards consistently.

Over the past ten years a lot has been spoken of producing fast bowlers, to help reach the top of the cricketing tree. There have been many hurdles and obstacles.

A primary requirement is surfaces conducive to generate pace. At all levels this facility has been and to a great extent is still lacking. Without the opportunity to practice the trade, to bowl adequate overs, it is not possible to turn it on suddenly at the highest level.

As is the case in Australia there must be helpful conditions to breed from junior level. It is the step for the future in Sri Lanka, in order to lift the overall standard of the game. Starting off playing on the matting is alright, because there is bounce, encouraging bowlers and also developing back foot play in the batsmen. Education on the preparation of fast turf pitches at school First Eleven stage is a project that requires priority. The composition of the square ultimately governs the maximum quickness that can be derived. Those in charge of pitch preparation must have the knowledge on how to achieve that standard consistently.

The formation of the fast bowlers clinic under Rumesh Ratnayake and regular visits to the MRF Pace Foundation by young fast bowlers has been of tremendous value. At present there is a good crop of established and up and coming quick men.

Two areas that have boosted the cause no end in recent times have been the availability of Gymnasium facilities and balanced and nutrition filled diets. This coupled with players at national and fringe level having all the time to nurture their talents have collectively helped the cause.

Chaminda Vaas must be given full marks for leading the pack. From his teens he has been thrust into the role of being the country's leading new ball bowler and how well he has managed the show. A few injury problems and a period of poor form did not deter him. Physically he has strengthened his frame and now bowls using all his skill and experience. Just reaching the peak of his career, Vaas must plan to continue the role he is playing for at least another half-a-dozen year.

The rapid development of Dilhara Fernando is oozing excitement in the cricketing circles. Built like an ox, he could well be the world's quickest machine pretty soon. What is most encouraging is that his accuracy has improved tremendously in the past twelve months whilst not having to sacrifice any pace. He must be used in the same fashion as Glen McGrath - making the most of his strike bowling abilities.

Nuwan Zoysa recovers from injury yet again. Undoubtedly the most naturally gifted of the lot. Zoysa should be played only in Test matches. He should be given sufficient bowling in lead up and domestic games to be in match practice and used with utmost care to enable maximum continuity of his career. Suresh Perera, Ruchira Perera, Kaushalya Weeraratne, Akalanka Ganegama, Prabath Nissanka, Dinusha Fernando, form a nucleus of exciting prospects. Bowling on conducive pitches will play a major role in their development. They should be exposed into countries like Australia, South Africa and England to learn the finer art of pace and swing.

The foundation has now been put in place. To build on it steadily is the next assignment.
---
Rugby trials on August 21,23,28
Indrajit Bandaranayake and Roshan Peiris have been included in the rugby sevens pool for the forthcoming International Sevens competition organised by Kandy Sports Club to be held at the Bogambara Stadium on September 15, 16 and 17.

Indrajit Bandaranayake, who had been injured, has made a welcome return while Roshan Peiris is a schoolboy from the Isipatana rugby outfit this year.

Meanwhile the Bogambara Stadium, where the competition is to take place is being given a facelift by Stadiums Chairman Tikiri Marambe, who is also the Chairman of the Rugby Selectors.

"The changing rooms, the TV room and the press box is being revamped for this occasion," said Tikiri Marambe, who also added that the former Trinity and Kandy rugby stalwart Alex Lazarus is also being entrusted with the maintenance of the grounds under the instructions of Sports Minister Lakshman Kiriella.

Marambe appealed to clubs to release their players to attend trials to be held on August 21, 23 and 28 at Longden Place. The final squad is to be announced on August 28. "The club tournament ends in the first week of September and clubs should ensure that all players selected to attend national trials turn up for these sessions under national coach Nimal Lewke," said Marambe.

Meanwhile an under 19 rugby team from Sri Lanka is scheduled to tour Japan in September. The Schools Rugby Association will be in charge of this tour. Meanwhile the Pallekelle Stadium is gradually taking shape with the help of the CECB and the Buildings Department.
---
Vaulting to fame
By Bruce Maurice
He hails from a school where they do not have much facilities for sports. But last week at the Junior Nationals at the Sugathadasa Stadium he vaulted 3.73 metres to set up a new record. That was Nalaka Perera who may not have been affluent at birth. but was certainly at christening when he was given the names Anton Nalaka Prasad.

His father was the champion high jumper at Bopitiya Central College. But due to lack of facilities he was unable to pursue his sporting career. But he was determined to see that his offspring had the chances he did not have as a youngster and in fact not only encouraged young Nalaka, but was his first coach. The father's task was made easy as Nalaka also showed a natural aptitude for athletics. But unlike the father, who was a high jumper, it was pole vaulting that captivated Nalaka.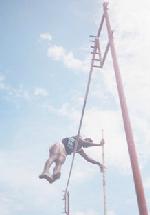 Nalaka Perera goes over the bar to set up a new meet record at the recent Junior Championships held at the Sugathadasa Stadium.
But the father was destined not to see the son scale the athletic heights when the cruel hands of a speeding maniac snuffed his life out on the highway. However, with commendable self determination and will power, his mother took over the added resposibility of now being father as well to young Nalaka and saw to it that he was given all the 'breaks'to pursue not only his studies, but also his sports. At this stage Rohitha Fernando a PTI of the Sri Lanka Army, noticing his natural talent and the determination he possesed decided not only to coach him, but has been playing the part of a foster father to Nalaka. And like a dutiful son and student, Nalaka has not betrayed their hopes and aspirations. Not only is he making the grade in sports, but also in the classroom. He passed the O'level with excellent results and is now an 'A' Level student at his Alma Mater St. Sebastians' College, Kandana.
At his first Western Province Meet in 1999 and under 17 years of age, he cleared 3.15 metres in the pole vault and this set him on the road. At the National Schools Games he vaulted to third place with a height of 3.00 metres and was awarded his school colours. At the Sri Lanka meet Nalaka was to claim the first record of his career, when he cleared the bar at 3.00 metres. In 2000, participating in the under 18 age group at the Inter House Meet he scaled 3.70 metres to set up a new school record. At the Festival Games held at the Sugathadasa Stadium he cleared 3.80 metres and was awarded his school colours. At the Western Province Meet he cleared the bar at 3.70 metres. At the John Tarbat Senior Championships he set up a new meet record when he won the pole vault event by scaling 3.65 metres.
This year also has been a fruitful year for Nalaka, at the first SAF games trial he cleared the bar at 3.85 metres but was placed fourth. And at the last meet which was the Junior Nationals held at the Sugathadasa Stadium last week he broke the existing record when he cleared the bar at 3.73 meters to re-write the record books.
Apart from pole vaulting, Nalaka is no mean performer with the Putt. In fact at the Western Province meet that was conducted earlier this year he was placed fourth in that event. He also plays and captains the volleyball team of the college that won the second place in the Circuit Meet held at Kandana this year.
And the school authorities have not allowed his efforts and achievements to go without reward. This year he was appointed Athletics captain and made a Junior Prefect.
---
Old Bens, Old Joes qualify for finals By Marlon Fernandopulle
Old Bens and Old Joes entered the final of the Annual Quadrangular Cricket tournament after defeating Old Peterites and Old Antonians in their respective semi finals played yesterday.

A fluent unbeaten 63 from Dinesh Silva guided Old Bens to a thrilling one wicket victory in the penultimate over against Old Peterites at Kotahena. Chasing a formidable 189 to win the Old Benedictines were cruising at 120 for 3 at one stage before a sensational batting collapse left them reeling at 172 for 9 wickets in the 46th over. However Dinesh Silva together with number 11 Pradeep Dassanayake defied the Peterites from any further success to add the required 17 runs and record an exciting victory. Earlier Brigesh Jeganathan (48) and Ranga Dias (55) helped Old Peterites to 188 all out in 46.5 overs. Left hander Jeganathan played the anchor role and gave the Peterites a solid start. With the departure of Jeganathan, Ranga Dias stepped in and played a sensible innings to guide the Peterites to 188 all out.

At Bambalapitiya Old Joes scored an easy 67 run victory over Old Anthonians. Batting first the Josephians hit up 198 with Dilan Ramanayake top scoring with 78. Old Anthonians in reply struggled to come to terms with the Old Josephian attack and were finally bowled out for 121 in the 28th over. S Rasaiha (4/32), Mark Fernando (3/13) and Charinda Fernando (3/28) were the pick of the bowlers for the Old Joes.

Old Bens bt. Old Peterites

Old Peterites -188 all out in 46.5 overs(Asanga Perera18, Brigesh Jeganathan 48, Ranga Dias 55, Riyaz Farook 23; Pradeep Dassanayake 2/33, Trevor Cramer 2/49, Calvin Perera 2/29) Old Bens -189/9 in 49 overs (Trevor Cramer 28, Rally Tissera 15, Ajantha Weerapulli 28, Dinesh Silva 63 n.o; Malintha Warnapura 3/31, Ashan Rajapakse 3/21)

Old Joes bt Old Antonians

Old Joes -198 all out in 41.3 overs(J. Jayasuriya 21, Dilan Ramanayake 78, A. Pathirana 28, Prashan Liyanage 18; K. Kolugalle 2/21, Piyal Wijetunge 2/27, Tharaka Gunaratne 2/42, Indika Fernando 2/21) Old Antonians -121 All out in 27.4 overs (P. Heenkanda 17, Indika Galagoda 36, Tharaka Gunaratne 36; S Rasaiha 4/32, Mark Fernando 3/13; Charinda Fernando 3/28).
---
Dilakshan wins Madawala 2001
By M.Shamil Amit
The first ever Madawala Autocross 2001 organised by the Ceylon Motor Sports Club and Outdoorsman Pvt .Limited was succesfuly conducted at the Battaramulla Race Track yesterday.

Thirty competitors participated in this gruelling race run over 1 km through muddy terrain and steeples which was a test of speed and patience in driving.

Dilakshan Ratwatte, a former rugby player who turned out for Kandy SC, driving a Land Rover Free Lander won the race with Wasantha Madola of the Army in a Toyata Land Cruiser coming second and Deshan de Silva in a Toyota Double Cab taking third place. Picture shows a vehicle being bogged down at the autocross.
---
Rover pinpoints...
A rude shock
A rude shock awaited a former Cricket Board official when he was ordered out by a VIP, who had been supporting him. He stated, quite bluntly, not to bring problems to him specially after the mess he has got himself into. Dejected and hurt he returned home, the same treatment was meted out to him by a person who had been so loyal to him heading a district association. He was quite stupefied by these actions. How the mighty fall!
Forcing one's authority?
A leading official from the Cricket Board has been found fault with for not obtaining permission for the laying out of a new pitch, even though a cheque had been issued to this effect without the permission of an authority of an university. A lot of rumblings are on and the Probe and Interim Committee have been informed of this. Action is awaited.
Tale carrier
Rover learns that a Cricket Board co-ordinator, with the hope of gaining promotion, has been carrying tales to each and every head of the various committees. Everybody in the know-how seems to know about tale carrying issue. Meanwhile another leading figure is also going around, asking each committee head, whether any work could be offered to him.
Disaffiliated
How is that a leading affiliate of the AAA has been allowed to function, when he should have been disqualified and struck off the affiliated list, without much ado, as none of their athletes are participating at the national championships. How strange can things get?
Not those in the bandwagon, please
The Minister of Sports should appoint a committee of complete outsiders (maybe those in the National Sports Council) to hold an inquiry into an episode since the talking point is that those in the bandwagon will try to shape up the findings.
Cheers to the Minister
A senior official of the Netball Federation of Sri Lanka said that not a single cent had been donated to them by a leading sports body to host the Asian Netball Championships last month. The money had been donated by the Minister from the Sports Fund.