Harshani's stick work to dazzle Germans
By L.D. Chandrasiri, Matale
Harshani Apsara Gunaratne (24 years) of Vihara Road, Matale left for Germany to represent the Essen Sports Club's (in Essen, Germany) Girls' hockey team for another year under the Asian-German sports exchange programme.
Having seen her excellent performances at hockey matches played between Women's National hockey team and the German sports club hockey team in April 1999 in Sri Lanka, she was picked to represent the Essen Sports Club in Germany last year.
She was in Germany for six months last year. After completing 3-month indoor hockey training course, she represented the club in the league matches.
Mr. Doreen, the Chairman of the Asian-German sports exchange programme has been instrumental in providing this opportunity for her to visit Germany and improve her hockey career.
A product of Sri Sangamitta BMV, Matale (former BMS), Apsara started playing hockey at the age of 11.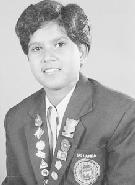 Harshani Apsara Gunaratne
She represented her 'alma mater' at hockey from 1990-1995. During this period she captained not only her shool but also the Matale schools girls' hockey team. She was the highest scorer for the Matale schools hockey team which toured India to complete at the 'Sardhar Mohan Singh' memorial hockey tournament in 1992.
She had been a member of the Central Province girls' hockey team since 1990. She led the Central Province hockey team that emerged champions at the 22nd National Games - 1996 and she was adjudged as the best woman hockey player of this tournament.
Representing the National team Apsara has toured India, Thailand, Bangkok and Singapore for international tournaments.
She captained the National girls' hockey team that toured Singapore in 1997 to participate at the AHF Cup Tournament.
She was selected for the Asian Women's hockey team in 1997 and participated in the Test series held in 1999 in Singapore, which they won easily.
Her special thanks goes to Mr. Doreen, the Chairman of the Asian-German sports exchange programme.
Thomas Bollen's and family for the guidance and help given to her during her stay in Germany last year.
---
Rajive, Sobhini top seeds at tennis nationals
By M. Shamil Amit
Rajive Rajapakse and Sobhini de Silva are the favourites in the men and women's singles events at the Sri Lanka Tennis Nationals, which will commence at the SLTA premises today. The contest will end next Sunday (August 26).
Rajive Rajapakse who is presently studying in the USA was given the No.1 slot due to his win at the recently concluded Colombo Championships which is the only 'A' Grade tournament apart from the nationals, said an official of the SLTA.
Sobhini de Silva, on the other hand, has won many national titles and also represented Sri Lanka at the Federation Cup Championships last year.
Last year's national champion Dinuka Ranaweera is the men's singles No 2, while 15-year-old Mahesha Sene-viratne is the bottom seed in the women's event.
The seedings are as follows: Men's Singles-1. Rajive Rajapakse. 2. Dinuka Ranaweera. 3. Renouk Wijemanne. 4. Harshana Godamanne.
Men's Doubles-1. Jayendra Wijesekera and Rohan de Silva. 2. Arjan Perera and Ganendran Subramaniam.
Women's Singles-1. Sobhini de Silva. 2. Mahesha Seneviratne. 3. Shalini Pereira. 4. Suwini Fernando.
Women's Doubles-1. Shalini Pereira and Chaya Beling. 2. Sobhini de Silva and Oosha Chanmugam.
---
Isipatana's first tennis event
Isipatana's College, Colombo became the newest entrant in tennis when they constructed a tennis court at its premises and thereafter fielded a number of tennis teams at the recently concluded boys schools tennis tournament.
In order to promote the sport and also give recognition and encouragement to the students, a tennis tournament was held as an inter-house meet. The prize distribution was well attended with Mr. Anura Gunasekera, Principal, Isipatana and Arjan Perera, Chairman, Coaching and Promotion, SLTA distributing awards to the winners and finalists.
---
Summer Golf camp in Kandy
The phone at The Victoria Golf Club in Kandy has been ringing non-stop since the announcement three months ago of the Residential Summer Golf Camp for kids up to 18 years of age to be held from August 20 to 25.
The kids will have 5 days of golf lessons on the putting green, driving range and eventually out on to the golf course interspersed with other fun activities, videos and games.
Sadly, there were many more applications than places available, which is limited to 36 on this occasion, but the good news is that the VGC will increase the number of Camps to be held during the school holidays over the next 12 months.
The week of tuition and fun co-sponsored by Dialog GSM and the SLGU will culminate in a series of competitions to be held on Saturday August 25 which are open to all children, not only those who have attended the Camp:-
18 holes - VGC 'Open' Junior Championships (advanced level players); 9 holes - VGC Peewee 'Open' Championships (intermediates); 9 holes - VGC Golf Summer Camp Championships (intermediates); 4 holes - VGC Golf Summer Camp, Beginners Event; Putting - VGC Putting Championships (All); 3 holes putting - VGC 'Tiddlers' Championships (4-7 years); 9 holes putting - VGC Championships (8-10 years).
With time still to spare, there are already over 100 entrants to the various competitions, which should make for a wonderful day up in the spectacular setting of the Victoria Golf Club. Dialog GSM is donating a couple of wonderful prizes for the lucky winners and courtesy of Pepsi Cola International, there will be plenty of Pepsi, Miranda and 7 Up to cool down the participants on the day of the Competitions.
Tony Witham and Jannine Weeratunge at the Victoria are thrilled with the response that has been received and will be on the lookout for budding champions. Although the Camp itself is full, there is still time to enter the 'open' competitions for what is bound to be a memorable day for kids and their parents up at the Victoria Golf Club.
---
A long drought ends
Bernie Wijesekera reporting from the Galle Esplanade
Sri Lanka, after gaining Test status in 1981, achieved their first Test win over India in 1985 Sept. 6, at the 'Sara' Stadium by 149 runs. Since then it has been a long drought - the Lankans had to wait for 16 years to beat their neighbours by ten wickets in the First Test in the three Test series here on Friday with over two sessions and a day to spare. Lankans gave a similar performance against England at the same venue, but lost the series 2-1.
It was not a pitch that could last for five days - dry with plenty of dust and bouncing awkwardly from day one.
It was a good toss to win and Skipper Sanath Jayasuriya's gamble of inviting the Indians to bat first paid dividends. The Indian openers Ramesh and Das gave them a solid start - 99 runs and batted courageously.
After this start nightmare was looming on them - due to the their unwarranted defensive approach. During the dying stages of the day (Day one) Jayasuriya took the second new ball. Young Dilhara Fernando, obliged with sheer speed and bowling to a remarkable line tore the Indian batting apart. Lack of application and commitment by the Indian middle order caused their debacle. India bundled out for 186.
Sri Lanka Manager Ajith Jayasekera when interviewed commended the lad's effort. Dilhara initially made the break through to shatter the Indian batting no doubt later others got their act-together to achieve this long awaited win over India.
Jayasuriya batting with charm and aggression with his carefree stroke play bludgeoned the Indian bowling with 100 runs in 105 balls, for others to revel. In the end Sanath playing before his Matara fans gave a real taste of one day cricket.
The way he moved around was like the Ruhunu Express, Indeed.
Indian coach John Wright in a media interview was disappointed with the Indian team's batting.
The batsmen with better application could have performed better even though the pitch was helpful to the bowlers. We have three days before the next Test in Kandy and have to do lot of planning and think positively. Lesson for the youngsters to adjust themselves to the conditions
Indian skipper Ganguly made no excuses. Sri Lanka played very well and they came on top.
Rahul Dravid, an accomplished batsman showed how to bat even on a responsive pitch, for spinners.
He was a model to any youngster to emulate. He batted with composure. The way he handled Murali's wiles showed his attitude and technique, said former Sri Lanka captain Anura Tennakoon the present CEO of the Cricket Board. Batting under pressure and having the temperament to stay at the wicket for 219 minutes with 51 not out in 173 balls showed abundant batting skills on a dust bowl, speaks well for a top order batsman.
At one stage Indians were 130 for 8 overnight with Srinath unable to bat Dravid with support coming from tailender Prasad, showed the others how to bat by scoring 60 runs for the ninth wicket and gave an object lesson to his team-mates how one could counter any bowling with better application and concentration.
The 175-run deficit proved a tall order for the Indians to overcome. Despite Kumar Sangakkara's 105 n.o., the last seven Lankan wickets fell for 98 runs.
The Indian batsmen were, too tensed up. The way Dravid and Prasad batted proved a point. The gates were open to schoolboys free.
A fine move by the BCCSL to inspire the youngsters to watch and learn the fundamentals of how to learn the art of skillful cricket and the spirit of the game.
---
All new Mitsubishi Lancer to Lanka capt. Sanath Jayasuriya
In what could be called a consistent effort towards recognizing and rewarding successful Sri Lankan sportsmen and women, United Motors offered their "All new Mitsubishi Lancer" to the most valuable player of the Coca-Cola Tri-Nation Cricket Series, Sri Lankan captain Sanath Jayasuriya. Last year, United Motors gifted Sri Lanka's proud Olympic winner Susanthika Jayasinghe with a brand new Montero in recognition of her outstanding achievement.
In addition, United Motors recently signed up a sponsorship agreement of over Rs. 6 million with the first Asian International Racing Driver Mr. Dilantha Malagamuwa. According to United Motors sources, Dilantha Malagamuwa is based in Japan from where he participates in international racing competitions and will also participate at Sri Lankan Racing Meets in the Mitsubishi Lancer Evolution VII.
---
Seminar for scorers
For the first time a seminar will be held for cricket scorers organised by the Association of Cricket Umpires and Scorers of Sri Lanka.
The ACU and SSL had made arrangements to conduct a series of seminars to educate the scorers on the techniques and the art of scoring. It will be followed by an examination to recruit those who qualify and give them due recognition to improve their status. Today electronic scoring has become a reality - lap-top computers are being used in England even in their county games. Janashakthi Life Insurance has agreed to sponsor the seminars. - (BW)
---
Suresh: Suspect action
Sri Lanka allrounder Suresh Perera has been reported by Umpire Steve Bucknor for a suspect bowling action following the conclusion of the first test match at Galle.Bucknor was the ICC appointed neutral umpire while Asoka de Silva was the local umpire in the Galle Test match.
Perera who played a test match after a lapse of two and-a-half years was also reported by a senior local umpire for a suspect bowling action during a local game some time back.
The all rounder who went without any wickets in the test match will now be subject to the Review Process in keeping with the new ICC Regulations(MF).
---
Havelocks pace has CR and FC gasping
By Bernie Wijesekera
Havelocks SC beaten 16-15 in the first-leg outplayed and outclassed traditional rivals CR&FC by 42 points (3 goals, 3 tries and 2 penalties) to 17 (1 goal and 2 tries) at Longden Place last evening. Havelocks led 25-7 at the turn around.
It was one of the worst defeats suffered by CR against their arch rivals, who gave an object lesson in open rugby where the entire back division co-ordinated. They dominated the lines out and even pushed their opponents in the set pieces, winning much of the good ball. It was a superb team effort by the much fitter Havelocks XV, who only the previous week lost to Army after leading by 14 points.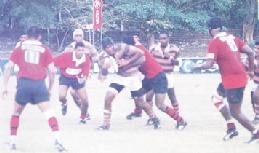 A Havelocks forward tries to break through a CR cordon.
Coach Ana Sarnapala should be commended for the good work done to the team. The Park Club maintained a furious pace to the end. There was no let up unlike in the game against the Army game last week.
Last week CR did well to defeat Kandy at Nittawela 25-23, but yesterday it was a dull and dreary performance. It was a dull and pathetic display by the red shirts where they faltered in defence to gift three tries and added to that Nawaz had a poor game. It was one of his off days and ultimately had to be replaced. CR could have made a comeback, but poor ball handling added to their cup of woes. For the Havelocks their backline was in excellent form making merry with some sizzling runs much to the agony of the CR supporters.
Winger Sanjeewa Jayasinghe three tries, full back Lalindra Rodrigo, centre Jeffrey Saheed and winger Ruwan Suranga, a try each, gathered the points while Saheed was on target with his boots putting over three tries and two penalties. For CR Nawaz scored the first try which was converted by Roshan Perera.
In the second half centres Asanga Rodrigo and Haren Kaluarachchi scored.
Dr. Maiya Gunasekera was the chief guest and gave away the Cmdr. Eustace Mathysz shield to the Havelocks skipper Jayasinghe.
Referee Nizam Jamaldeen.
TODAY: Table leaders Kandy SC will take on Police at Police Park.
---
McGrath : 7 for 76
Headingly - England were all out for 309 shortly after the tea break on the third day of the fourth Ashes Series cricket Test against Australia yesterday. This was in reply to Australia's first innings score of 447.
Glen McGrath bowled a nagging length to capture 7 for 76. England, resuming on 155 for two on Saturday, lost three wickets for 16 runs before battling to 232 for five by lunch, needing 16 more runs to make Australia bat again.
Mark Ramprakash was on 33 not out and Alec Stewart 24, the pair having put on a battling 58.
Australia have already secured the Ashes by winning the first three tests.
While bad luck played a part in the first dismissal of the day as Nasser Hussain fell lbw to Glenn McGrath, Mark Butcher's departure soon after proved suicidal as both batsmen missed out on half-centuries.
SCOREBOARD
Australia 1st innings
M.J. Slater lbw b Caddick 21
M.L. Hayden lbw b Caddick 15
R.T. Ponting c Stewart b Tudor 144
M.E. Waugh c Ramprakash b Caddick 72
D.R. Martyn c Stewart b Gough 118
S.M. Katich b Gough 15
A.C. Gilchrist c Trescothick b Gough 19
S.K. Warne c Stewart b Gough 00
B. Lee c Ramprakash b Mullally 00
J.N. Gillespie c Atherton b Gough 05
G.D. McGrath not out 08
Extras (b 5, lb 15, w 1, nb 9) 30
Total (all out, 100.1 overs) 447
FoW: 1-39, 2-42, 3-263, 4-288, 5-355, 6-396, 7-412, 8-422, 9-438, 10-447.
Bowling: Gough 25.1-4-103-5, Caddick 29-4-143-3 (6nb), Mullally 23-8-65-1 (3nb), Tudor 18-1-97-1, Butcher 1-0-7-0 (1w), Ramprakash 4-0-12-0
England 1st innings
M.A. Atherton c Gilchrist b McGrath 22
M.E. Trescothick c Gilchrist b McGrath 37
M.A. Butcher run out (Lee) 47
N. Hussain lbw b McGrath 46
M.R. Ramprakash c Gilchrist b Lee 40
U. Afzaal c Warne b McGrath 14
A.J. Stewart not out 76
A.J. Tudor c Gilchrist b McGrath 02
A.R. Caddick c Gilchrist b Lee 05
D. Gough c Slater b McGrath 08
A.D. Mullally c Katich b McGrath 00
Extras (b 2, lb 3, nb 7) 12
Total (all out, 94.2 overs) 309
FoW: 1-50, 2-67, 3-158, 4-158, 5-174, 6-252, 7-267, 8-289, 9-299, 10-309.
Bowling: McGrath 30.2-9-76-7, Gillespie 26 6 76 0 (1nb), Lee 22-3-103-2 (5nb), Warne 16-2-49-0 (1nb)
---
Springboks, Wallabies share honours 14-14
PERTH, August 18 (Reuters) - South Africa survived having two men sent to the sin bin in the second half, to earn a 14-14 draw with Australia in an uncompromising Tri-Nations test in Perth on Saturday.
It was the first draw in Tri-Nations history and means Australia remain on top of the standings. The Wallabies have seven points, one more than South Africa, while New Zealand are on four points having played one fewer match.
The Springboks lost flyhalf Butch James for a dangerous tackle and captain Bobby Skinstad for using his hands in a ruck under his own posts in a tense match, in which defences dominated.
The South Africans held the lead throughout the second half after a try on the stroke of the interval by lock Mark Andrews.
---
Sri Lankan swimmers put up poor show
Sri Lanka's hopes of winning a medal was only a day dream, watching the performances from the eleven participating countries from the 15 affiliates of the inaugural Asian Schools Swimming meet held at the Toa Payoh Sports Complex in Singapore.
While India and China too fielded swimmers, it was no doubt taken on representation value, not of medal winning aspirations, as they were more concerned of the Asia Pacific meet as told to The Sunday Times by their two senior representatives.
Sri Lanka's name was only heard at the time of introducing the respective swimmers in the line-up's before coming under the starter's orders.
It was the Sri Lankan Captain Chaturanga Perera's efforts in the 50 metres and failing by a whisker in the 100 metres free style events that took notice of some senior officials, who then only inquired from me as to what was the Lankan's population.
Speaking to many others involved in swimming from Thailand and Hongkong, they were of the view that our swimmers though having the determination lacked the techniques which should be improved on, if they are to be a force to be reckoned with.
Another factor as seen lacking in the Sri Lankan swimmers, were the streets below off the blocks, possibly where the Lankan coaches will have to work on.
The Sri Lankan swimmers were further demoralized, even before the meet started as the official programme was given to each and every participant with each competitors entry timings, and pacing through this, the Lankan's might have decided that they do not have a chance, hence their failures.
It was in the boys 50 metres and the boys two relays the 4 x 100 metres medley and free style relays that they made somewhat of a mark to be called for the line-up in the respective finals. Some consolation indeed.
Having learnt many a lesson the Sri Lanka contingent arrived early morning at the Katunayake Airport.
The countries that participated are: Singapore, Brunei, China, India, Hong Kong, Indonesia, Macau, Thailand, Malaysia and Vietnam.
The next Asian Schools Swimming championships may be held in Thailand the decision to be taken at the next Asian Schools Federation meeting with Sri Lanka taking a turn in organizing this prestigious meet likewise in Rugby, Football and Squash.
A few Sri Lankan swimmers beat their respective timings, while another few failed to even reach their entry timings.
Hong Kong won the overall championships with 13 golds, followed by Singapore 5 , Malaysia 4, Indonesia, Macau and Thailand 2 each respectively.