Something old, something new
I want to look different." This is what the majority of brides today tells Ramani Fernando when they come to her for their bridals. Yes, modern brides are more than willing to bare their midriffs and opt for dramatic colours, says Ramani. Of course, in a country like ours tradition still persists. But brides will always want to look special and so each bride must have a look that is exclusively hers, in keeping with her personality, looks and figure, says Ramani who is often inspired after seeing the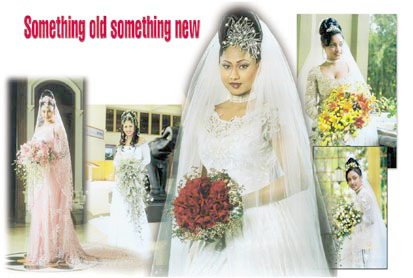 young bride-to-be, in creating a different look.
Ramani, whose name needs no introduction in the field of hair and beauty, and designer Michael Wijesuriya, also a well-known name in this arena came up with these beautiful bridal creations for our Mirror Magazine 'June Brides' exclusive which features the look of 2001. The models were photagraphed at the Hotel Taj samudra.
Colour is also a factor that is sought after by the brides of today, says Ramani. Traditional white will always be a favourite, but more and more brides are opting for pale pink and other pastel shades and choosing vivid shades of orange, blue and green for their going away ensembles. Bridesmaids too are now in brighter shades, she adds.
Sarees are also moving away from tradition with varied drapes and made-up sarees being created to suit the bride's figure. Many like to copy film stars and celebrities but what's important, stresses Ramani, is that the look suits the wearer. For brides of the future there will be inspiration aplenty in the 'different' look when Ramani and Michael combine their talents to present a mega bridal show on August 27 at the Colombo Hilton. Some 90 models will take the ramp to present the bridal trends of the new millennium.
Pix by Mettasena
---
Fight shy of being shy
By Dr. R.A.R. Perera
Have you ever experienced shyness?
Of a large group of people surveyed in California, 99 percent indicated that they had experienced shyness, and 42 percent of that group said that shyness was a basic part of their personality. Of those who labelled themselves as basically shy, 63 percent said that shyness posed a real problem in their day-to-day life. There was no gender difference in the intensity of the problem.
Being the focus of attention when in a large group seems to create intense discomfort to many people, with strangers or members of the opposite sex posing particular difficulties. Speaking before an audience created more anxiety, outranking the anxiety about sickness or death.
Shyness can produce both physical and emotional consequences. The shy person experiences an increased heart rate, perspiration (especially on the palms), and feeling of nausea. Intellectual performances and memory of recent events may be impaired. During heterosexual interactions, shy people converse less frequently and for a smaller percentage of the time. They allow more silences to develop, and they break fewer silences. Shy people feel less comfortable about heterosexual encounters.
Shyness may reflect the kind of apprehension a person has about self-evaluation. An individual may feel shy when he or she is apprehensive about failing in the view of others.
Newcomers to groups may be especially vulnerable while other group members are making decisions about their acceptability. They overcome problems only after some time, when they shift to minority cliques or become independent.
Can anything be done to help persons suffering from shyness? Many psychologists believe that specialised training in social skills may be helpful. Such training often encourages the individual to try various techniques for getting along more effectively with others.
In Sri Lanka, facilities for assertive training - which is a specialised subject at school level in most developed countries - is lacking.
This could be remedied at secondary school level by introducing dramas and group discussions where all students take part in the activity at different times.
A person can overcome shyness by 'switching off' the external stimuli and focusing on the immediate task ahead. For example if you have to perform in front of an audience you can imagine that you are not in front of anyone and perform the task to yourself.
A person who has taken a risk several times and has spoken up, finds that shyness begins to recede. The initial try is often the most difficult.
(The writer is a Visiting Psychologist of the Sri Lanka Police Hospital, Colombo.)