Contents
---
Fantastic Lanka, says Miss Poland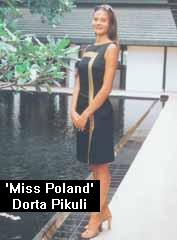 Sri Lanka is definitely a safe destination, for Polish and other European tourists to visit, said Miss Poland 2000, Dorta Pikuli, who is currently on holiday in Sri Lanka.

Sri Lanka is an amazing tourist destination with a fantastic variety of tourist attractions located at such close proximity, said Miss Pikuli and Miss Marija Cukurovic who is Marketing officer of a Leading Travel Agency based in Warsaw, while addressing a press conference recently.

Miss Poland also expressed that once she finishes her law exam, she would seriously consider getting married in Sri Lanka and promote Sri Lanka to all she comes in contact with that we are an exotic destination for wedding and honeymoons.

Miss Pikuli and her Polish team of visitors was flown to Sri Lanka with courtesy of SriLankan Airlines and all their ground arrangements, accommodation was graciously sponsored by Walkers Tours Ltd.

As Sri Lanka has many other opportunities and attractions for the Adventure, Nature, Eco Tourists and even stress relief programmes available at eco-friendly, Ayurvedic herbal treatment facilities, Ms. Cukurovic said.
---
2-TogetheR 3 years old
Talented duo Thushara Kuruwitage and Riza Deen, pupularly known as '2-TogetheR', look ahead for their fourth year together as they completed three successful years in the scene.

Riza is the main singer of the duo, while Thushara is the music maker of the '2 - TogetheR'.

Currently performing at the hotel circuits in Negombo and Kalutara, they are more popular with weddings and other private gigs....

The duo has many years of experience as individuals and they have performed with bands like Zodiac, Simple Serenade, Lazer and Zeals.

'The main objective of the fourth year is to create a couple of original songs', Reza said.
---
Yakada Pihatu being filmed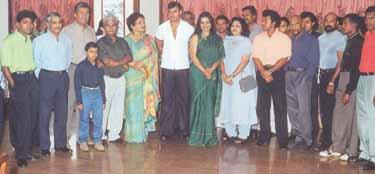 Location shooting of Udayakantha Warnasuriya's, "Yakada Pihatu" (Iron Feathers) is being done in Colombo.

While Udayakantha has done some outstanding films like 'Mahamera Usata', 'Gini Avi Saha Gini Keli', 'Bahu Barya' and 'Rajya Sevaya Pinisai', 'Yakada Pihatu' is his sixth directorial venture.

'Yakada Pihatu' deals with a subtle human relationship between a widow and a soldier.

Anoja Weerasinghe playing the key female role portrays a courageous woman who fights for her rights and Ranjan Ramanayake plays the role of a Army Officer who realised the sensitivity of human relationships and cruel side of life.

Suminda Sirisena, Priya Ranasinghe, Vincent Karunaratne , Quintus Weerakoon with several other prominent names will lead the cast.

The film is cinematographed by Jayanath Jayawardena and Stanley De Alwis is the editor.

Soma Edirisinghe is the producer of the film.
---
Sathyajith in search of new talent
By Susitha R. Fernando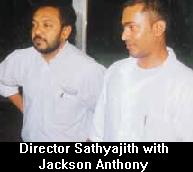 Award winning tele-film director Sathyajith Maitipe is on the look out for young talent for his maiden silver screen effort.

The young director grabbed the award for the best tele-film for his first directorial venture "Smarana Samapthi" (An Absolution) at the Sumathi Tele Awards Ceremony.

It also won the Special Jury Award at the Presidential Film Award Ceremony-2000 thus becoming the first tele film to be recognized at a film festival.

Sathyajith who has selected a talented cast already including some of best names in the field said the room is open for three youngsters to play the roles of two University students and a security personnel.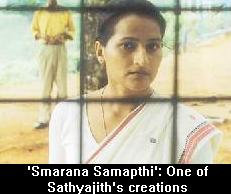 Though previous experience is not a must, the new comers should have the intelligence to understand the subtleties in acting.
Main roles in this film which is yet to be named, are played by Iranagani Serasinghe, Kaushalya Fernando, Sangeetha Weeraratne, Dilani Abeywardena, Chandani Seneviratne, Dharmasiri Bandaranayake, Chandra Kaluarachchi and Priyanka Samara-weera.
Speaking on the standard he was expecting from the newcomers he said while talent and good looks were essential, discipline and intelligence too had a place in the scheme.
The story is based on the life struggle of girls and security personnel working in the Free Trade Zone.
Sathyajith has proved his maturity with his maiden effort "Smarana Samapthi" in which he has discussed a simple story of the dark era. The story is centered around a young medical practitioner trying to forget some of his past experiences which were horrible and nerve wracking.
Questioned on the theme for the film he said "We are passing through a chaotic period and people in our country are caught up in a vicious circle".
"It is the youth, specially the girls in the FTZ and boys in the security services that are affected mostly by this and they are marginalised by society as a result" the young director said.
While explaining his work he did not forget to thank the Film Development Fund of the National Film Corporation for giving him a hand.
Those who are willing to try their luck for the three roles available should write to - Sathyajith Maitipe, 161, Bauddha Ayathana Mawatha, Kubukgahadoowa, Parliament Road, Kotte.
---
'Kinihiriya Mal': No extraordinary film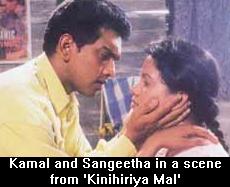 H. D. Premaratne's latest work "Kinihiriya Mal" will be released early next month.

The story deals with day-to-day happenings of little consequence in the country some of which are highlighted by the media.

The shooting of the last scenes of 'Kinihiriya Mal' was done by cinematographer Suminda Sirisena in suburban areas around Colombo and in places in and around Galewela. The lead roles are played by many versatile actors and actresses like Kamal Addararachchi, Sangeetha Weeraratne, Irangani Serasinghe, Roger Seneviratne, Vasanthi Chathurani, Veena Jayakody and Nilanthi Wijesinghe.

Deleepa Karunaratne, son of well known lyricist Karunaratne Abeysekara is slated to write a song for this film.

'Kinihiriya Mal' is edited by Elmo Haliday and produced by Soma Edirisinghe for the EAP Films.
---
Voyager Centre offers relaxation
By Nilika de Silva

It was a public holiday, and a group from the Deutsche Bank was enjoying a day out, when we visited the Voyager Water Sports Centre in Panadura.

Sri Lanka, an island surrounded by sea and dotted with waterways is an ideal location for water sports, but surprisingly much of its vast potential is yet untapped.

It was a pilot's dream holiday and today it can be yours. The calm and quiet, the sun and the breeze, water and sport all rolled into one.

Pilot Shyler Mendis along with Savio Bandara and Guhashanka two friends he came to know while wind surfing at Bolgoda, made Voyager Club a dream come true.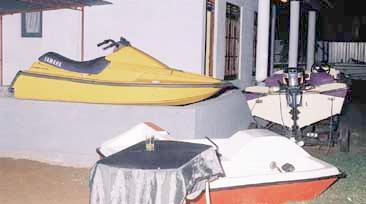 When the stress of working gets to you and you want to get away from it all, just half an hour from the chaos that is Colombo, an adventure awaits you. A lake setting for a vigorous day out. Wind Surfing, Jet skiing, Hot seat rides, Kyakking, and more.
Members could reserve the club house on the Western bank of the Bolgoda River, in Kaduruduwa for company or family days out, private parties or evening BBQs. A Calypso band a Chef, Drinks and meals would be provided if required. Bookings should be made three days in advance.
The centre is limited to its members at an annual membership of Rs. 6,000, or for six month terms. Those interested should call 077-364650.
One can also train to become a windsurfer in 8 hours, at the Voyager Water Sports Centre, Riverside Park, Panadura.