Residents, environmentalists allege intrigue, secrecy and crooked deals on Colombo-Matara expressway
Potholes and pitfalls
By Nilika de Silva and Faraza Farook
If ever the Colombo-Matara expressway comes to pass, its many bends may bear the hallmark of corruption and favouritism. Repeated changes to the original plan of the 80m-wide expressway, apparently to please political patrons and an influential few, are threatening to cause more damage to environment and habitat — and of course additional expenditure.

Residents in Bandaragama claim that more than 900 houses in Rammukkana and Gelanigama areas will be demolished under the latest plan, as opposed to an estimated 600 houses earmarked on the previous plan which itself is an altered version of the original plan.
The change of plans was largely political, the residents claim.
Environmentalists and residents say the original plan for the stretch passing Rammukkana was drawn in accordance with a comprehensive Environmental Impact Assessment.
But the plan was changed several times and according to the latest plan, the road is to be built passing Gelanigama and residents fear they will be driven to poverty as a result of damage caused to their sources of income such as agriculture and home industry.
Angry residents told The Sunday Times that Government officials were taking them for a big ride saying various things at various times or some officials even refusing to divulge information.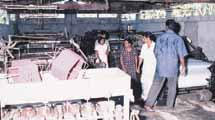 They were right. When we contacted the Road Development Authority to get their version of the story, officials there declined to comment.
Bandaragama Divisional Secretary Chandraprema Gamage was himself confused as a result of repeated changes to plans.
"The problem is they have changed the route of the expressway several times.
So there is a sense of uncertainty and everyone thinks he or she will be a victim," he said.
Mr. Gamage said the Divisional Secretariat had not received confirmation on the course of the expressway and was therefore unable to identify those who would be affected.
However, the Central Bank in its Annual Report for 1999 said that feasibility studies had been completed in respect of the Matara-Colombo expressway targeted to be completed by 2005 with ADB and Japanese aid.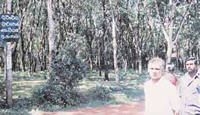 Adding to the uncertainty was intrigue. Recently the authorities convened a meeting with residents to discuss compensation and other matters.
Although about 200 houses were to be affected in that particular division, only a selected 80 residents were invited to this meeting.
The move stirred protests outside the meeting venue by residents who were not invited and police were called in to bring the situation under control.
Those who attended the meeting told The Sunday Times that district parliamentarian Tudor Dayaratne had vowed that the project would go ahead in spite of objections.
He reportedly refused to discuss in detail the problems residents would be facing but said steps would be taken to sort out problems, residents said.
"Eight generations of people have lived in these areas," Matara Arachchige Simon Perera, a 75-year-old farmer said.
"We have been living on the income generated through these crops. The jak fruit is our daily meal. So how will we feed ourselves when we are sent away from here?" he asked anxiously.
Pointing to paddy fields to be destroyed to make way for the expressway, the villagers said what was to be built was not a road to Matara but an expressway to poverty.
S. D. Ariyadasa, a resident from Bandaragama, said she had been told that the new road would go through her weaving mill which employed more than ten people.
She alleged that the whole project was shrouded in secrecy and there was no transparency or clear-cut policy regarding the project.
In February this year, residents filed a case before the Human Rights Commission seeking redress.
Meanwhile, the Ministry of Highways has called for tenders for the construction of the expressway, which is estimated to cost Rs. 24 billion.
This deviation from the Rammukkana track is estimated to cost the Government an additional Rs. 146 million and cost the people much greater losses in property and cultivation.
The villagers said that RDA officials offered Rs. 5000 per perch as compensation though land values have appreciated to about Rs. 50,000 per perch.
ADB guidelines for resettlement appear to have been flouted in many instances, as people have not even been granted comprehensive information regarding compensation for land they will lose.

---
From pillar to post on the expressway
When The Sunday Times contacted Southern Transport Development Project Director N.M. Zarook to seek information regarding the Colombo-Matara Expressway, he asked us to obtain permission from Highways Ministry Secretary Lal Seneviratne who is currently the acting chairman RDA.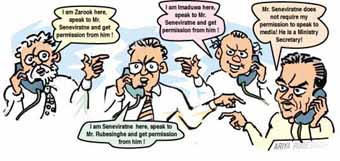 The Sunday Times then contacted RDA Land Division Director Gunasena Imaduwa who also directed us to speak to Mr. Seneviratne.
Finally when we contacted Mr. Seneviratne he said he could not speak on the matter without obtaining permission from the Information Director Ariya Rubesinghe.
The Information Director told The Sunday Times Heads of Departments and Secretaries definitely did not require permission to speak to the Media.
When The Sunday Times got back to Mr. Seneviratne he said, 'I told you I cannot speak to the newspapers'.