Cloud hangs over live TV debate
The UNP has reiterated its stand of putting forward MP Rajitha Senaratne for a live TV debate with Minister Mangala Samaraweera despite the minister insisting that another senior party member be present.

The TV debate which was to be telecast over ITN on Thursday was cancelled, following the UNP's decision to put forward Dr. Senaratne

Minister Samaraweera challenged Opposition Leader Ranil Wickremesinghe to a TV debate on the President's house under construction following the UNP's protest over its cost. Minister Samaraweera requested that the debate be conducted over ITN and invited the Opposition Leader.

However the UNP last week while accepting the challenge put forward UNP Parliamentarian Mr. Senaratne to which the Government disagreed.

Last Thursday Minister Samaraweera took part in a new program where he spoke on the President's house and also other issues pertaining to land.

However the UNP had cried foul by claiming that Minister Samaraweera cannot decide on who should be part of the debate.

Dr. Senaratne told The Sunday Times that Minister Samaraweera has no right to choose who should take part in the debate.

"It was a party decision to put me forward, but Minister Samaraweera had objected. I have already informed the ITN Chairman and want him to make the necessary arrangements' he said.

Dr. Senaratne has decided that he will speak about the President's house even over a private TV channel.

Meanwhile ITN Chairman Newton Gunaratne told The Sunday Times that since the UNP and Minister Samaraweera could not come to an agreement the debate was cancelled. Instead a new program was introduced on Thursday.

" ITN was only providing the platform. We tried to bring both participants together, but it was not possible. We are ready to air the debate again. I will write to the Opposition Leader and Minister Samaraweera once again" he said.

The debate was cancelled on Thursday and another program titled "What's happening Mr. Minister? " telecast with Minister Samaraweera appearing on the program. However the UNP charged that the party had not agreed on the date of the debate and that Minister Samaraweera had suggested the date.

---
Stassen case put off once again
By Laila Nasry
The Stassen case which halted a Customs inquiry into an alleged multi- million rupee import fraud, is continuing in its nearly three-year trend of delays.

The case which was fixed for argument and taken up in the Court of Appeal last Wednesday before Justice Upali de Z Gunewardene was postponed for April 4 due to Stassen group's counsel D. S. Wijesinghe not present in court..

Attorney D. Dharmadasa appearing on behalf of Mr. Wijesinghe objected to proceeding with the customs inquiry and asked for an extension of the stay order until April 4. In July 1998 the Stassen Group filed a writ application and obtained a stay order bringing the customs probe on alleged underinvoicing of food stuff including cooking chocolate, sausages and cheese, by the firm to a halt.

The stay order has been varied from time to time enabling the Customs Department to lead the evidence of three witnesses who conducted the raid with a number of other witnesses' evidence still to be led.

The Customs seized more than 40 files allegedly containing incriminating evidence when in September 1997 it raided Stassen House, a conglomerate headed by Harry Stassen Jayawardene. The case initiated by Harry Jayawardene, V. P. Vittachi, C. R. Jansz, K. Ramanathan, J. V. M. Dabrera and Raja Mendis was a direct result of the said raid.

---
Alleged torture victim claims Rs. 100,000
A twenty-year-old student who claims his studies came to a standstill as a result of alleged arrest, detention and torture was granted leave by the Supreme Court to proceed with his fundamental rights application.

The petitioner, Rasamanikkam Vasanthakumara says he has been in the Boosa Remand Prison for the last 15 months though no charge has been levelled against him.

He states that on November 25, 1999 while on his way to get his identity card laminated he was arrested and detained by personnel of the Central Camp Police Station in Ampara without any reasons being given.

The statement he made in Tamil at the police station was recorded in Sinhala and later he was forced into signing it.

On November 27, 1999 he was produced before the Counter Subversive Unit (CSU) in Ampara and detained. There he was assaulted with his hands and legs tied.

Vasanthakumara prays, inter alia, to be released from remand, and seeks compensation amounting to Rs.100,000.

---
Auditor General's report on shocking losses of CEB
By M.Ismeth
Details of huge financial losses incurred by the Ceylon Electricity Board (CEB) have been disclosed by the Auditor General in his report for 1997 released last week, showing that the Board had not followed financial procedures in many instances or had bungled on contracts.

An instance in which the CEB paid the full amount to a lessor and then tried to claim Rs. 95.9 million for non-compliance with the agreement and another where the Board had paid Rs. 466,658,702 for feasibility studies on projects, some of which were rejected in the end are among cases where the CEB has suffered losses, according to the report.

The CEB had entered into a lease agreement with Wood Group Power System Ltd., Scotland in February 1997 to lease two mobile power generator units with a capacity of 20 MW, for a period of one year from May 15, 1997 to May 14, 1998, to overcome the power crisis experienced during that period.

The CEB had opened two security bonds in favour of the lessor for US dollars 7.7 million and US dollars 3.6 million for the value of the machines and rental payable for one year, respectively. However, the lessor had failed to supply electricity in line with the agreement, but had claimed full rental for each month stating that failures occurred due to the poor quality fuel provided by the CEB.

The CEB had not accepted this argument and had observed that thermal plants of the CEB had been using the same fuel. According to the CEB the lessor was not entitled to Rs. 95.9 million (USD 1,565,669) but it had claimed the full LC value amounting to US dollars 3.6 million.

As a result the CEB had suffered a loss of Rs. 95.9 million and the case had been referred to a legal officer.

However, the Auditor General's report submitted to Parliament had observed that this problem had arisen due to shortcomings in the lease agreement.

In the other instance, a contract was awarded to a joint venture company to carry out the feasibility study of the Upper Kotmale Hydro Electricity Power Project on November 3, 1993 at contracted sums amounting to Yen 901,299,684 and Rs. 141.6 million . However this project was rejected by the Central Environment Authority (CEA) based on an interim report of the contractor on February 24, 1995.

The CEB had given another assignment on July 10, 1996 to the same contractor to carry out a feasibility study in Yoxford Estate to be completed within two months at Yen 28,326,787 and Rs. 314,500. The capacity of the plant and the annual expected energy were 180 MW and 496 GWH respectively. This report too was rejected by the CEA.

Audit tests revealed that a sum of Rs. 466,658,702 had been spent by the CEB for feasibility studies.

Other critical observations made by the Auditor General are:

Redundant, obsolete and unserviceable assets valued at Rs. 5,555,470 had been included in the fixed assets schedule.

Advances paid by cheques for supplies and services outstanding for over three months amounting to Rs. 13,601,182 had been continuously shown as advances although most of those advances had been utilised to procure goods and services.

Although fuel tanks at the Chunnakam Power Station were completely destroyed by terrorists in 1990, fuel stocks at this power station valued at Rs. 8,597,695 had been continuously shown as stocks.

Audit test checks revealed that 34 officers had obtained a sum of Rs. 276,684 more than their entitlement for carrying out duties in an acting capacity contrary to the provisions of the Establishments Code.

Subsistence allowances for three days amounting to US dollars 53,640 and incidental expenses for two days amounting to US dollars 5,540 had been paid as advances to officers in excess of their normal entitlement.Although two days incidental expenses are allowed to be claimed as accommodation allowances for flight delays while on overseas travel, two officers had claimed a sum of US dollars 150 without proving that the airline did not provide food and accommodation for such delays.

The net profit margin of the CEB had decreased from 0.5 percent in the preceding year to 9.0 percent during the year under review due to an increase in expenditure by 25.17 percent from Rs.. 17,768.647 million in 1996 to Rs. 22,241.240 million in 1997 despite the increase in income by 13.36 percent from Rs. 17,864.201 million in 1996 to Rs. 20,251.156 million in 1997.

Stocks valued at Rs. 77.415 million had been identified as slow moving. No action had been taken to dispose of them or to transfer them to divisions where they could be used thereby avoiding further losses.

The CEB's report was submitted to Parliament only this week. Meanwhile the Auditor General was carrying out a separate investigation on the recent expenditure and losses of the Board.

---
The Sunday Times Health probe
Hand in hand with foot and mouth
The disease claims hundreds of animals every year in Sri Lanka, say officials
By Faraza Farook and Nilika de Silva
While Britian and the rest of Europe are taking contingency measures to battle the foot-and-mouth disease with sick animals being killed and the affected farms sealed off, in Sri Lanka the animal disease is an annual occurrence. The Sunday Times investigation reveals.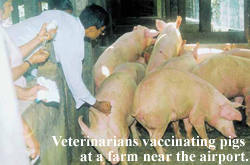 Though the outbreak this year in the North Central province, where the disease is said to be endemic, has so far claimed eight cattle, the death toll in the previous years had been heavier.
According to Livestock Development Ministry statistics, in 1999 the disease affected more than 10,000 animals —largely cattle and buffaloes — with more than 100 deaths. Last year 208 animals died and more than 2000 cases were reported.
With the outbreak in Europe being given wide media coverage, measures to contain the spread of foot-and-mouth disease through various preventive measures, including vaccination, have been introduced.
But they are not producing the desired results because of lack of cooperation from farmers, Ministry officials said.
In Britain the disease has been taken so seriously that there are calls by opposition parties to postpone the May General Elections to fight the crisis that has led to the killing of about one million animals. But in Sri Lanka, veterinarian and Livestock Department officials are fighting a lone battle. They get little or no support from police or public officials in combating the disease that is threatening the local dairy industry.
As the disease spreads across Europe, Sri Lanka has taken quarantine measures to prevent any new virus from entering the country.
Accordingly Animal Quarantine Officers at the Bandaranaike International Airport are screening all passengers arriving from Britain and other European countries, destroying meat products brought by them and incinerating airline garbage.
While Livestock Development Ministry officials assess the situation in a process of continuous surveillance, health officials say the disease is not fatal and rarely does it affect humans.
Veterinarians in the North Central Province have reported that hundreds of animals have been inflicted with the disease and recommended a series of steps to contain the disease. They have advised farmers to isolate the affected animals and keep them in a place away from the healthy ones. But the farmers are unable to adhere to the advice largely due to lack of space in their farms.
It is also reported that some farmers sell their sick animals as soon as they detect the signs of the disease in them. Moves by Livestock Ministry officials to prevent sick animals from being taken to disease-free areas are proving futile because Police and Railway officials are not cooperating with them.
Cattle, buffaloes and pigs are the animals affected in Sri Lanka, and vaccination of these animals have already begun while the affected farms have been cordoned off by the Department of Animal Production and Health.
Livestock Development Ministry Director Dr. S. K. R. Amarasekera said the first case of the foot-and-mouth disease in Sri Lanka was detected in December 2000.
The disease is endemic to the North Central province where sporadic outbreaks are reported annually. This year, cases have been reported from Padaviya where two animals have died and more than 300 are suffering from the disease. The toll in Mihintale is four deaths and 140 cases; in Kebethigollewa, two deaths and 99 cases and in Eppawela three cases.
Though free vaccination programmes are held annually, only 50 to 60 percent of the cattle are immunised. Dr. Amarasekera said the farmers would bring their cattle for vaccination only when there was an outbreak. Asked why Sri Lanka is not following the European example of stamping out the animals — incinerating the sick animals, an official said a developing country such as Sri Lanka could not afford to do that.
Veterinarian Dr. M.A.C.S. Mallawarachchi said dairy farmers in the NCP had been badly affected as they were unable to milk the cows and buffaloes — the source of the main income.
Even animals that have come into contact with the infected ones are considered carriers of the virus and therefore considered unsuitable for food production.
Consequently production of related food items such as curd and cheese is also affected, worsening the plight of the farmer.
There are seven main types of the foot-and-mouth virus and several subtypes.
The Sri Lankan virus is type "O" while the British strain is reported to be sub-type O.
Foot-and-mouth disease is present in many countries except for North and Central America, Australia, New Zealand, Great Britain and Scandinavia. The panic reaction seen in European countries in the face of the outbreak in Britain is due to the fact that European Union countries were generally free of the disease.
Foot-and-mouth disease is an acute, highly contagious infection of cloven hooved animals and may spread over great distances with movement of infected or contaminated animals, products, objects, and people.
Large amounts of virus are excreted by infected animals before clinical signs become evident, and winds may spread the virus over long distances.
The incubation period is 2-21 days although virus is shed before clinical signs develop. Recovery generally occurs within 8-15 days. Recovered cattle may be carriers for 18 to 24 months; sheep for about 2 months.
The main clinical signs in cattle are salivation, lameness caused by the presence or painful vesicles (blisters) in the skin of the lips, tongue, gums, nostrils, coronary bands, and teats. Fever and decreased milk production usually precede the appearance of vesicles.