---
Different dreams
By Kumudini Hettiarachchi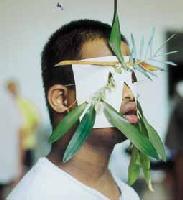 The props are on stage, though there is no stage as such. Torn up newspapers are piled high in a mound, near the tall traditional oil lamp. The walls are covered with beautiful paintings. There is an air of expectancy, in this room at the BMICH but, strangely, there is no tension among the actors who are about to perform a play. The trainers, though, seem slightly stressed, some sweating, maybe due to the humidity of foreign climes or pre-show stress.

In a corner, a group with home-made instruments has formed a 'pappara' band and are practising for the opening of the play. Some are dancing in their different corners, with perfect rhythm, while others walk around in casual clothing, chatting and laughing. Snatches of conversations in Sinhala, Tamil and also sign language. Much enthusiasm and also camaraderie are evident and it takes a while for the spectator to realise that this truly is a "mixed" group.

The audience too is a fine mix, as the play opens sharp at 2.30 p.m. on poya day. The 'pappara' band comes, or to be more accurate, rolls onto the stage, with wheelchairs in the lead and begins a medley of old favourites. The show is off to a good start.

This is the climax of a 10-day workshop on performing arts organised by the Sunera Foundation and funded by the British Government, through the British Council. The workshop included voice-training and dancing; drama; painting; puppetry and music with trainers being flown in from Britain.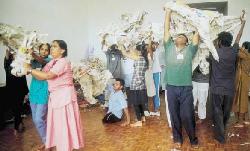 Dubbing the participants as a "sillara" group, the face behind performing arts in Sri Lanka, Sunera Foundation's Sunethra Bandaranaike says, "Twelve are able and disabled actors from our regular cast, who have been with us for two years now, and another 50 are from different backgrounds, such as the Chitra Lane School for the Special Child, the special units in other schools for disabled children, some from underprivileged backgrounds. Some are able, some are special. They are from all three communities and from far-flung areas. The youngest is 12 and the oldest somewhere in his thirties."
Ms. Bandaranaike has been helped in this unique experiment, first launched in 1998, to mix and match the disabled and the able in stage productions, by dynamic Wolfgang Stange of the AMICI Dance Theatre Company and Rohana Deva Perera. They have already produced 'Butterflies will always fly' and 'Flowers will always bloom' to rave reviews.
At the workshop held at the BMICH, Mr. Stange handled creative dance, husband-wife duo Rohana and Ramani drama, Julian Crouch puppetry, Erich Heiligenbrunner music and instrument building, Barb Jungr and Russel Churney voice and movement and George Beven art.
And the raw material needed for the workshops and as props for the play came from easily available and inexpensive sources. Old newspapers were turned into monsters, birds or elephants in the puppetry class; twigs, dry leaves, grass and commonly found red flowers made beautiful masks for the music class, while the BMICH garden produced a wealth of material for the potential artists.
For Nadira Jayasena, 12, from the Chitra Lane School, it was a wonderful experience. Accompanied by her mother — who has become the general factotum, collecting flowers and taking paper to the budding artists — she is being trained to sing a song at the play.
"Mata golu bashawa puluwan," (I know sign language), says Lakshman Karunaratne beaming from ear to ear from his wheelchair. He has left behind his job of painting homes and polishing furniture to take part in the workshop.
"Disabled children are hidden in their homes. I know because I go looking for work all over. This will help me to tell their parents that there is a life out here for them," says Lakshman who has learnt sign language on his own over the years and has been acting as the impromptu translator at the workshop.
The Sunera Foundation has also offered a "different" experience to six D.S. Senanayake Vidyalaya prefects, who have been seconded to act as Sinhala and Tamil interpreters. Twenty-year-old Anuradha Gamage speaks for all — R. Kirubakarann, T. Krishanth, T.R.M. Shafraz, M.U.M. Shakir and T.M.M. Zaharan — when he says, "Though we have a Tamil stream in school, we never mixed with our Tamil brothers like this before. Working with others who have different abilities from us has been an enriching experience, a once-in-a-lifetime one which we will take back to our peers."
Sitting in on the workshop and also seeing the play, it is difficult to imagine the sorrow and the tragedy that lies behind the sparkling eyes of S. Thangeswary from Thirukkovil. She heard about the workshop when Rohana Deva Perera went to her village. She applied to attend it, was auditioned and chosen. As she dances or takes part in the play, the latent talents are obvious. But her smile is tinged with sorrow. Her father had died in a bomb blast sometime ago and her nephew killed in the Bindunuwewa massacre. Her sister (the youth's mother) who is working in the Middle East is still unaware of the heartache that awaits her back in Thirukkovil.
But Thangeswary is immersed in acting and singing, with no signs of rancour or ill-will towards her Sinhalese brethren. "I'm happier here than back home," she smiles.
On the final day, as the play, "Nandana's Dream" ends, the thunderous applause gives the verdict. Like the Dream, where Nandana the most 'special' of the lot takes his place as the hero, climbing great heights, this group has achieved something. They have shown a majority of us that 'their' world and 'our' world could merge as one.
Ten days of love's labour are over. But the real-life drama is not. There are hugs, kisses and tears. Tears of parting, because the group breaks up now, with the foreign trainers going back to their countries and the others to their homes.
But the memories will linger as will the 'oneness' and hopefully it will seep to the very grassroots, to spread harmony among a people torn asunder by hate over race, caste creed, abilities and non-abilities.

---
Butterflies take wing to London
"It's the ripple effect we want to create," stresses Ms. Sunethra Bandaranaike, as a disabled child offers her a flower.

Not only peace through performing arts, but also a good core group of people who can fan out across the country to spread the word of song, music, dance and drama is the lofty ideal of the Sunera Foundation.

The workshop is over, what now?

"We hope to take them, the Butterfly Theatre Company, to the international stage," says Ms. Bandaranaike. "We hope to take them to London."

Her vision is to expand the number of people involved in performing arts and set up a permanent centre where young people can realise their potential. That was also why she set up Sunera Foundation, independent of the Sunethra Bandaranaike Trust in January 2000 to handle only this work. "We need a permanent centre for the Sunera Foundation with a small auditorium, where rehearsals can be held and residential facilities are available during workshops. Where there are recreational facilities; a place where there will be a fusion of all groups. Now we have to use other people's places. We need a self-sufficient centre of our own. For this we need big money and that, I feel, should be tapped abroad. The cast also needs exposure abroad."

So Sunera Foundation in association with AMICI Dance Theatre Company will present the Butterfly Theatre Company's Flowers will always bloom on May 3,4 and 5 at Riverside Studios theatre in Hammersmith, England.