---
Piorina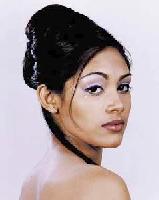 Piorina our cover girl this week had her hair an make up done by Cheryl Gooneratne of C. G. Academy and was photographed by Anuruddha Medawattegedera

---
Stories from LA by Afdel Aziz
Nothing ever stops
Ravi and I speak the common language of film; our favourite moments, our ideal casts, who's doing what, who's pitching what to whom. We are excited about the young, first-time Asian director M.Night Shyamalan who become a hit with a film he wrote and directed - 'The Sixth Sense'. Ravi is using his connections to try and get in touch with him - maybe this will be the big break that gets some of his properties onto the fast track for production.

In LA, everyone has a connection. For example; Ravi's local Indian restaurant is frequented by Renny Harlin, director of gung-ho action movies and husband to Geena Davis. The manager has offered to pass Renny some scripts for his perusal; this being LA, he wants a ten percent 'finders fee' if the deal goes through. 'Die Hard Four' over the onion bhajis. It could happen. We eat at a diner on Melrose, all snakeskin bar stools, tasty Thai food and seedy atmosphere - except for the somewhat disturbing absence of all cigarette smoke. However rock'n'roll LA pretends to be, this almost fascist obsession with health means that it will never have the decadent, smoky atmosphere of Europe.

Afterwards, we go movie hopping, jumping from cinema to cinema as each film ends - a pleasurable way to spend an evening, with a fellow cinemaphile. On the weekend, I decide to be a total tourist and book myself into a guided tour of LA. I don't know what to expect when I climb into a mini-bus full of couples of Minnesota and Wisconsin and elderly British women from Dorking.

First stop is the Farmer's Market in LA where we wander around the stalls of fresh produce, gun magazines and tourist souvenirs. Standing in the line to a Middle Eastern bakery, I am reminded of how big the gulf between La-La Land and Middle America is when the corn-fed Wisconsonian behind me loudly inquires 'So what kind of meat is falafel ?' We move on to the Dorothy Chandler Pavilion where the Oscar ceremonies are held (or used to be held - from next year they move to a venue in Hollywood proper). For a moment, I indulge my acceptance speech fantasies and thank God, my mother and my agent. We drive into the affluent Bel Air neighbourhood, up in the hills where the Hollywood elite live. We pass Steven Spielberg's , the Reagan's , Michael Caine's? There is a moment of excitement when we spot someone young and lithe on the balcony of Leonardo Di Caprio's place - but it turns out to be the gardener. In LA, even the servants are tanned and goodlooking.

Next stop is Mann's Chinese Theatre, where the famous sidewalk features the foot and hand casts of the Hollywood stars. I take random pictures of the space left by stars long ago; Mickey Mouse, Charlie Chaplin, Michael Jackson. The real excitement is across the street where the premiere of 'Toy Story 2' is taking place. Enough plaster moulds; let's see some real stars. For half an hour I rubberneck with the crowds, watching the stars make their obligatory walk down the red carpet, stopping to be interviewed by the bristling TV Cameras. Kelsey Grammar ('Frasier') , Tim Allen ('Home Improvement') and an impossibly red David Hasslehoff are amongst the B-list out today, no doubt egged on by their agents looking for an extra gasp of publicity on that evening's 'Entertainment Tonight'.
The making of a star

Sitting in an internet café in Wiltshire, checking my Hotmail account and sipping an almond latte, I scan the leaflets tacked up on the board. Aside from the usual bumpf about 'WE CAN MAKE YOU A STAR !' and casting auditions for dog food are a couple of interesting extra curricular activities that I think may give me a unique insight into the Angeleno mindsight. One of them is a class in Krav Maga - Israeli martial arts as practiced by the Mossad and other Israeli armed forces. Sounds interesting. Next to it though is a flier for a class in Kundalini yoga - right next door to me, so I decide to check it out. I'm expecting an hour of gentle stretching. How could I be so wrong. The tanned, goateed and bald headed disciple at the door informs me that this particular form of yoga relies on the liberal application of external heat. When I ask him what that means he says ' Well, basically its an hour of intense stretching down in a room heated to about 35 degrees celsius. Its a bit painful at first but you'll soon get used to it after three or four sessions.' I mutter excuses and sidle out of the door. No thanks. I can get the same experience riding a Delhi bus.

Instead I wander around the neighbourhood and poke my head into a seedy shopfront that advertises 'Madame Zelda's Psychic Readings! Ten Dollars.' The shop bell rings as I open the door, a flurry of barks clash with the game show on the television and an elderly gentleman with one hell of a smoker's cough sticks his head out of the back room. When I inquire about the possibility of a fascinating premonition of my future, he mutters apologetically 'Uh, Madame Zelda's gone' . Off visiting the homes of the rich and famous for some private one-to-one connections with the netherworld , I inquire ? 'No, she's actually gone to get her legs waxed'.
So far, so LA

In the movie 'LA Story', Steve Martin makes a sneering comment ; 'Let's do the cultural tour of LA - that should take about three minutes'. But LA is not all about hippy-dippy hedonism . It also boasts some fine museums, like the stunning Getty Museum - a place where people go to see the architecture not the art, and where you don't buy tickets but rather reserve a parking slot since space is so limited; there's also the Museum of Modern Art.

When I visit, it is hosting an exhibition of works by American artist Barbara Kroger, known for her sloganeering, graphical works. Over grainy black and white pictures of men and women in candid poses , lie brutal texts; a bunch of young men in tuxedoes, horsing around like young men do, has the penetrating statement 'You create intricate rituals to touch the skin of other men'. An X-Ray of a skeleton has the words 'Memory is your persistance of illusion'. A more penetrating insight into the more intellectual side of the California mindsight comes when I visit the Japanese American Museum next door . It is a permanant testimony to the dark days of World War II when thousands of Japanese-Americans were rounded up and sent to what were basically concentration camps.

Two things stand out amidst the carefully collected stories, pictures and paraphernelia ; one is the fact that every thing in the museum has both English and Spanish translations - testament to the now-vibrant multi-cultural nature of California. The other is the story of a young man who chose to go with his friends to the camps even though he was not of Japanese descent himself. When asked why, he simply said ' No-one should have to go'.
P.S. LA Stories Two: I'm standing in the grounds of the Los Angeles Train Station, in a beautiful garden at twilight, fountains gently gurgling water, trees swaying in the breeze, even old jazz playing softly over the loudspeakers. Its like a movie set. How strange to find a place of such seductive ease right next to a train station. I am waiting for my friend to come and pick me up so we can go out for dinner in Hollywood when a man comes and sits next to me on the bench. He asks me for a light and strikes up a conversation. He proudly tells me he works as a ships cook, and has travelled all around the world with the Merchant Navy - Borneo, Morocco, Alaska, everywhere. He has just returned from a weekend's gambling and boozing in Las Vegas with his friends, who left him asleep on the train. He still needs to return to his wife up in Seattle, further up the coast - but he has no money. I prepare myself for the inevitable hard luck story coming, but at the same time I'm feeling relaxed enough to let myself be reeled in by the bluff histrionics coming from this white bearded, grizzled old man. He wants me to buy his watch, a Rolex, for only fifty bucks. I politely refuse. Then he wants me to pawn the watch at the pawn store across the road, for which he will give me half the money. I politely refuse again. I am somehow charmed by the spiel, allowing myself to be suckered like the most naîve hick that ever stepped off the train from Dustville. He finally gives up and we sit agreeably, listening to Billie Holiday before we have to part ways. Two minutes later I see him sitting next to a black couple inside the station and striking up yet another conversation. Here comes the spiel again. In a town like this it never stops.
Marie de Rosairo, Druvi de Silva, Druvi Jayamanne and Mokshin Jayamanne
---
Their gift of love
By Ruhanie Perera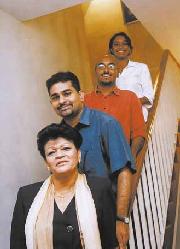 It's time for the sound of music - Gospel music to be exact. For all those of you who are longing for some inspirational singing, the concert 'On Eagle's Wings', featuring some prominent names in the music field, promises to be a "glorious evening of Gospel music for the whole family". It goes on the boards on March 24 and 25 at the Bishop's College Auditorium at 7 p.m.

The concert is organised by Rhema Realms, which comprises a group of individuals from different Christian denominations sharing one vision - to bring together Christian artistes, singers and musicians. Their main concern is to introduce and encourage new comers in the field and as they put it to "expose their talents to give glory to God".

Taking part in the concert will be Marie de Rosairo, Neville Fernando, Ruveni Seimon Seneviratne's Choir, Damian Wickramatilleke, Soundarie David, Mokshini Jayamanne with her brothers Druvi and Dulika, Serela Athulathmudali, the St. Thomas' Kotte Choir, Celestial Chimes, Druvi de Silva, Sureka Amerasinghe and Dilip Seneviratne. There will also be a special treat for the audience when Neville Fernando conducts a sing-a-long as part of his act.

Marie de Rosairo, who is also taking part in the concert, has been singing for nearly 40 years, since the day, quite by chance she decided to take part in a talent contest. Today she is recognised for her talent as a jazz singer and has been putting music into the lives of people all over the world. "I consider my love for music a blessing," she says, because singing for her is not just some sort of isolated stint. With a smile of satisfaction she continues, "It's a fulfilment in itself and I've been doing it my entire life".

Mokshini who will sing with her brothers Druvi and Dulika says that they've been singing since they were in school. They have also sung before at Gospel concerts and Christian rallies. According to this twenty-year-old "my family has experienced Jesus in a very personal way and now we're conveying our experiences of Him through our songs".

The organisers say every single participant caught onto the idea without a blinking of an eyelid. Everyone replied with a prompt 'of course we'd love to take part' and that was encouraging for all those involved with the organising. To those in Rhema Realms this is a wonderful experience of commitment and dedication.

Rhema Realms also plans to help any Christian worker lacking in facilities to spread the good news. "Already we have received applications from workers amongst poor fishermen in the Negombo area, drug addicts and disabled persons for the supply of necessary aid. We will help a Christian worker desirous of helping widows and children, street children, FTZ employees, prison workers and others."

They've also planned a unique treat for retired military personnel, senior citizens and retired clergy by way of a special concert on March 23. According to the organisers "it's our way of saying thank you to these people who have contributed so much to our country. We want to let them know that they haven't been forgotten and to feel valued and loved".

With so much of hard work and dedication going into this concert, it will be a very special experience for anyone who is a part of it. As Druvi de Silva puts it, "Many people dedicate special songs to their girlfriends or boyfriends. Through Eagle's Wings we have the perfect opportunity to dedicate our songs to God".