Contents
---
Read Wyclef Jean's new 'Book'
By Sanath Weerasuriya
Wyclef Jean, a Haitian rap and acid singer is the star of this week's 'Original Music Competiton'.
The Haitian MC and producer, who rocketed to fame along with the other two members of the Fugees (Pras and Lauryn Hill), Wyclef Jean was the first to embark on a solo side-project.
Born in Haiti, though his family moved to South Florida while he was still a child, Jean grew up in Brooklyn, spending time with his cousin, Pras. After the two hooked up with Lauryn Hill, the Fugees were born and revealed as hip-hop superstars after their second album, The Score in 1996.
The following year, he went out on his own for The Carnival Featuring the Refugee All Stars, though both of his band-mates made appearances. Thanks to the single "We Trying to Stay Alive" (and to the Bee Gees for the sample), the album hit the Top 20 and went gold.
Ecleftic: 2 Sides II a Book followed in mid 2000.
"Ecleftic" is a hip hop, house and rap style album comprising nineteen songs, 'Columbia Records', 'Where Fugees At', 'Perfect Gentleman' (featuring Hope), 'Wish You Were Here', 'Thug Angels', 'Red Light District', 'Bus Search', 'Da Cypha', 'Runaway', 'Hollywood To Hollywood ' are some of the popular hits of this album.
Look for Wyclef Jean's latest album "Ecleftic: 2 Sides II a Book" at Maharaja Entertainments dealer outlets and grab an original copy for yourself!!!
But still you can win five Original albums of Wyclef Jean by answering the simple question on the 'Sony Music / TV Times coupon'.
To enter this contest, all you have to do is to answer the simple question on the coupon and send it to the address given below.
The address is "Listen to Original Music Contest, No. 41, C/o Maharaja Entertainments (Pvt.) Ltd., 330, T.B.Jayah Mawatha, Colombo. 10.
Tel: + 941672425-8, Fax + 941699070. E Mail: me @ lgo.lk
All the entries must be originals from the TV Times and no photocopies or faxes will be entertained.
All correct entries will be drawn by a panel of judges. The entries should reach the above address by March 28, the latest.
The decision of the judges will be final and the names of the winners will be announced in The Sunday TV Times accordingly.
Here are the winners of contest no. 39. The winners of two Sony Original CDs are Mrs. Beverly Jurianz of Borelasgamuwa and Mrs. K. Faris of Dehiwela. The two audio winners are Amith Dissanayake of Badulla and Dr. Shirley H. Silva of Galle.
The 10% off gift vouchers go to C.J. Roland Anthony of Ragama, Mrs. L. Radhakrishnan of Pundaly-Oya, Chaturi M. Siresena of Kadawate, Daphne Pereira of Piliyandala, Upeka Dharmawardena of Panadura and T. Janaka Gayan Kumara of Bopitiya.
The Poster winners are Chaminda De Alwis of Moratuwa, Surantha Lloyd Seneviratne of Negombo, M.A. Roshani M. De Silva of Polonnaruwa, W. Thusith Prasanna Silva of Kochchikade, S.R.D. Radriya of Negombo and Suranga Weerasuriya of Walapane.
---
Country Music sing -along in Moratuwa
The Moratuwa Arts Forum (MAF), well known for their annual programme of 'Down Memory Lane' has come up with another innovative idea.
'COUNTRY & FOLK CONCERT' is the title given to this new musical programme featuring the multitude of MAF singers who would come on stage to thrill the music crazy Moratuwa folk by rendering individual and collective performances and give the lead to a roaring sing-along session where the audience can sing their favourite country and western songs to their hearts content.
The 'Country & Folk Concert' cum sing-along will be held on April 1 commencing at 6.30 p.m. at the Hotel Ranmal (air-conditioned) banquet hall, Moratuwa.
A classy song book complete with lyrics of 50 country & western folk songs will be distributed to each participant at the gate.
Some of the songs listed for the show would be 'Country roads', 'Green green grass of home', 'Cotton fields', 'Leaving on a jet plane', 'Sound of silence', 'Banks of the Ohio', 'Nobody's child', 'Blue Bayou', 'Blowing in the wind', 'Raindrops keep falling on my head', 'Jambalaya' ,'Where have all the flowers gone' etc.
The 'Super Pink & Purple' led by Lincoln De Silva, supplemented by other well known musicians would be providing the ideal country type music befitting the show. Lincoln, along with former guitar wizard and band leader Ivan De Silva heads the project committee.
Others in the organising committee include Brian Coorey and Hiran Fernando (both formerly of Pink & Purple and 'Talk of the Town'), Cumar Peiris (Gypsies) and Priya Peiris (La Bambas).
Entry tokens priced at Rs. 250/- (reserved - box plan) and Rs. 150/- would have to be purchased in advance and will be available in early March. Watch out for further details circulated by MAF during the next few days.
So make sure you join your friends and loved ones and join in the fun singing "Country roads, take me home...." etc.
R.G. Mathew, Chairman/Managing Director, Packwell Lanka Ltd., and Mrs. Mathew will grace the 'Country & Folk Concert' as the chief guests.
---
F-d-o: Brothers in action
'F.D.O' is the latest trio to break into the local music scene.
It comprises three brothers popularly known as Geoffrey, Russel and Gihan Fernando.
Geoff Fernando, needs no introduction. He is the founder of now defunct popular band 'Purple Rain'. Geoff is in town to team up with his brothers to perform at the latest night spot 'Rhythm & Blues'.
'F.D.O.' sings at R&B every Friday to the music of 'Ultimate'.
Russel Fernando of 'pro-Arrangements' fame and Gihan, their youngest brother comprises the trio, which means Fernando.
The outfit sings all soul, funk and rock songs from 70's and 80's.
The band 'Ultimate' lead by popular Keyboardist 'Sudu' performs three times a week on Friday, Saturday and Wednesday at R&B.
---
Clancy's Irish bash on St. Patrick's Day
Sri Lanka's first ever Irish Pub & Restaurant - Clancy's has made arrangements to celebrate St Patrick's Day on March 17.
This Day is Ireland's greatest National Holiday and a Holy Day too, named after the country's patron Saint.
To celebrate it here in Sri Lanka, Clancy's has especially brought down a four-piece Irish ensemble for the occasion, called "Finnegan's Wake". It consists of a banjo, box guitar, a bodhran (a goatskin drum widely used in Irish music), flute and bazuki featuring Noel Maguire, Daren Maloney, Alan Magurie and Patrick.
On March 17, a strong national flavour will pervade the air at Clancy's with the aroma of Irish coffee, specially brewed Clancy's green and dark beer and cocktails like 'Four Leafed Clover' and 'Finnegan's Wake'. Evoking the spirit of Irish folklore will be a dish of 'Cockles & Mussels' combined with its matching 'Molly Malone' cocktail.
Add to this Irish jokes exploding at the bar counter, stewards serving Sinead O Connor's Fish and Chips, Jonathan Swifts Baked Potatoes, Oscar Wilde's Game Chips, Micky Rooney's devilled pork skewers, John Wayne's Onion Rings, and, shamrocks all over as part of the decor, and you get it picture perfect.
Although Clancy's is 4290 miles south east of Dublin, its enterprising managing partners, master mariner Nalin Abeyratne and his Irish wife Annette Walsh have already successfully recreated a 'home away from home'. Since its opening last December, Clancy's has a very regular clientele, both Sri Lankans and expatriates, who come to experience the very soul of Ireland right here in the heart of Colombo.
Epitomising the fact that pub culture is widely prevalent and equally popular in Ireland, this first-ever Irish Pub & Restaurant in Sri Lanka has certainly lived up to its motto. "At Clancy's there will be no strangers. Only friends who just haven't met yet." Clancy's is now everybody's meeting place. Its charm its ambience, the fine wining and dining, the typical Irish pub atmosphere, have all contributed in no small measure to its success.
---
Paying tribute to Guli
The commemorative ceremony to mark the third death anniversary of author and journalist Gunadasa Liyanage will be held at the Jayewardene Cultural Centre, Colombo on March 14 at 4 p.m.
The ceremony is jointly organised by the Gunadasa Liyanage Memorial Foundation and the Sri Lanka Working Journalists Association (SLWJA) and is chaired by the Ven. Dr. Horana Vijiraghana Nayaka Thera. The Ven. Prof. Bellanwila Wimalaratana Thera, Prof. J.B. Dissanayake, Gunadasa Amarasekera, Dr. Nandana Karunanayake and 'Silumina' Associate Editor Thilakaratne Kuruwita-bandara will deliver brief commemorative lectures.
Pandit W.D. Amaradeva, Visharada Nanda Malani, Narada Disasekara, Piyasiri Wijeratne, Visharada Deepika Priyadarshani Peiris will sing at the ceremony. Gunadasa Liyanage commemorative song will be sung by the students of Sripali Vidyalaya and Thakshila Vidyalaya, Horana.
Gunadasa Liyanage commemorative scholarship will be awarded by the SLWJA to the student who received the island's best marks in the arts stream at the last GCE Advanced Level Examination. School books will also be distributed among a batch of needy students from the late Mr. Liyanage's native village of Divalakada. The latest edition of 'Divalakada Gunadasa', the autobiography of the late Mr. Liyanage will also be launched at this ceremony.
---
Entangled in 'mixed' marriage
A different angle, an unusual theme, a whole new perspective altogether this week! Bonsoir goes in search of Franco-Lankan couples living and holidaying in Sri Lanka.
Join us and hear them share their experience with us. A truly memorable inter-cultural "melange"! Some of the children from these marriages will also have their say!
On "Bonsoir" March 12 on ITN
---
'Charitha Hathak': Comedy with a lesson
By Sanath Weerasuirya
'Charitha Hathak', a popular stage creation by Wilson Gunaratne will be staged at Elphinstone theatre on March 18 at 3.30 and 6.30 pm.
Described as the "Comedy of the Millennium" (Two Two Hours with Ko Ko Kodi), "Charitha Hathak" is directed by Wilson Gunaratne, while the scriptwriter is Chandratilak Gunaratne and co-producer is Ramani Fonseka.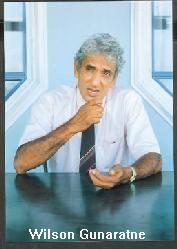 'In western countries the actors are given a chance to play more than a single character. But in Sri Lanka it is not a common practice. Once Shivaji Ganeshan acted nine characters in 'Nawa Raathri'. That was a film and nobody has done anything more than double acting in local films', Wilson said.
I was always looking for a chance to create this type of drama. I'm having 65 different voices in my voice bank. It is just not luck but hard training, studying and practice,' have gone into it he explained.Wilson was a hotelier now turned actor.
"I am a professional actor now. I'm really happy because I have a vision. I have a message for the society in 'Charitha Hathak.'
You must give suitable positions to suitable people in the society. But unfortunately we do the reverse. Most of the top places go to unqualified personnel,' he explained.
'It is time to correct ourselves. That is what I'm trying to say in this drama. The message is given with humour,' he added.
'Charitha Hathak' has completed 37 shows within eight months, since its opening.
This is a unique presentation and certainly would be the newest experience for the drama lovers in Sri Lanka. This is the only stage play in Sri Lanka at present in which one actor portrays seven characters on the stage.
Kodituwakku from "Nonava-runi Mahatvaruni" Pappa, Prof. Pragnaratne, Transport Teacher Mr. Bastian, Prof. Marenzie (Italian) are among the seven characters. Also the cast includes Ramani Fonseka, Susil Perera, Premaratne Tennakoon. The versatile actor Wilson Gunaratne is using seven different voices with the appropriate costumes and make-up brilliantly to portray the above seven characters.
The story rotates around an aircraft which has been grounded on the runway. The pilot and administrator are unsuccessful in their efforts to get it airborne.
The uneasy passengers are looking forward to a smooth and trouble-free journey as they have been promised by 'Dreamland' Airways.
The pilot and crew members are unable to fulfil the passengers' expectations.
The pilot and the administrator do not give up their efforts in getting the aircraft airborne.
In this process, the ultimate result becomes not only a tragedy but also a comedy.
---
Daily on Toon Tamasha on Swarnavahini
SUNDAY at 5.O0pm
Casper is back and his new attitude is more hilarious than you've seen him in the past, but just as misunderstood as always.
At 5.30pm
Heathcliff & Dingbat
Heathcliff - the famously funny feline now pounces onto the television screen. Sharing the spotlight with Heathcliff is Dingbat, a cowardly vampire dog, Sparerib, an overweight skeleton. A comedy that gives new meaning to cat-astrophe.
MONDAY
Birdman & Galaxy Trio: 5.3Opm
The Galaxy Trio roams the universe in their spaceship Condor I, setting villains straight in every cranny of the cosmos.
TUESDAY Johnny Cypher: At 5.30pm
The continuing adventures of the brilliant scientist who leaps into the role of super-hero when he uncovcrs the incalculable power of a new dimension and battles against treachery and injustice.
THURSDAY at 5.00pm
When the lovable hero Rocket (Rocky) J. Squirrel sets out for adventure with his zany sidekick. Bullwinkle the Moose, the fur always flies.
FRIDAY Buford Files: at 5.00pm :In the swamps of Fenokee County, a master detective is on the trail of a clue. His nose starts to ping like a Geiger counter. His floppy ears rise up and revolve like radar dishes.
SATURDAY at 5.30pm
A comic cast of crazy characters inhabits the capricious land of Kokonino Kounty in a colossal collection of classic Krazy Kat cartoons. There's sweet, Iovable Krazy Kat herself, of course.Ignatz, the brick-throwing little mouse with the big mouth... Dauntless Ofissa Pupp...and many others.